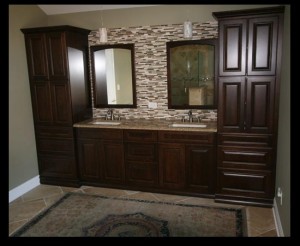 When you finally decide that your master bathroom is looking a little tired and in need of some rejuvenation, there are several ways to give it a much-needed lift without plunging right into an all-out renovation project. A few tweaks here and there could do the trick at half the cost … and half the mess.
Harmonizing your existing bathroom
As mentioned above, adding just a handful of new accessories can perk up a tired bathroom – well, you knew that already. A fresh coat of color on the walls and new accessories are the easiest fix. From the simple addition of towel bars or robe hooks to new soap dishes and toothbrush holders, the more coordinated your accessories are, the more sophisticated and elegant your bathroom will look. Even some DIY projects like adding a new fixture or sconces are relatively inexpensive and can lend some ambiance to the bathroom. And, who can dispute that the addition of new hardware to bathroom cupboards or cabinetry doors provide an easy and breezy lift to that room?
And how about a little more to complete the "new look"?
If you're looking to renew your bathroom and have the space and resources to do so, why not consider the addition of a new vanity to the bathroom? If yours is outdated or looking somewhat shabby, a new vanity could revitalize the room and provide more space, which is always welcome in the bathroom, or any room for that matter.
While you could visit the big box stores and simply pick out a replacement for your existing vanity, you might want to consider hiring a bathroom designer, whose business it is to help you create the vanity that will be harmonious with your existing bathroom for a look that will be fabulous and not over-the-top cost wise. You should first peruse the internet bathroom design sites to get an idea of what vanity designs are out there and then consult with a bathroom remodeling expert in Short Hills, NJ.
The most-popular vanity is the free-standing vanity which is really more popular in smaller bathrooms, powder rooms or half-baths, and, for those particular room sizes, the vanities are more for show than to be used for storage. It is possible to get custom-built freestanding vanities in any style, including designs which mimic original antiques. But the free-standing vanity need not be relegated just to smaller bathroom; a custom-built vanity could enhance your bathroom tenfold because it would be a personal design tailored just for your bathroom … and you. A big trend in bathroom cabinetry design is using vanities which resemble furniture. Sometimes a piece of furniture is repurposed to showcase items in the bathroom, like vintage bottles or ornate decorations. With the trend to open shelving, sometimes the doors on an antique dresser might be removed to expose the shelves where storage space is available, but open for all to see. Such a piece of repurposed furniture may just become the focal point for your bathroom. But, what if you don't have that particular piece of furniture to create that perfect vintage look? Well, here is where the little old cabinetmaker comes into play …
The cabinetmaker
A bathroom designer and remodeling expert will likely advise you to consider going with a natural color scheme to provide harmony in your bathroom. That simply means nature-inspired neutral tones and patterns, with an emphasis on light creams and whites, beiges, browns, and grays, all which are natural, earth-tone colors that will mesh nicely with your new acquisition – the vanity.
A remodeling expert is in tune with the work of a local cabinet maker who will build a vanity to your exact specifications and create a piece of furniture that will enhance the bathroom and fit it to a T. The best selection for your new vanity is natural wood, or, if not natural wood, at least a product that will emphasize the wood grain. Treatments such as wood accents, veneers or wood-patterned finishes will serve to complement the countertop which may keep with the "wood theme" by utilizing wood tiles, or the more-common countertops which are marble, quartz, granite or composite stone, all which are very heavy, thus durable.
The more-modern designs of vanities provide maximize storage space with loads of multiple pull-out drawers, complete with built-in dividers if you so desire, and areas which hide any bathroom sink plumbing, providing a very elegant look to the bathroom. Wall-mounted vanities are also a trending look, and would be a bonus if you would ever have a plumbing emergency at or under the sink … no water will seep inside and ruin the vanity, nor its contents. Vanities provide a less-cluttered look to the bathroom, making the room look much larger and open than it really is.
Once upon a time, your bathroom sink basin only was available in a stark white color … nothing more, nothing less, but oh – how times have changed. Bathroom sink basins come in a variety of hues, all guaranteed to match the color theme in the bathroom, or the new vanity. A trending look is the frosted glass basin, which item is translucent and quietly blends into any existing color theme in the bathroom. Take the guesswork out of deciding which color basin to choose – you've got this handled when you install a clear or frosted glass basin.
In deciding on minor or major tweaks to make your bathroom look more modern, as well as elegant and sophisticated, be sure to take into consideration the impact a vanity could make. See a home remodeling expert today and you'll soon be on your way to a dream bathroom.