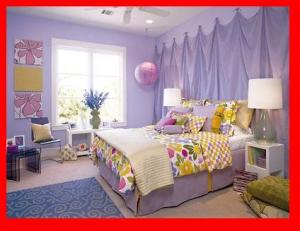 Pink has always been the go-to color for girls, from the bassinette to the bridal shower, and even today – nothing has really changed.  It is still the most-popular color for girl's bedrooms.
Pink is the color of choice for wall color just as soon as the parents discover the baby's gender.  If they choose to be surprised, well, then the parents-to-be usually choose a neutral wall color like cream or pale yellow, then accessorize mightily with the proper color accessories once the bundle of joy arrives.
Ruffles and frills
Pink in the nursery works well, but how well does that pretty pastel translate as your little girl becomes older? Well, maybe right around the time that your little one is graduating from the bed with sidebars to a regular bed is when you should consider changing up the paint color.  There are a host of different shades of pink in the medium to darker palette, but you can also be safe with other pastels such as lavender or pale green – even pale blue.
The reason that shades of pink seem to work so well is that we think of pink being all girly-girl and little girls being dressed in ruffles and lace and frilly items that bring out their femininity.  That mode of dress is likewise transferred to the bedroom where young girls have pastel wall colors and ruffley bedspreads in cabbage rose prints with matching accessories and Priscilla curtains adorning the windows.
Pink is the most-classical option available for little girls who dream of fairies and princesses, all who are similarly clad in pretty shades of pink.
But, what if your little girl is a tomboy?  Sometimes when there are boys in the family, and only one girl, that little girl must keep up with her siblings and she becomes a tomboy.  She then may wrinkle up her nose in disdain over pastel colors or frilly objects in her room or her clothing, and opt instead for a whole different range of bedroom accessories and personal fashion.
Traditional pink bedroom
There are a wide range of colors available to please your little girl and keep her room looking trendy.  Some of the most-trending hues today are listed below.  Each will add excitement and pizzazz to the room.  If you're leery of too much boldness and vibrancy for the bedroom, then go with a safe neutral color for most walls and add the bright and bold and beautiful color for one wall only.
Of course, you could consult with one or two people about the color dilemma if you really want to get that room color correct:  1) ask your little girl what her favorite color is; or 2) enlist the aid of an expert, i.e. an house painter in the East Brunswick, New Jersey area.  House painting is his or her profession and you'll get the best advice if you go this route.
In the meantime, here are a host of hues that are trending these days for bedrooms for girls:
Raspberry – Keep the pink color but go for pizzazz.  With this bright color, it seems that tutti-frutti never looked so good as on the walls of a young girl's room.  The look is great in two walls of raspberry color and two walls of cream color or even three walls in raspberry and then an off-the-wall shade for a focal wall, like behind the bed; tangerine, lime green or lemon would work well as colors for a focal wall.  She'll love this citrusy and fresh fruit look of complementary colors, and so will you because accessories are easy to find and are very mix-and-matchable.  White furniture would make the look extraordinary and just a hint of girlishness is prevalent as well.
Primary colors – A great choice and it is fun for youngsters as well as teenagers.  Use lots of vibrant tones, straight from the Crayola box, and the walls can be done in all one bright shade, or as alternating walls picking two shades.  Why not try perhaps just one vibrant wall for a focal wall behind the headboard?
Bright blue  – Here's a fun color and it pairs well with white or red and if you have a line of decals marching around the perimeter of the room in your daughter's favorite hobby, idols or just trending characters, you can pick up colors from the decals to match bedding, window and floor treatments.  If you know your little girl's favorite characters you can surprise her with a parade of her faves in her bedroom décor, or let her pick decals of baby dolls, Barbies, kittens, fairies, or sports activities – whatever suits her fancy.  Then obtain three-dimensional items to match the decals.  How easy and fun is that?
Purple – Shades of lavender or dark purple on alternating walls are also girly, yet vibrant, and sure to win the applause of any young woman.  Purple is a color that is easy to match, accessory wise, and a color that will do double-duty for a young girl, as well as a teen.  Adding accessories on the walls, like cork bulletin boards for pinning items of importance, or adding creative projects to display, help to personalize the room even more and add interest at the same time.
Whether you are leaning toward a traditional or contemporary look for a youngster's bedroom, whatever decision you make regarding that color, just make it as special as your little girl and you cannot go wrong.