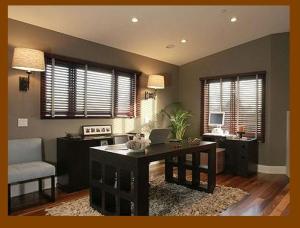 In this modern computer age, though we often complain about quirks or issues related to our computers, you know you would not trade it in for a quill pen and paper for any amount of money.
It used to be that only a privileged few had the ability to have a business which originated out of their home.  Then, as computers got more sophisticated and the workplace permitted more flexibility and the ability to telecommute to your job one or more days a week, the idea of having a room dedicated to work activities suddenly seemed very smart.  Thus, the study or home office has become more popular in recent years.
Perhaps your home office is the room where you spend more hours a day – even more than the hours you sleep; you will surely want to ensure that it is the perfect work environment for you.  Whether you're converting one of your kid's former bedrooms to an office, or already have a room dedicated solely to function as an office, you should create an environment which will be conducive to your being productive.   If you have the ability to work from home, you realize that you really need to have a room where you are sequestered somewhat from the hustle and bustle of the rest of the house so your concentration is not marred by household activities and then you're constantly wondering what you're missing.
First things first
After you pick the perfect room for your home office and you have an idea of the window treatments, floor covering and furniture, in addition to any business machines or computer-related paraphernalia, your next and most-important step is to choose the wall colors.  Hopefully, your desk is positioned near a window so you can utilize the natural light as much as possible, but do ensure that you find good window treatments to block out the sun so you don't stifle in the heat or it causes a glare on your office equipment screens.
For the same reasons that you would not pick any of the primary colors to paint your bedroom with, you would similarly not pick anything too wild and crazy for the walls of your home office.
The words soothing, peaceful and non-obtrusive would be the best description of the particular color you should pick to slap onto those walls.  The colors in the light green and aqua tones are often used to create a peaceful room for sleeping.  This is why most hospitals use those colors, more often than not – the sea foam tones – to promote sleep and wellbeing.
So, whether you are creating massive spreadsheets, writing long reports or just checking e-mail from your home office computer, you owe it to yourself to create a peaceful and serene environment in which to work.  You don't want the colors of the Crayola box screaming for attention while you are pondering over something and deep in thought, of course, so your best bet is picking wall colors from a neutral palette.
Popular hues for your home office
Going neutral for the home office doesn't mean it has to be blah.  As mentioned above, the blue-green tones are considered soothing and those blue-green hues actually have a calming effect on the nervous system.  To paint the home office in a fire-engine red, for example, would be distracting because that color actually increases the body's heart rate.  And, did you know, that the color red stimulates the appetite as well?  No use needing continual munchies while you are you trying to get your work done.  Thus, it is important to take into consideration the color of the room with regard to the physiological response of color to the body.  Go ahead and use that fire-engine red, but as an accent color to offset the neutral colors that you choose for the wall.  The colors of the room cannot be too "busy" or they will actually create such a distraction that you will lose your focus and direction.
For this reason choose neutral colors such as grays and light earth-toned shades.  Try not to go any lighter than gray because it will show the inevitable scuffs or smudges from office equipment or any furniture or equipment that might have to be moved around until you get settled in comfortably and it is indeed your own personal niche.  Always use a satin or eggshell finish which is sedate and never go with high gloss because that bright and shiny surface in itself could be a distraction on one of those "rough days at the office"
If you are unsure of what the best paint finish and color should be for your new home office, your best bet is to consult with an experienced house painter in Piscataway, New Jersey area.  That professional can tell you the best finish and hue for your home office, as well as the size and shape of the room.