Aesthetics to Fit Your Home and Lifestyle
Professional home media installers design home technology systems that make your home or office an easier and more enjoyable place to live. Not only can you upgrade a homeowner's living space, but businesses see more productivity and greater customer satisfaction when they update their work environments.
One of the first steps is to get to know a client's needs in order to deliver a first-rate home entertainment experience. A well-designed home theater or audio installation should improve both the overall value of a client's living space and their quality of life.
Home Theater Design & Installation
Whether it's home theater projectors, speakers, or receivers, a professional installer will help you find the best configuration for your space. Getting the right equipment is only the beginning. The room you choose, the positions of the speakers and the video screen all contribute to the overall home theater experience. Whether it's your bedroom, family room or even an outdoor space, they blend comfort and technology to design the home theater system you've always wanted.
Wired – For Now and For the Future
A network is the heart of a home's communication system. An audio and home theater specialist can design a solution that will accommodate the needs of today's and tomorrow's technology.  In other words, they can integrate your audio, TV, mobile devices, and security system to make your residence a smart home. Through their expertise, they can provide the speed and security you need now and for years to come.
Multi-Room Sound System
A multi-room sound system is the perfect complement to a new or existing house. With a properly designed system, you should always feel like you are in the front row, regardless of the room you are in. Furthermore, with individual room controls, family members with different tastes can listen to their music of choice at the same time. Essentially, your media, music and radio are configured for the optimal listening experience and to be accessible from anywhere in your household.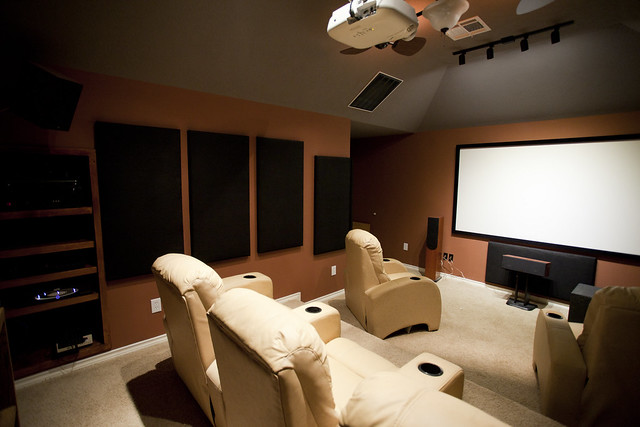 The Professional Advantage
One of the main advantages of calling a professional media specialist is that, in addition to a new installation, you can also upgrade an existing system or simply make it so that everyone can use it. Often people need help fixing a project that they either didn't have time or finish or didn't go as planned.
Whether you're looking for a basic TV wall mounting, a more elaborate home theater setup, a surround sound experience or to integrate a video or surveillance system into your office, an experienced design consultant can help you choose the right equipment and install it properly to make the home or office of your dreams a reality.
Check out this article on Sonos Home Theater Systems if you would like more information about home audio entertainment.
And if you are looking for contractors in your area, please visit our directory of the best home media and audio installers.