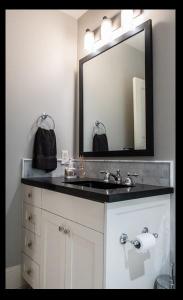 Years ago a cowboy spent days and days on the trail… he sat on his horse and life revolved around the cattle herd.  He slept in a bedroll, ate beans over a campfire and got cleaned up in the creek – if he was lucky, it was clear water.  When he finally got back to civilization in some small town, all he wanted was a hotel room with a big bathtub where he could soak the week's dirt and grime and cares away before he went down to the saloon and had a little entertainment.
How very far from the scenario above that the modern day man has strayed.  The bathroom is usually the first pit stop of the day, where, depending on far he is running behind – he'll take a quick or leisurely shower.  Men today opt for many amenities in the bathroom – in the morning, a simple shower stall will suffice, but at the end of the day, surely there should be some reward for the grueling business day, the commute to and from work and the never-ending e-mails that pop up on his phone, long after leaving the workplace.
Paradise in the bathroom
Today, there are wonderful features to enhance your master bath and turn it into a paradise, the perfect place to let the water work its magic on the worries of the workday sending them right down the drain.
If your master bath is large enough, there is enough room to accommodate water features for both the man and the woman of the house, but, what if you are lucky enough to have two large bathrooms – his and hers?  Well, the more the merrier.
Although men today are not likely to opt for a long soak in a vintage-style claw foot bathtub as they leave that to the womenfolk, some of the features that men do enjoy in their bathroom sanctuary would be as follows:
Sauna – Basking in that dry heat and reading a newspaper to catch up on the news of the day you might have missed is a nirvana for some men.
Whirlpool – Just sinking into that whipped-up water serves to soothe away the aches of the day.
Steam shower – One of the top preferences for men who see their bathroom as a sanctuary, is the inclusion of a steam shower in that room.  Bathroom designers suggest that a steam shower is one of the top items requested in a bathroom renovation.  Men want to take a half-hour to have that hot water pelting down on them… it makes them come alive and feel invigorated, and even more so, when the steam shower has the ability to create scented vapors, like eucalyptus.  One could even convince themselves that the scented steam bath is therapeutic.
Car-wash style shower – This particular design of shower is becoming more and more popular if you have a large enough bathroom to accommodate this massive shower which power washes your body thanks to shower heads with different water velocities.
Design of the bathroom
Men are not picky about wall colors as long as they are dark.  If a couple shares a master bathroom, this particular color choice might be problematic, since most women are interested in a bathroom that is light and airy looking.
In conjunction with the dark-colored palette, not surprisingly, men prefer a more rugged look for the bathroom, particularly if the bathroom belongs solely to them.  Besides preferring the darker wall colors, men like the look of slate for counters and surround shower stalls as it is more "manly" looking.  Slate, however, is rather difficult to keep clean and is sure to show up soap scum in record time.
Other rugged elements of manly bathroom design include men opting for a rougher tile look and sturdier bathroom fixtures.
Men cannot understand why women need so much extra storage space in the bathroom, so, in shared master bathrooms, they often indulge their mate by giving them some of their portion of the storage space.  A man's ratio of storage space needed is much less than a woman's and they are happy to give in, just as long as they get to keep the pelting shower head.
So, is that multi-functional shower head really that big of a deal and how do couples weather that shower head storm?
The shower head in a shared bathroom
In a shared bathroom, that shower head height can be the source of discontent unless you have the right shower equipment.  Consulting with a bathroom designer in Atherton will help you maximize your experience in the shower and each person can have their own preferred shower experience.
How is this done?
First, in the case of disparity in height… what do you do when the gentleman is much taller than the lady?  The solution is quite simple – you simply have a sliding shower bar installed; this way the shower head may be moved up and down according to the height of the person using it at that particular time.
If there is enough room in the shower area of a shared bathroom, dual shower heads are best, especially if one user likes forceful pelting water and the other user prefers a light raindrop-like effect for their shower experience.  But if there is no room for two shower heads – there are even digital shower systems now whose purpose is to control the water temperature and water pressure individually.  This way a shower user gets into the shower and pushes a button and has a shower to their liking, since they created the shower criteria themselves.
If all these ideas about turning your bathroom into a paradise sound perfect to you, then why not consider consulting with a person skilled in bathroom design or a contractor specializing in bathroom remodeling.
Let them bring perpetual bliss to your bathroom.