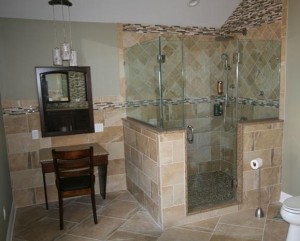 If you went from a starter home to a larger, more luxurious and sophisticated home, you probably felt like you'd finally "arrived" as you now had two bathrooms. Having two bathrooms is handy for a large family, when guests stay over, or, if you ever decide to remodel your master bathroom, so you don't have to move out of the house while the transition is taking place. Having a large master bath gives you an opportunity to take your bathroom from just ordinary to extraordinary, depending on how much effort and expense is necessary to get this state-of-the-art bathroom accomplished.
If you've already been looking around at home shows, or, the many design or remodeling websites out there on the internet, you might have already compiled a wish list of items to enhance your bathroom. Perhaps you are looking to just accessorize and maybe add a DIY project or two. Well, that'll work, but why not seriously consider consulting with a bathroom design expert in Summit, New Jersey and see what is trending and what ideas might help you create a sophisticated and elegant bathroom that will complement each and every other room in your home? A bathroom remodeling expert can assist you in understanding what coveted features are doable in your bathroom and what features might not work. Though you may be disappointed to find not every trend or feature you desire is a workable option, it is better to know beforehand from your expert, rather than a failed DIY project where you lose both time and money, not to mention patience.
Luxury bathroom designs trending today
There are only so many items that you put into a bathroom, so you have to pick and choose the items best fitted for your dream bathroom. What to leave in – what to leave out?
Today's hectic lifestyles tend to be complicated sometimes. You want to succeed in the workplace, yet the more successful you are, the more tied to work you become and the less down time you end up having. Being tethered to e-mail, both off and on the job, often leaves you without a much-needed break, so there must be some means to relax at the end of a stress-filled workday and commute home.
Escape to the spa
Spa without even leaving your home? There is nothing like the soothing sound and feel of water to take the edge off. Your bathroom could become a retreat for you … here are some options to consider for a relaxing luxury bathroom if you have the space and resources and you connect with a bathroom designer who can make it happen: steam shower room, sauna, whirlpool bath, hot tub, edgy frameless shower or a custom-built, walk-in shower. Are these trending bathroom features ostentatious? Maybe … but, does it make you feel good and become your personal reward at the end of the day? Yes, it does. Bathroom designers state that over 50% of new homes built here in the United States are now equipped with a whirlpool bath. Spa equipment has grown by 10% each year and expected to keep trending higher in the future. Why spend the money to go to a day spa or an expensive health club when you just walk down the hall and experience the same relaxing features?
Relaxing water features
Add colorful and interesting mosaic tiling to your backsplash, shower and floors? Whether you opt for tiles with a vintage look to complement a claw foot bathtub, a retro look, or a streamlined modern all-bright white look that harmonizes nicely with a stainless pedestal sink and back-lit mirrors, the simple addition of tiling will add intrigue to your bathroom.
Get rid of the old medicine cabinet and get one of the newer varieties which have undergone a major functional redesign? Today's medicine cabinets are not just a recessed box with a small mirror in front. They are deeper, providing more storage, but also have ample places to plug in appliances. Believe it or not, you might be able to catch the news while you are getting ready for work in the morning, since some medicine cabinets come with built-in television screens.
Incorporate the trending natural look to your renovation efforts and you need not ever worry about your bathroom looking too trendy or too outdated, only timeless? The use of natural materials, especially wood – and most especially the incorporation of natural aged wood beams in the ceiling, help you to get your bathroom to look nature-inspired. Rustic accessories and the use of metals like copper or burnished brass in lighting fixtures or even door pulls, will add chic style, especially when used with neutral accessories. Wood plank flooring will further enhance the natural look. Simply put, with a natural-look theme, your bathroom will always be sophisticated and elegant.
Include a vanity which will enhance your bathroom by becoming an architectural focal point of that room, as well as a practical solution for always-needed storage space? It might be a free-standing vanity or a floating vanity which is mounted on a wall. You could even consider repurposing a quality piece of vintage furniture, by removing the drawers and creating a trending look known as "open shelving" whereby all your storage areas are see-through.
There are many more features, both small and large, that a professional bathroom design expert can discuss with you so that you might achieve that perfect luxury bathroom that you've always coveted. Why not consult with a remodeling expert soon?