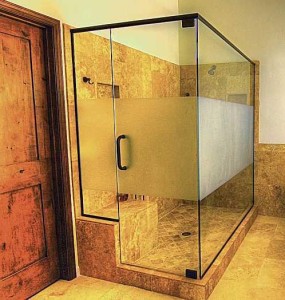 Soap and water will get you cleaned up, lookin' good and smellin' sweet and we each have a preference on how to get that task done – expediently or otherwise. Are you the type to opt for a quick, invigorating shower, or do you enjoy relaxing in an oversized soaking bathtub at the end of a long, stress-filled day at work? Maybe you do both? Nothing wrong with that if you can afford the time and you won't be horrified at your water bill, well then go for it.
If a long, tranquil soak in the tub does not interest you in the least, why not get the ultimate shower experience? That ultimate shower experience need not be simply be a trip to the big box store to get a new shower head with multiple pulse settings – no, you should aim higher. Get a built-in shower/spa, with jets aimed directly at the back of your neck. Steam showers are also gaining in popularity as well with whirlpools being installed in master baths. Who wouldn't like warm, soothing sprays of water that are guaranteed to provide a soothing wake-up call or alleviate pesky after-work knots in your shoulder? You don't even need to stand up while enjoying this watery blast because shower and bench seating is available for most showers. All are guaranteed not to disappoint.
If you love a leisurely soak in the tub, there are many options of large bathtubs to choose from. Perhaps the vintage claw foot bathtub that you fondly remember seeing at your grandma's house intrigues you. If you have a rustic-style home or a monochromatic color scheme, who wouldn't want one of these beauties smack dab in the middle of your large bathroom? It would be the focal point of that room and a dreamy way to take the edge off at day's end. But nostalgia is not everyone's shtick, so how about a rendition of a large or oversized bathtub that is neatly tucked into a corner of the bathroom? You can line up your favorite lotions and oils along the side of the tiled tub area, perhaps a candle or two and look … even a space to put your favorite beverage. Piped-in music from the main part of the house – ahhh, can't you just feel the relaxation?
Your bathroom can be your paradise
If the paragraphs above seem like a passage to paradise, then you got the point. The hustle and bustle of our everyday lives leaves us breathless sometimes. We need to relax and take a breather but there is always stuff to be done. Stuff, stuff, and more stuff. There are very few places you can go these days and your time is your own. You and your cell phone are attached at the hip and you're always one click away from an e-mail … someone always needs something. It's nice to be needed, but you need a break. Think about those wonderful relaxing options above and how within reach they could be. This is not a DIY project and if you call upon an expert in bathroom remodeling in Tempe, you are well on the way to nirvana.
Your bathroom remodeling consultant can design a bathroom that is modern and trendy or simply chic. You can just choose to add a few enhancements to your existing bathroom, or do an extensive renovation. The design trend for both single-family and multi-family residences is contemporary with clean, minimal lines and little ornamentation. A consultant can help you make your bathroom a mini paradise – a place to retreat and relax, but still keep it simple.
Color is key
If relaxation and simplicity are the key components in your bathroom renovation, consider going with neutral color schemes. Only for very small bathrooms should you consider a white-on-white theme. Medium and large-sized bathrooms look best with neutral colors. Beige, bone and gray are currently trending colors. Simple fixtures in white or chrome complete the simple color theme. Gray has become the most-popular color or color combo in the past year, surpassing white by eons.
Something for your feet
Radiant floors are fast beating out the competition and over half of new houses have requests for electric radiant floors. How wonderful to step on a warm floor on a cold day.
Sheet vinyl floors, while not toasty warm on your tootsies, are a good choice for bathrooms as they are more watertight than tiles and resistant to humidity, making them mildew proof. They come in sheets and give the bathroom a textured look.
If your walls could talk
If your bathroom walls could talk, they would encourage you to paint them. A good coat of paint will work wonders to make a subtle change or a bold statement. If you pick the wrong color, well … all you need to do is paint over that oops with the new color. If you like the look of wall coverings, ensure that the material can withstand moisture so that it will endure over a long period of time. Wallpaper is not an ideal option for bathrooms since they are humid, and sometimes wallpaper may contribute to problems of mildew, mold, and odor. Wallpaper can be very difficult to clean and is prone to water damage. Ceramic tile is most commonly used because it is inexpensive and there are many shapes, sizes, patterns and artwork to choose from. They are easy to keep wall surfaces clean and mold free. Glass tile or mosaic is for the person who wants an creative dimension on their walls and can be applied anywhere in the bathroom, i.e. the floor, shower walls, or any other walls. Smaller pieces of the glass tiles make more intricate designs and are less prone to breaking.
Another wall treatment that is trending, but different, is the use of mirrors all around the bathroom and even including using mirror-like stacking shelves.
Trendy and practical
Pedestal sinks are considered trendier than traditional sinks as they give a clean and modernistic look to bathrooms.
One-piece vanity tops offer more options and functionality to your bathroom and provide a wealth of storage space.
These are just a few of the luxuries and options that are available to you for your bathroom – all you need to do is contact your local bathroom remodeling expert here in the Tempe..