While remodeling projects are worthwhile if you plan to live in your house for a few more years, it's a totally different story if you are about to sell your home. Often, large-scale projects do not reach the break-even point when the house is sold, much less realize a profit. However, there are some budget-minded upgrades you can make to help sell your home quickly.
Start with the Exterior
Lifting a home's curb appeal is one of the most important things you can do prior to selling. Here is where first impressions are made and buyers are either intrigued to see more or inclined to walk away. If you have any wood rot, cracks in your stucco, or peeling paint, now is the time for a quick fix. Not only can exterior painting work wonders for your home, but it also provides weatherproofing and protection.
Moreover, this is your chance to switch over to a more contemporary color if it has been a long time since your last paint job; it also helps to choose a color that blends in with your environment. While you want your house to stand out from the neighbors, you don't want it to seem isolated from its environs. Another factor to consider is how your new color reacts with the sunlight. It's crucial for your house to appeal to prospective buyers regardless of the time of the day they visit.
Another important part of your home's facade is the front door. As the focal point of the exterior, a buyer's eyes will be drawn to it immediately. In this case, repainting it with a bright or contrasting color will do wonders for your property.
Touch Up the Interior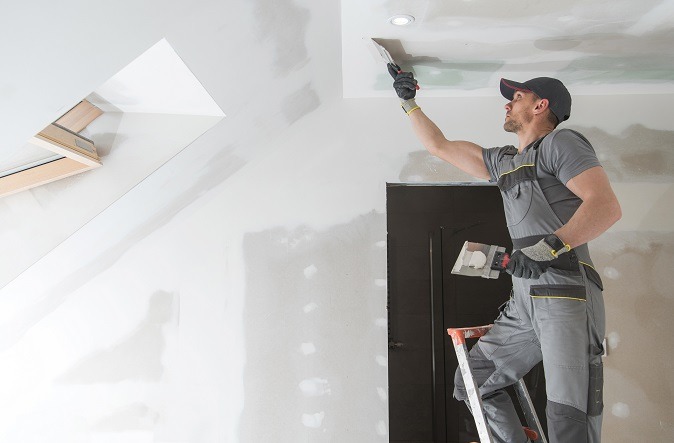 This is also a good time to take a hard look at the inside of your house. If there are dings on the walls, visible scratches or worn paint, a fresh coat of paint is one of the cheapest and easiest ways to refresh your interior rooms.
An experienced painting contractor can also help with repairing water damage, preparing for new construction, fixing plaster cracks, and restoring old moldings. You might also want to remove any wallpaper since buyers probably won't have the same preferences. Sticking to lighter, more neutral colors always helps since they will match up well with nearly any buyer's furniture.
Kitchen Remodel
Because your kitchen is one of the first things that buyers see when they enter your home, it almost isn't worth repeating that it's a vital selling point. Many experts say that if a seller only has the resources to redo one room, then it should be the kitchen. With an updated kitchen, buyers may be more willing to forgive other areas of your house that might be lacking.
While investing in your kitchen can make a real difference, you don't have to sink a fortune into your kitchen remodel. Statistics show that a major overhaul usually returns about 80% of its investment while a minor update yields an even better 87% return. In other words, surface kitchen improvements are generally a better idea than a full-scale renovation.
The idea is to give it the right look for less. The key is to make sure that the cost of your kitchen is in keeping with the cost of the rest of your house.
Refresh Your Cabinets
As long as they are in good structural condition, refreshing your cabinets is a much better way to go than replacing them. A new paint job or cabinet doors can really change things up. Also, replacing cabinet fixtures and hardware can be really effective upgrades.
Maybe a New Countertop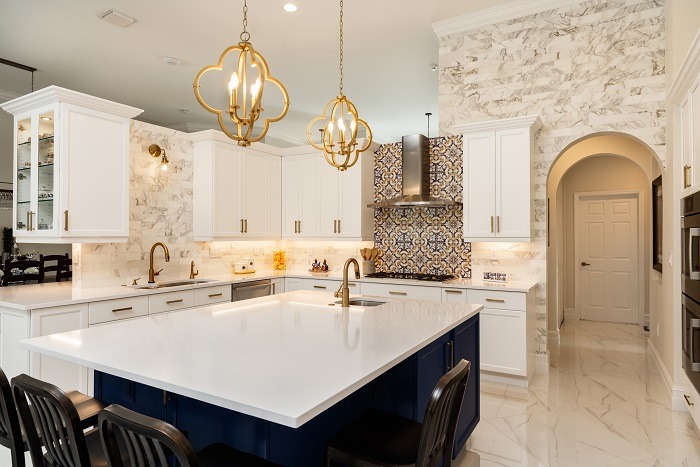 Because countertops are very visible, they can make a real difference to a prospective buyer. Nevertheless, you should keep in mind that they are also a very personal choice for homeowners. Some may prefer a solid look while others prefer quartz or granite. Therefore, you shouldn't spend too much on a replacement that the next person might not even keep. However, if you can find a reasonably priced slab of granite, it could be the right time to change out your counter.
Fix or Install New Appliances
Your stove, refrigerator, dishwasher and microwave must be in good working order to sell your house. So, now is the time to fix leaks or to replace the coolant in your freezer if necessary. If all else fails, you may have to install some new appliances. Although you don't want to break the bank with appliances you don't plan on enjoying, there's no doubt that new or updated appliances can add lots of appeal.
A Full Wall Backsplash
Changing over to a full wall backsplash is another way to give your kitchen a current look without spending too much money. It's a common touch in modern kitchens and can really make your kitchen area more inviting.
Bathroom Renovations
After the kitchen, the bathroom is the second most important selling point in the home. Indeed, studies have indicated that even a minor bathroom renovation can recoup a 102% return on investment.
If the bathrooms appear outdated, a buyer may add the cost of renovating them to the home's purchase price. If your home isn't priced low enough to accommodate the added cost, buyers may just walk away. Conversely, if the bathrooms are good enough for the time being, buyers won't add in the renovation cost. For these reasons, you want your bathrooms to be inviting and somewhat modern, if not conversation pieces.
Fortunately, it's not necessary to spend a mint to make substantial upgrades. Getting your bathrooms ready to sell can be as easy as regrouting tile; replacing caulk around the toilet, tub and shower areas; and even replacing toilets for a more modern look. Putting in new mirrors and light fixtures will also enhance the look and feel of a bathroom.
In addition to being outdated, not having enough bathrooms can also turn away potential buyers. Instead of a home addition, however, think about converting closets, extra rooms or areas under the stairs. An extra bathroom could easily translate into money well spent when your home goes on the market.
Home Inspection
Another thing to consider when getting your home ready is hiring a qualified home inspector to give you an unbiased assessment of your property's condition. While a serious buyer will ordinarily request an inspection, it's a good idea to know what they might find beforehand. If you know what needs improvement, you can decide whether the upgrade will be worth the investment.
Typically, an inspection will cover the house's structural, plumbing, mechanical and electrical systems. A thorough home inspector, however, should look at the exteriors, the roof system, the attic, and fireplaces along with the ventilation and insulation in your home to see what might need fixing. It's essential to know the overall condition of your home, so you can price it accordingly.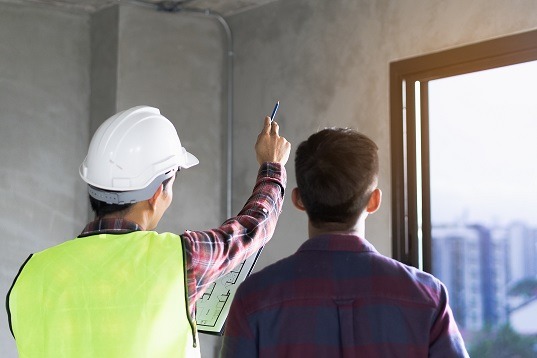 Specialized Inspections
If your inspector uncovers things like excess moisture, you may have to request a specialized inspection to get to the bottom of the situation. Whether you can see mold growing in your house or you suspect a problem, a state licensed mold assessor can identify it and show you how to raise your home's air quality while protecting it from future damage. Not only can he recommend a course of action, but he can also do a clearance inspection upon completion of your mold remediation project. If you aren't sure if your contractor can do the work, check to see if he has a certification in mold remediation.
When selling your house, it's important to realize that its condition will have a huge impact on the selling price. Most buyers aren't looking for fixer uppers. And the last thing a seller needs is for the deal to fall through because an inspector found something the buyer can't accept. While large-scale projects won't normally add enough equity to be worthwhile, there are plenty of minor improvements that will help sell your home. The trick is to strike the delicate balance between what you should fix and what's better left alone. As long as you do your research, you can make the kind of affordable upgrades that will get you the best possible price.