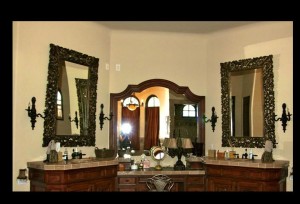 Well, pat yourself on the back – you survived the economic downturn and socked away savings for a rainy day by penny-pinching the last few years. Your frugality came with a price however … like back-to-back "staycations".  But now that the economy is humming along, it is time to part with some of that hard-earned savings and do something fabulous, but not frivolous, for you and your family. A worthwhile idea would be to enhance the biggest asset you have right now – your home. Any home improvement projects are a valuable investment, whether it is for pure creature comfort now or the resale value of your home in the future. If you often peruse the home remodeling websites, or visit the home and garden shows to glean renovation tips, why not consider consulting with a home remodeling expert in Phoenix? The expertise of any one of these contractors will help you choose contemporary enhancements like new wall colors or coverings, fabrics for window treatments or upholstery, as well as flooring materials, and even furniture for your renovation project. These experts will guide you every step of the way until the project is complete.
The Phoenix area is blessed with plenty of sunlight year round, this create great opportunities for beautiful interior design projects. The scorching months from May through August find Arizonians hibernating in our cool homes as much as possible, and only then, do we start taking a closer look at our interior surroundings and considering changes like remodeling or renovation to our respective homes. Whether you opt for a style that is chic and contemporary or classic and elegant, your choices are plentiful. Perhaps you are looking for an edgy or trendy look, but you are unsure whether you really want a major renovation, or just a few subtle changes. A home remodeling expert can assuage any indecision you may have, offer suggestions and tailor a design plan that meets your every need, want or desire. The sky is the limit, so why not check out some of the current trends in interior design.
Let's start with the basics – your best wall color
For wall colors, you cannot beat neutral or light tones … our year-round warm climate warrants light and airy decorating to be sure, but a Southwest-inspired palette, which resembles the materials and landscape of the region, is also popular in this part of the state as well. These colors range from bold adobe and terra cotta reds, to softer sage greens, sandy neutrals in brown and beige like the desert sand, vibrant shades of mauves and pinks that mirror a desert sunset, and bright bursts of turquoise, yellow or orange. A pastel palette for bedrooms is classic and elegant and the trending colors continue to be pretty pinks or pale lavenders with matching flowered materials for bedspreads, window treatments and accessory benches.
Accent a Southwest-inspired home
Maybe you would like to create a Southwest-inspired home. You can choose Southwest-inspired accessories inherent to the region which will complement wall colors in any of the traditional desert colors mentioned above (sand, mauve, pink, turquoise, yellow or burnt orange). Heavy tapestry wall hangings in bright and bold Aztec prints add the perfect touch to further capture the desert look. Vintage-style pieces such as rustic chairs, wooden artifacts, or hammered and stamped pewter or copper pieces will serve to complete the look. For real authentic flair, try adding genuine cowhide or cowhide prints for upholstery, drapes or floor coverings and vintage-style pieces to capture the Southwest-inspired mood. A kiva fireplace, known for its shape of a beehive, may be placed into a corner, and is a classic way to incorporate a design from the Southwest. If you are interested in purchasing new furniture for throughout the house, you can extend the Southwest theme with the addition of Mission-style furniture. These heavy and sturdy pieces of furniture will complement the lighter and/or brighter paint and accessories. Perhaps you only want the Southwestern-inspired theme in one room. Gentle colors of taupe and green will give a hint of Southwestern charm and will make the master bedroom serene.
If you have your home decorated professionally, or you do it yourself, be sure to include lighting that complements the desert color scheme. Natural light is your best option, but dim lighting will also work well with a color scheme that highlights the bold.
A rugged and rustic look
Design trends this year are also concentrating more on bringing the outdoors into the home, for a look that resembles a lodge, and with rustic décor such as distressed and barn wood to brushed bronze and nickel hardware. These types of rustic accessories can easily segue into a more genuine-looking Southwestern home.
Think outside the style box
One modern trend in interior design is mixing and matching of colors, pattern finishes and textures in the same room. It is even edgier to mix and match different classifications of decorating types such as traditional, rustic, industrial, country and Southwestern to create your own personal style while still retaining a cohesive look in your rooms. In a Southwest locale, mixing and matching modern furniture with Southwestern charm will make your home warm, inviting and comfortable.
The focus today is on objects that have personal significance such as framed photographs displayed in clusters, perhaps grouped together because they all have a common theme, like family members or a hobby or personal triumph, even though the displayed photos might all be in very different or unusual frames. Using a common theme to tie personal objects together to make a memorable focal point of the room, gives that room a personal touch and keeps it from looking kitschy.
The many trends in interior design today make it fun to fantasize about your dream home, or it may even be overwhelming. If the latter is the case, you can always consult an expert in home remodeling here in the Phoenix area to discuss options and ideas about renovating your home.