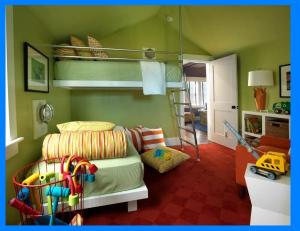 It has to be the color blue, of course… pink is for girls, blue is for boys, or that's the way we've thought it should be… for eons anyway.
But, even if you decide that blue is the way to go for a bedroom that is slated for one boy or multiple boys, it does not mean that it has to be a boring blue or a blah blue.  There are a wide variety of blue hues available.  And, knowing the way that little boys are rambunctious, it might serve you well to go with a semi-gloss or gloss enamel and choose a hue that is as dark as possible.  That way you will not cringe every time you walk into that room and see scuffs or mars on the walls… or horrors of horrors – handprints!  Take a look at what is trending today for boy's rooms. 
Blue rules
Well, the palette of blues starts at the lightest color first, and that is at the very beginning.  Even before a little boy comes into the world, if the parents know the gender in advance, the walls have already been painted long before the expected delivery date.  Pastel blue is perfect for babies.
Medium blue
But, once that baby starts toddling around, you might want to consider painting that room the next darker color of blue, or more of a medium-color on the palette.  Colors in the blue family are considered ultra-soothing – the blue-greens, the sea foams, the turquoise or light green hues – all are colors that are considered excellent for soothing and restful sleep.  Quick bedtime story-reading sessions and nodding off to sleep quickly is good for a restless toddler, especially once they have reached the proverbial "terrible twos".  So, do consider different shades of medium blue for a young lad's room.  If you want to add a little pizzazz, you might consider putting one wall, like a focal point wall, in a darker blue or having alternate walls in darker shades of blue.  Couple those different shades of blue with white and red, in a striped effect, and that will give a racing car motif and you can go with race car accessories and your toddler will never want to come out of his bedroom!
Another fun look using medium blue, or different shades of blue with white and navy, will serve to create a nautical-inspired theme for the bedroom that your little boy will just love.  You don't have to be ultra-creative to paint a simple boat, some waves and a buoy on the walls… and, if you don't think you are quite that artistic, there are motifs that are peelable or paintable that can be purchased online and will create a fun room for your little boy to sail away to dreamland.
Navy blue
Edging up the palette little by little from the palest form of blue… now we have the darkest blue in the blue palette.
But this dark neutral color needn't be boring because you can spice it up with decals, stripes or accessories, or, try using lighter colors for contrast.  Just a twist on the ordinary lighter-colored room with darker accessories, and, if you go with navy blue walls with light-colored accessories, it will make the room all the more interesting and modern.  The biggest plus:  "Look Ma – no hand (prints)!"
Gray is great
Any shade of gray is perfect for a little boy's room.  Gray is a dark neutral on the color palette and works well as it hides smudges and marks and you will not constantly be wiping the walls down and/or doing paint touch-ups if you go with this gray shade.  A semi-gloss will also keep it cleaner.  A good idea for lightening up the room a tad is to use a focal wall behind the headboard in a lighter color for contrast.  You can simply have the lighter contrast wall color, or load that wall up with shelves to fill with "little boy treasures" or have rows of photos related to sports memories… either those of your son or his favorite sports heroes.  Add bright-colored accessories, or even sports decals or sports paraphernalia scattered around the room, to add pizzazz and counter-act the dark wall color.
Earth tones
Earth tones like soft browns, ochers, rusts and beigey hues will also work well in a boy's room and the accessories can be matched readily without opting for the color contrast look as mentioned above.  If your little boy likes camouflage, then why not indulge him and fill that bedroom with those color tones and easy-to-find matching accessories.  Rustic-looking furniture and camouflage accessories are sure to give the room a rugged look that little boys crave and will just love.
No matter what colors you choose, let your little boy have a hand in picking the motif or decals to create a more personalized look for his bedroom.