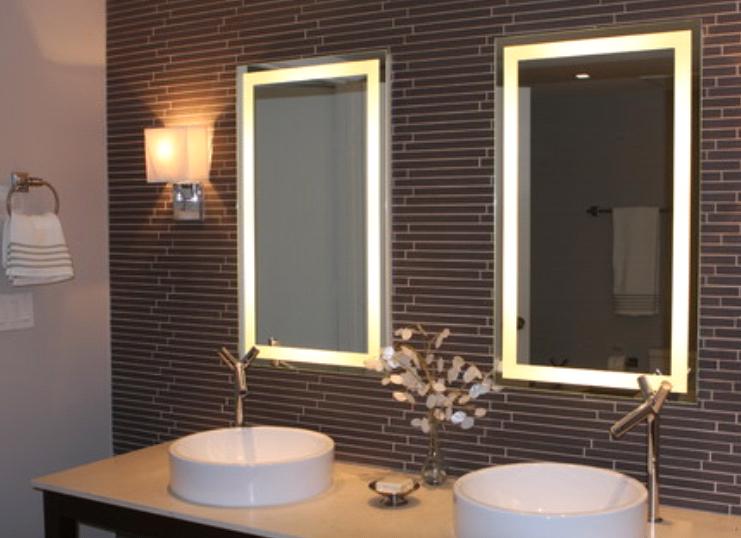 Mirror, mirror on the wall, who's the fairest of them all?  Well, if you're standing there, prancing in front of the bathroom mirror with your smartphone, chances are that the person peering into that glass thinks they are "all that" and the fairest one in the land.  Mom probably told you that a little modesty was okay, but not to go overboard.  She probably also told you that the last thing you should do before leaving for work or a social event, is to check yourself out in the mirror because you should always present your best image to the world.

A good quality mirror
A wise investment is the purchase of a good quality bathroom mirror.  Sometimes you need to rely on more than the mirrored medicine cabinet for application of makeup, shaving or just for that last check before you dash out of the house.  The lighting in the bathroom is usually better than in any other room in the house so why not splurge and get the best mirror for your budget?  Sometimes the bathroom is small and you must share it with a significant other, so a wall-sized mirror just makes sense.  Finally, if you are renovating your bathroom, you must upgrade your bathroom mirror(s) as well.  Don't remodel and leave the old looking glass in place.
Illusion and aesthetic appeal
If you wish to make your bathroom look larger than it really is, then the mirrors you add to the room will give the illusion that the room is larger than it really is.  Think of "smoke and mirrors" … some illusions you can create with mirrors and types of bathroom mirrors are suggested below:
The placement of your bathroom mirror(s) will depend on the shape and size of the bathroom; if you have the luxury to do so, you can't beat a wall of mirrors for checking yourself out at every angle.  The style of your mirror must reflect not just the person staring into it, but it must match the décor of the bathroom.  If you cannot find a ready-made mirror that complements your bathroom décor and size, you have two options.  One is to go to a frame shop and purchase the frame which fits your décor, and the glass shop will merely frame the mirror for you, much like having a picture matted and framed.  The second alternative is to have the mirrors created by a contractor who specializes in residential glass installation.  Choosing the latter will give you a choice for a more creative mirror treatment and the mirrors will be installed professionally.  While choosing the perfect mirror design is important, a professional glass installer will be able to assist you in choosing a mirror which will serve its purpose for many years to come.  New Jersey has many great custom glass installation companies that will be happy to tend to all of your custom glass needs.  You should be mindful that some mirror frames, such as those made of metal or wood, may not be water resistant so that eventually they may rust or warp respectively.  When choosing the glass mirror itself, you should be mindful to choose one that is frameless or bevel-edged and specifically labelled "moisture resistant" as they have components found in the backing area which help the mirror last longer.
Mirrors give the illusion of a larger room, just by artfully positioning the mirrors on the wall of your small bathroom, or if you install a mirror that encompasses the entire wall space over the sink area.  Multiple mirrors, in rectangle shapes of various sizes around the room, not only enhance the room's look, but appear to give the illusion of additional space and light.  Installing lighting near the perimeter of the mirror with an artistically designed reflective frame or beveled edge, will give off additional light, a look that is beneficial if the room has shadowy areas or lacks natural sunlight.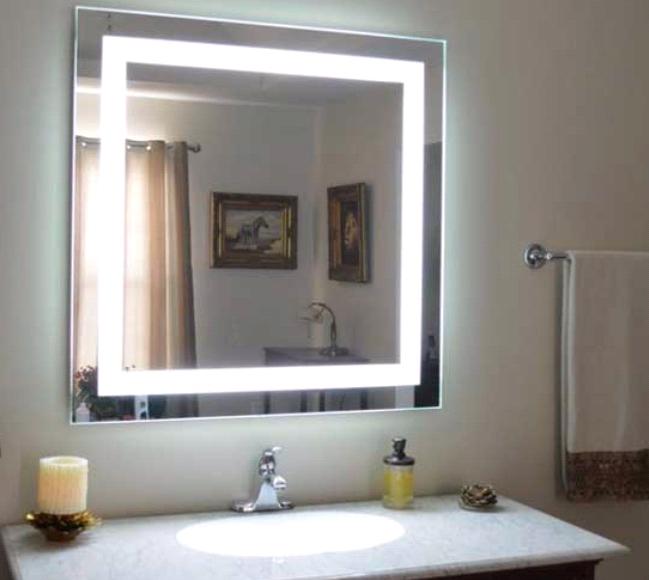 Simple frames
Whatever size mirror you choose, to give your bathroom a modern look and allow some flexibility for decorating the rest of the bathroom, try opting for a frameless mirror, which will meld into the décor.  Using a frame with interesting textures and linear or geometric design, will give your bathroom a contemporary look.  Chrome or wood are the most popular mediums for frames, but you must ensure they are moisture resistant.  Utilizing a ready-made frame in a pale neutral tone, works wonders with a neutral color palette or even such brighter hues like turquoise, coral or aqua.   A grooved surface or rectangular shape  throughout the frame or at the corners also works well for a contemporary bathroom, however, you should avoid  frames with deep carvings made with a flower, leaf or scroll motif.
The shape of things to come
The traditional shape for the single bathroom mirror is rectangular, with a 90-degree corner.  Why not change the horizontal mirror look for an edgy vertical look?  Or. you might want to try a more contemporary look by choosing a round-cornered framed mirror or even a line of trapezoid-shaped mirror pieces.
A mirror can be a work of art
Another trendy look for the bathroom it to lean a large floor mirror in a simple frame behind a claw foot tub to give your bathroom a contemporary look.  If you are without such a vintage-style tub, no worries… invest in an interesting frame and simply lean it against a free wall, rather than hanging it for a creative flair.
These suggestions can be implemented and give your bathroom a very contemporary look simply by contacting a specialist in residential glass installation here in New Jersey.