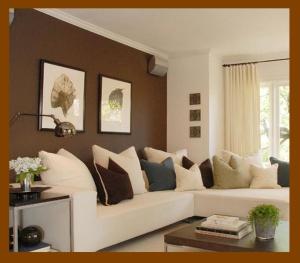 Imagine how boring the world would be if it were just in black-and-white tones?  Or sepia tones like eons ago?
How blessed we are to be able to spin the color wheel to create the most-beautiful or thought-provoking hues in our homes.
Color my world
These days with vibrant accent colors being paired up into unusual color combinations, you can create quite a sensation throughout your home, if you are savvy about picking paint colors.
You could try to do the painting yourself or you could hire an experienced residential painter in Bel Air who has many years of house painting under his or her belt.  He or she can sit down with you and go over each room and the pros and cons of the colors that you covet.  Then sit back and watch your house painter work his or her magic.
The 60/30/10 Rule
It is easy to be infatuated with the wall colors that you see when perusing the glossy pages of "House Beautiful", but some of those homes are mansions and have plenty of rooms to try out new things.  Even the modern colors at home shows might work in that setting, but not for others.  Especially if you have a smaller home.  It might be a tad overwhelming.
A designer has described how you to get your color scheme for each room and keep it in proportion with the room size and shape.
Implement the 60-30-10 Rule
This top decorator suggests to space your room colors using the proportion of:  60-30-10.  Most of your favorite rooms are probably already divided into percentages of 60-30-10.  This is a tried-and-true ratio and the designer  suggests this is because it is the human tendency to see an overall theme in the 60 percent hue, unifying the coloration.  The 30 percent provides visual interest and the 10 percent provides the oomph.  Here is the suggested color combo for you to try decorating your room by dividing the colors into the following percentages:
60% of a dominant color
30% of a secondary color
10% of an accent color
Infuse color into a room
Try using complementary colors, which are the hues across from each other on the color wheel.  Some examples, radical as they may sound, would pair red and green, blue and yellow, or purple and orange.  If you decorate your room with traditional complementary colors from the color wheel, it works best in the more formal areas of the home, i.e. the living room or dining room.
If you are not of a mind to go too radical in your color choices for your home, it is a fairly safe bet to go with analogous colors, which is the description of those hues and shades that are next to each other on the color wheel, such as yellow and green, blue and violet, or red and orange.  Using colors that are analogous in nature creates a more casual, restful and muted coloration look which is perfect for the more informal areas of the home.  These are rooms like the family room, playroom or bedrooms, or, in other words, the rooms where you seek R&R at the end of the day.
A little bold
Using contrasting colors by the means listed previously, will give help to give your home interest and intrigue.  Color will define the room.  For example, a room that uses light and dark colors in contrast is considered more highly defined and therefore a high-contrast space, as opposed to a room that uses low contrast colors (like the analogous colors mentioned above).  Use these qualities to define the formal versus informal aspects of a particular room.
Some examples of the high and low contrast color theories that are popular today would be pairing black and white (which are not considered traditional colors, but instead colors which add or subtract light) or the duo of stark white with beige (low contrast) but which exudes a feeling of calmness, as does combining stark white and gray which similarly conveys peace and a restful room.
Armed with this theory of analyzing the color wheel, your home can be a showpiece in formal and informal living, and your artful use of color will be envied by all who cross your threshold.