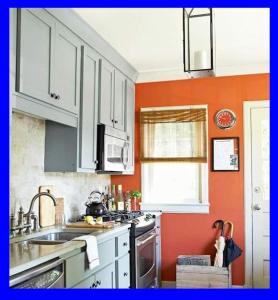 The most-popular room in the home is definitely the kitchen if you didn't already know that.  If you asked a teenager, they might say their room, since they hibernate in there so much, and, if you asked the man of the house, if he has one, he'd probably say his man cave or his media room since he likes to hang out there with friends.  Women might declare the bathroom is most popular in their estimation. 
Hub of the house
It's a hoppin' place for family and friends to gather around the table, break bread and catch up with one another.  Most kitchens are large enough to accommodate family and friends and a large table groaning with food, especially at holiday time.  The kitchen is like a family room – everyone congregates here whether they are side-by-side, around a table, or lined up along an island – often, it seems, it is indeed… the more the merrier.
As to room color and accessories, they are comfy, cozy and often look "lived in".  The room is usually painted a lighter color, perhaps a sunny yellow, and if you're blessed with a huge window for the sun to stream in and light up the room, all the better.
If you are looking to add a little interest… translation – pizzazz to your current kitchen, how about freshening it up with a new paint job?  But this time, when you go shopping for your paint color, why not consider using an accent color to give your kitchen a kickin' look?  If you're not sure what accent colors are trending nowadays, or, whether that look would be good for your particular kitchen, why not consult with a top house painter in Beverly Hills, who will be able to assist you in creating a more modern look for your kitchen?  As an experienced residential painter, he or she will be able to help you modernize this busy room, with a mere can of paint, and a roller or paintbrush.
Trending colors today
Do you have any backsplashes in your kitchen?  You might have one behind a sink, or stove, both which are an excellent means to catch splashes and splatters.  You might even have some ornate, ornamental tiles, which, with their vibrant hues creates a splash of color in the midst of the kitchen décor.  If you like that look, why not consider creating a focal or accent wall using a contrasting color to the remaining wall colors?
Colors for a focal wall
Although a mustard-colored wall may not sound too awfully appealing, this color will complement cream-colored walls and bring new life to an otherwise blah color scheme.  It is an especially nice hue if the dining room is adjacent to the kitchen and the colors for that room are in the beige-brown palette.  Using a mustard color or similarly deep, saturated yellow for an accent wall, or just for cabinets or islands, will create an eye-opening look for your kitchen.
Bearing in mind that the colors need to complement themselves somewhat, try to have them morphing or blending into one another, but still aim for a little accent color for visual contrast.
Light gray with a darker gray focal wall and color accents for insets of cabinets and/or the island is a winning color combo and easy to keep clean and even easier to accessorize.
A way trendier look is to have darker gray walls and a turquoise or dark purple accents.  It might take some getting used to but in the end you'll wonder why you didn't go with this color choice sooner.
Mix and match
White is extra nice when three walls are stark white and the island and cabinets surround the perimeter are in indigo blue.  It is a trendy look and is easy to match accessories.  Or how about a medium green for contrast against all-white cabinets and white furniture?
If you're just looking for a little change, consider using splashes of color around the kitchen to add interest and intrigue.
Black and white is a great color combo for adding a new and bold look for the kitchen.  Go with three white walls and a black focal wall.  Don't forget to add alot of bright-red accessories, or even furniture, to round out that suggested color combination.  Or you could try a trio of white walls, and a red backdrop wall and a black island.  It is easy to find accessories when using these three basic colors.
Create a vibrant look
Though it is hard to believe, at one time, all kitchen appliances were white.  Can you imagine how boring that look was?  Then along came fridges and stoves in such radical colors as harvest gold, avocado green and Coppertone brown.  Today's kitchen appliances are often found in stainless steel and even black besides the traditional white or cream color standbys.
What are the trendiest accent colors so that your stainless steel appliances don't stick out like a sore thumb in the kitchen?  Deep and dark shades rule in the kitchen these days.    The reason is stainless steel reflects alot of lights, so pair 'em up with bold and bright colors.  A trendy color to pair up with stainless steel when it is predominant in the room is a deep red.  But, don't get carried away and paint the entire room red… just one focal wall in deep red please or you might have yourself seeing red down the road for choosing such a vibrant shade.