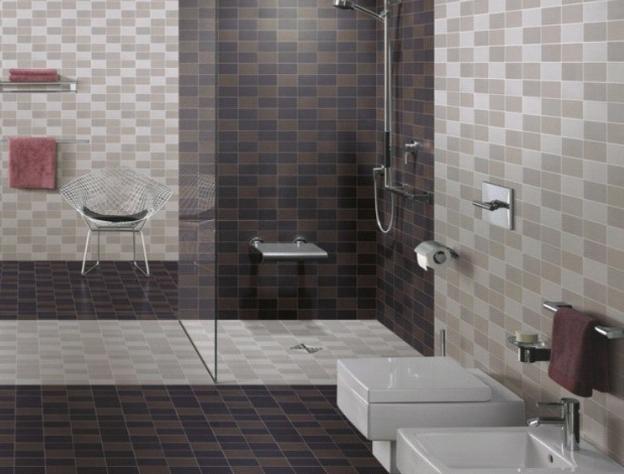 Decisions, decisions.  You decide to revamp the bathroom – not a total overhaul or a big remodeling project, since you are pleased with your bathroom and it just needs a little lift.  So, do you grab a can of paint to freshen up those bathroom walls, or do you slap on tiles from floor to ceiling and call it done?
First, you'd have to decide just how valuable your time is as regards to paint especially, i.e. repainting a room involves shopping for paint, prepping the wall, washing down the walls a few times a year to keep it clean, then maintenance chores like repainting every few years versus tiles from floor to ceiling, which, once in place, are virtually no maintenance.
Well, that's a tough choice when it's put that way isn't it?
Of course you could always rely on an expert contractor that specializes in interior painting in Great Neck.
Tiles versus paint
Tiles are a great look for the bathroom, uniform and neat, whether you use them to surround the entire bathroom, or just in the splash back areas, they help keep the mold or mildew at bay, they need very little maintenance and the bathroom always looks fresh with just a wipe down of the tiles.  You can opt for any type of tile in the bathroom, with plenty of sizes, shapes or unique designs available.  Some folks prefer a half-tiled look, wherein tiles are from the floor to half-way up the wall, all around the perimeter of the bathroom and those tiles match the shower tiles and the backsplash tiles.  There are even ornate hand-painted tiles that will certainly kick your bathroom décor up a notch.
But, what if you get tired of the totally tiled-up look?  Isn't it a big chore to remove all the old tiles to ready the wall for painting it?
The good news is you need not strip those once-coveted tiles from the walls to get a whole new look – find out how to tackle this do-it-yourself project below.
Painting over tiles
Even if you tire of the tiled look, don't despair because, unless the existing tiles are chipped or otherwise deteriorated beyond repair, a few coats of paint will just coat over and cover those tiles giving your bathroom a brand-spanking new look.  All you need to do is inspect the tiles to see if any chips or rough or jagged edges need to be repaired and do those repairs, carefully sanding down any rough areas with fine sandpaper (120-grit is recommended).  Then scrub down the tiles vigorously and allow them to dry.  Next, apply two coats of paint, beginning with the grout areas first and working the paintbrush over the tiles to achieve full, even coverage.  Ensure you give the paint time to dry between coats.  To achieve a long-lasting paint job over the tiled areas, avoid using an abrasive brush or sponge of any type to scrub down the area, as the paint may peel, or chip.
Plain paint
If you're up to the good, old-fashioned paint job, then ensure that your paint will be mildew free before you start the project.  There is much humidity in the bathroom, so if possible, always run a fan or open the window when taking a shower or a bath.  The best way to make and keep your bathroom mildew-free is allow much natural light to come through the window or have plenty of lighting to allow for drying to take place and no condensation to form.  There are various products you can apply before the paint color to thwart mildew.  Never simply paint over mildew because it will grow right through the freshly painted areas once again and it will become an endless cycle.
Once assured your mildew issue is taken care of, experts advise that you may feel free to give a thin coat over the protected area, then a heavier coat of paint.  Whether you paint the bathroom yourself or hire a professional interior painter to do the project, maximize those efforts by picking good quality paint and having the proper brushes to do the job.
Just as important as using the proper implements for your paint project is picking the colors to create that newly revamped bathroom, which might just, become the most beautiful room in the house. The trending colors for bathrooms this year are soft pastels which reflect light and open up the room like shades of pale pink or blue, lavender and peach – all which will bring peace and tranquility to the tiny room.  For the ultimate bathroom décor, consider matching tiles, used only halfway up the wall in a slightly darker color to add contrast and complement to the paint job.