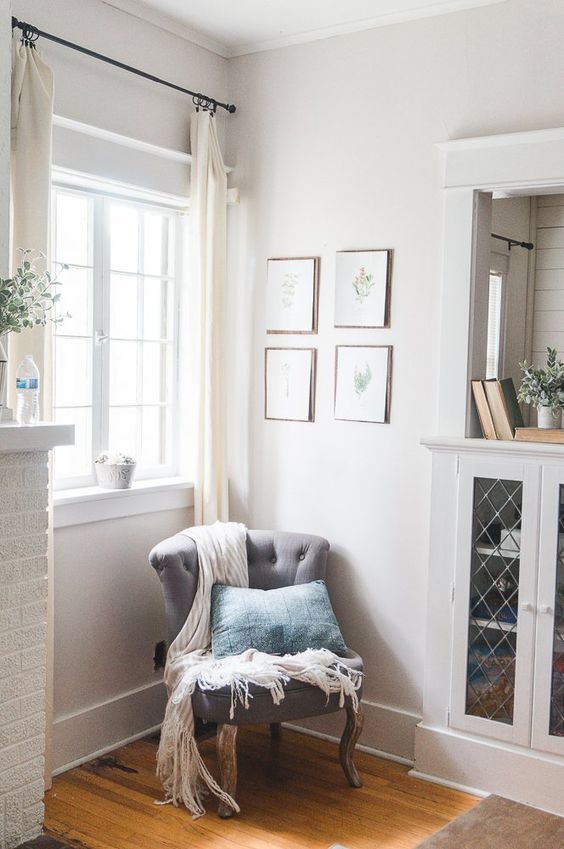 As anyone with home remodeling experience may know, the design and rebuilding industry is ever changing. But no matter what the inspiration is, it's clear that each new year brings with it a breath of fresh air, along with a palette of bold new paint colors. The color trends of 2019 are taking a more mindful, lifestyle-based approach to the development of new shades. Color experts predict increased popularity of earthy tones, from the soft gray of a morning mist to various shades of blue to a terra-cotta reminiscent of Georgia red clay. Here are the most popular interior paint colors you'll want to consider.
Minimalistic Approach
The minimalistic movement has encouraged many modern homemakers to live a more clutter free home. With that being said, shades that are associated with minimalism are being incorporated into many home palettes, such as creams, beiges, and whites. Rooms painted in white have a sense of spaciousness, purity and simplicity. I would suggest going for an off-white blended with cool tones of blue to add a sophisticated look to any room you wish. Or you could go the all-white route, there's nothing more classic than an all-white palette.
Calm and Cool
If you're a traditionalist going for a more casual approach, charcoal blue, ice blue, gray-blue, and a very pale powder blue are great options when looking for paint colors. This year we're going to see blues with a softened mistiness and haze. Blue has been a longtime favorite for bedrooms due to its calming and peaceful effect. I would suggest going for a blue that has a calming grey undertone that promotes a serene energy in the home or shades of blue with green undertones.
Shades of Gray
In 2019 we'll see people incorporating calm grey undertones, which create a soothing and contemplative state of mind. Navys, purples, and browns with grey undertones create a sense of tranquility in the home. Charcoal gray adds drama to a dining room or elegant formality to the living room. Light, silvery gray walls create sense of open space. These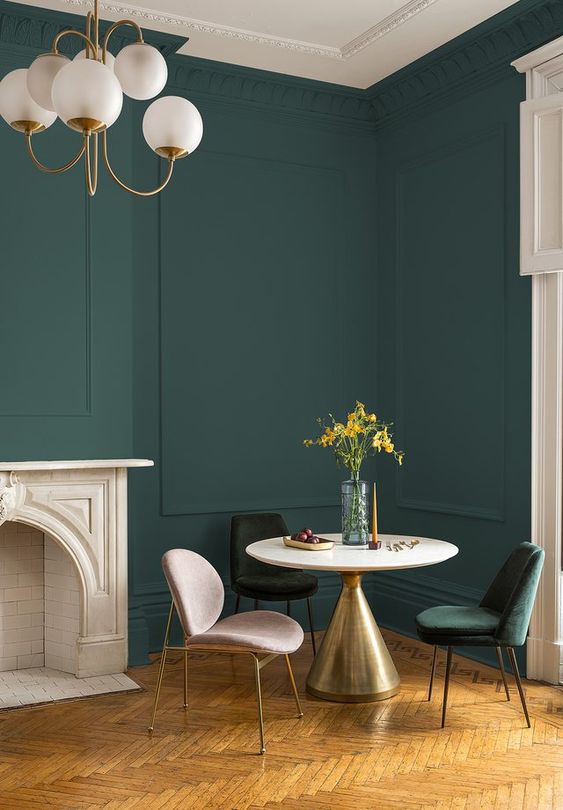 shades of this interior paint color would look best on living room walls, with warm colors balancing its coolness. You could also use a soft shade of gray to add a soothing touch to sleek kitchen or in a bedroom for a dreamy and sophisticated look.
Forest Greens
The 90's is back and it's bringing a new take on rich hunter green. From muted to moody, the deep green color trend can work to emulate the feeling of lush botanicals and the healing power of nature in your home. This trend looks best in well-lit, large rooms as its intensity can overpower small spaces and make them look darker. A color to consider would be Night Watch, which is one of Pantone's top 2019 paint colors. It's a very dark, intimate, rich green that reflects a mood of lavishness and poise.
Southwest Desert
Sherwin Williams' 2019 color of the year is Cavern Clay, which is a Southwest inspired tone. This creamy rust is perfect for those who want a nature-inspired hue with a contemporary twist in their home. This interior paint color brings the outdoors – think canyons and deserts. This paint color is best used in a kitchen, dining area, or a room to relax. This warm and rustic terra-cotta shade is one of the most versatile paint colors on the list of paint color trends.

Mushroom Shades
Mushroom is considered a trendy color due its dark yet muted tones. If you're a fan of browns and earth tones, then mushroom hues are for you. It's not as rich as a pure brown, allowing you more flexibility to accommodate your interior design decorating style. Shades of mushroom are also gender neutral and timeless in appeal. It looks great with natural furnishings and finishes.
Perfect Pastels
Muted pastels describe a free-spirited aesthetic, with a preference for all things light and refreshing. You can go for something subtle like a very light pink, blue or yellow. Try going for mist home interior colors that may come from a blend of muted pastel blue and green with gray and lilac undertone. This color trend is a much more interesting starting point than standard beiges and whites. You can think of it as a blank canvas for décor.