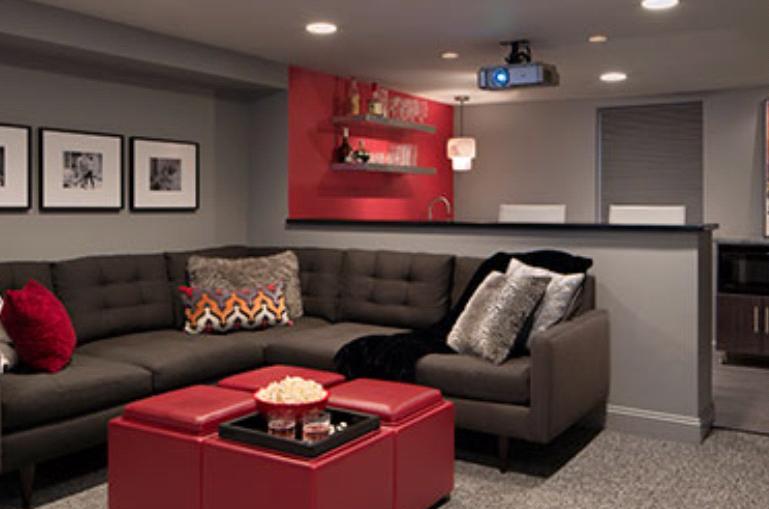 Going to the movies has changed throughout the years; it used to be more of an event – something that you might have even dressed up for.  There used to be an usher to escort you to your seat, then once the heavy curtains parted, there was a hushed silence in the audience as the audience waited for the entertainment to start.  It was not just the main feature, but often a newsreel, cartoons, some advertisements and previews first.  You parents will verify that at one time, the attraction for attending the movie theater was to collect bone china, with different pieces featured each week.  Going to the movies exuded an air of politeness back in the day, with no talking, obviously no cell phones ringing, and, unbelievably – men and women had to remove their fedoras and stylish hats so that the people in the seats behind had a clear and unobstructed view of the film!

The demise of the movie theater has changed with the advent of Blockbuster Video and then the ease of viewing movies or events in a pay-per-view format, on cable, Netflix and even streaming movies (and even TV. shows) on your computer.  The latter two means of watching movies has eventually caused countless consumers to "cut the cord" and abandon their cable television.  This turn of events has also encouraged homeowners to purchase large TVs from which to watch movies and special events.  Gone is family time with parents sitting in two La-Z-Boy recliners and the kids sitting cross-legged on the floor, with everyone glued to the TV. set.
Then and now
Fast forward more than a few decades, and, the trend now is for homeowners to dedicate a whole room in the home, with comfortable seating and amenities that resemble a movie theater, and call it a "home media room" or "home theater".
It is a novel concept, and one wonders if it will eventually replace the "man cave" where guys gather with their pals, in a room that is separate from the rest of the household, to enjoy adult beverages, down manly munchies and watch the big game.
Today's media room is meant to mimic a traditional movie theater – the heavy draperies, the rows of seats, even an area for refreshments and the quiet and dark hush that we are so familiar and comfortable with, but, there are no lines to queue up to buy tickets or visit the restroom or concession area – even the hot buttered popcorn is available thanks to Orville Redenbacher's microwave "Movie Theater Butter Popcorn".  What more could you ask for?
Create your own movie theater
Maybe the kids are gone or you no longer need that home office and find yourself with a spare room.  Though the idea of converting that room to a home theater is fun, you must think things out a bit, in that, it involves more than just setting up the big-screen television and assembling s few chairs around, and it is good to include a refreshment area, with a bar and fridge for cold beverages and munchies.  If you are ready to have that amazing home theater today you should contact a top house painter who can assist you with the creation of this room.  A top residential painter in NYC will work with you to create the media room of your dreams!
But to recreate the genuine theater look, you must ensure you have unrestricted viewing to the screen.  This doesn't mean ensuring someone tall doesn't block your view.  It means you must be sure to create a setting which duplicates a theater in that there are no distractions from your eye to the screen.  This is done in two ways: first, by creating wall color that doesn't distract from the screen viewing, and, second, blocking out extraneous light and sound from the room.  Here are a few steps to take for optimal viewing in a media room:
#1 – Choose a paint color
You might be wondering how paint affects the color of a media room.  There are a multitude of details about picking the perfect paint for your home theater – read about them sooner, rather than later after you've created the room, because you want that perfect home theater experience as soon as the paint dries.
More great tips
Glossy walls wreak havoc with the quality of the picture.  The most-important part of the paint job for your home theater is limiting, or totally eliminating, any reflective surfaces as they will bounce light off the wall and onto the screen.  You may want to use a high-gloss or low-gloss paint to eliminate smudges or fingerprints on the walls, but this is a no-no because glossy walls will cause light to travel around the perimeter of the room, thus wreaking havoc with the color tones and quality of the television or even a projector screen picture.  By choosing a dark, neutral-colored wall color, with a flat or matte finish, you will prevent this issue.
Choose dark-colored walls (even if they look ugly).  There is a time and a place for creating a room that is a "thing of beauty" and for the media room, you must choose a wall color that will work best for the reason that you are in the media room – to view the screen.   Choosing a dark neutral shade such as gray or brown will enhance your viewing experience, but black walls will give you the most-accurate colors on the screen, thus your viewing experience will be comparable to a genuine movie theater.  Please do not allow your choice of wall color to be influenced by how drab and ugly the room will look.  Beware of lighter-toned walls as they reflect light, and brighter shades, like the primary colors (red, green and blue).
If you are dead set against having four black walls, you could simply use a focal wall, which would be to have one wall painted in a different hue, and the other three in the same color.  If you opt for this concept, use a light neutral wall behind the screen, thus ensuring no light reflection will occur.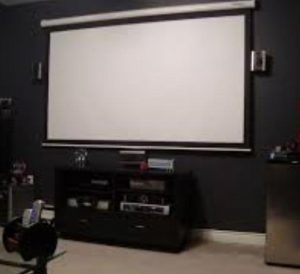 By the way – light bounces off the ceiling too.  There are pointers for the ceiling as well.  While most, if not all, ceilings are painted white, the same rule of light reflection applies to the ceiling.  If you paint the media room ceiling in a white or light color, the ceiling will reflect that light and shift it toward your screen and create a glare, so the rule of thumb is to paint your ceiling in the same shade as your wall colors.  Yes, the room will look like a dark box, but you have just created the ultimate viewing experience!
Block out any available light
You need to eliminate distractions which will ruin your viewing experience.  This includes sunlight which could stream into the room, and, you need complete darkness to optimal viewing.  To block light from the room, your best bet is to use heavy blackout draperies that hang to the floor thus permitting no rays of sunlight to escape into the dark room.  These may be purchased in any store that sells window treatments and are available on the internet as well.  The drapes need not be in the color black but do steer clear from patterned, or, especially metallic-colored draperies.  The beauty of blackout drapes is they do more than just block the light; they also muffle sounds from outside your home, or even from other parts of the house.  Blackout drapes are not a new or unique item – people who work the graveyard shift, or parents with babies, have been using them for years to guarantee rest, unencumbered by outside distractions.
With these painting and drapery tips in place, you are ready to get your TV. or projector plus seating in place, then you are good to go.  Remember that the paint job is the most-important part of setting up a home theater or media room, so don't be disappointed with the end result – don't trust that job to anyone but a top house painter.