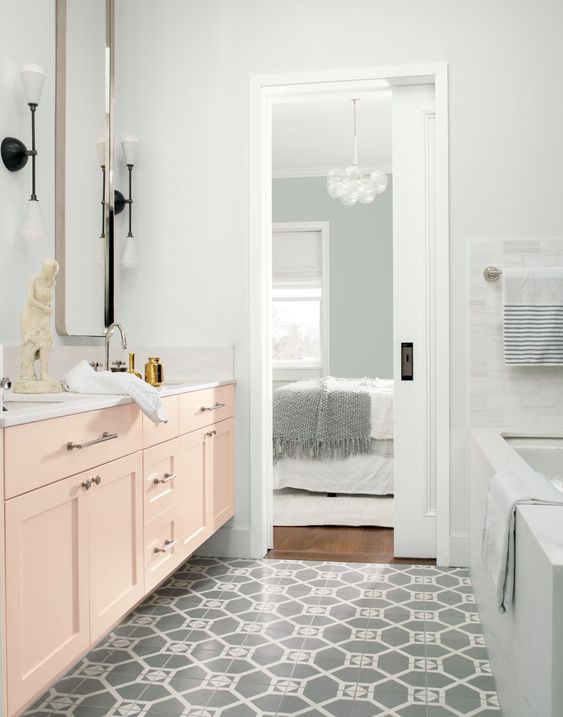 Color has a profound influence on a space and the people in it. It can make or break a space. Choosing the right color for the rooms in your home is an important aspect in interior design. One way to make it easier in choosing right colors could be by understanding the psychology of color and using it to your advantage to create an inviting and productive space. Color is a powerful design tool that can make the rooms in your home feel more calm, cheerful, comfortable or dramatic. Warm tones, like red, orange and yellow can energize a space. Cool tones such as blue, green, and purple generally create quiet, relaxing atmospheres. Deciding on a paint color for each room in your home can feel like an overwhelming chore, but it doesn't have to be.
Almost White
For those who crave a minimalist palette that steel feels dynamic, an almost-white shade is the way to go. There's nothing more classic than all white palette. Almost white shades offer a subtle nuance that adapts to different, lighting, furniture, and surrounding colors. I would combine it with grey flooring and maybe a light pink for drawers.
Citrus Orange
Attitude is reflected in electric tones like citrus orange, lime green and bright yellow. This is a paint color you can use in your home office or an extra bedroom. Play with contrasting hues, such as minty green, pale yellow, and neutral gray for a fascinating whole-room palette. When using intense colors, choose a low sheen to balance the visual stimulation.
Berry Reds
Expect to see this color trend in 2019: bold, saturated reds that infuse life into a space without making it too overwhelming. Deep berries have comforting and cozy qualities, while energizing as space with their rich color.
Misty
Mist home interior colors come from a blend of muted pastel blue and green with a gray and lilac undertone. This moody blue has a calming grey undertone that promotes a more serene energy in the home. You can think of this color trend as a blank canvas for décor of all colors and styles.
Blues
If you're going for more of a casual approach charcoal blue, ice blue, gray-blue, and very pale powder blue are great options when looking for paint colors that are subtle. The vibrant aqua is bold on its own, but the versatile hue changes when paired with different colors.
Soft Clay
Soft clay paint colors are great alternatives to beiges and browns as they'll lend any room a certain sunny zest and casual elegance. This color will have you feeling like you're in Miami with zesty hues. You can go for the latest colors that boast unusual takes on clay tines to make any room a feature in your home or go for an accent wall. See how the hue can elevate your room and mood at ease.
Muted Pastels
Shades like creams, beiges, and whites that offer a minimalistic approach are being incorporated into many home palettes.  Cream shades with bolder, more colorful undertones are desired for their simplicity that can be manipulated with different types of lighting. Pastels in muted tones have a soothing appeal that brings with them an understated vibe for common areas like kitchen and bathroom. These tones of color are very gender neutral. Try combining the latest paint colors and a dramatic marble backsplash in complimentary tones.
Forest Greens
Hunter green is one of Pantone's top 2019 paint colors. This green gives you a sort of 90's vibe. It can work to emulate the feeling of lush botanicals and bring the healing properties of the outdoors into the home.  This green paint color is perfect for well-lit, large rooms as this color can make small spaces look darker.
Soft Terracottas
Cavern Clay is Sherwin Williams' 2019 color of the year. Cavern clay is a Southwest inspired tone. This is a great choice of color for those who want a more nature-inspired hue with a contemporary twist in their home. This creamy rust really brings out the outdoors – think canyons and deserts. It represents the growing popularity of the desert-modern style. This color would look ideal in your kitchen, dining area, or a room to relax in.
Contact a painting contractor today, and get started on designing your home just like you've always dreamt of!