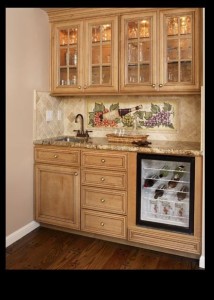 If you're happy with the layout of your current kitchen, but itchin' to do something innovative and creative in this food prep and eating area, why not consider some of these trending ideas? They run the gamut from accessorizing with just a twist to some more major remodeling efforts that will bring some zing to your current kitchen.
Trending ideas:
Shed some light on the subject:
Start out simple with some new lights to highlight some areas of the kitchen, provide better task lighting and utilize dim lighting for ambiance.
Under-counter lighting helps to shed a warm glow on your countertops and their accessories causing them to sparkle and shine. This has been a trending look for several years, especially with the advent of gleaming black countertops.
Sconce lighting doesn't need to highlight any objects since a sconce may be considered a focal piece on its own. The trending sconce finishes are mostly rustic, like copper and brass. Directional sconce lighting is a modern contemporary look as well; just pick your sconce to match your modern-look kitchen, while striving for a minimalist look.
Task lighting is critical in the kitchen, whether it is over an island or a counter. Otherwise, how does the cook read the recipe? Help him or her out by installing a hood with built-in lights to illuminate the stovetop area.
Put a little metal:
Putting an island
Islands continue to add a modern touch to your kitchen, and lucky you if your kitchen is large enough to accommodate one. An island will give you more flexibility in meal prep and clean-up plus added storage space. Positioning stools around the perimeter give you a quick breakfast bar or an impromptu group noshing any time of the day.
Colorful accents
Splash backs complement the modern or minimalist trend that features a streamlined look with no added frill or excess fussiness. Aim for a simple color for your walls – white is ideal. But, you'll need to give that neutral look some pizzazz in bits and pieces. So, think of splashbacks as one piece, or answer, to combating any blah look. To add a fashion splash, your splashback should be artistic, not boring, so banish that blah tiled look for good. Blue hues are a good option for splashbacks, whether a solid color or unusual patterns or designs, and it will complement your minimalist kitchen. Changing or enhancing your splashback is a simple DIY project – find and adhere the fashion tiles or install a ready-to-hang piece of tile art in a matter of minutes.
The naturalistic look complements the minimalist home. Natural-look accessories meld with the simple modern look and give it a rustic feel. Brick veneer or real brick add a rustic look for a backsplash areas. Real wood, especially repurposed wood, accessories give a touch of nature to the kitchen area as well. On a grand scale, for a timeless rustic look, the trend is ripping apart current kitchens to expose old natural beams which are then finished with stain or beeswax. It is costly to do this but give a whole naturalistic look to your kitchen.
Innovative renovations for your kitchen
Compact corner sinks are a trending look and an ideal solution for smaller kitchens. A corner sink makes good use of the otherwise empty space, freeing up the counter area for kitchen prep, storage or just for show.
Shelving goes to new heights with shelves suspended from the ceiling when there is no room for mounting cabinets. Also, floating shelves are a trendy addition to the kitchen as well as open shelving. Open shelving is the biggest trend, because it is useful and a way to showcase your various kitchen accessories, from the prized collection of cookbooks, to ornate bowls, the fancy crystal glassware, or even kitchen accessories. Today's look is all about highlighting the items in your kitchen, not hiding them away.
Black countertops provide a striking balance to the minimalist kitchen and is a modern trending concept. The countertops may be a glossy finish or a dull matte finish and are usually in black granite or quartz. When paired with white walls, you will have a winning combination for your new kitchen.
Outdoor kitchens are a godsend to the solution to slaving over a hot stove inside when you can take your cooking out to the patio. We're not talking about just a simple grill or BBQ either. Since this is a warm-weather state, one of the biggest trends these days is adding an outdoor kitchen. Why not take advantage of the beautiful California weather and enjoy meal preparation, dining and clean-up outside? It is especially enjoyable if you've been cooped up inside at work all day. Who knows … you might spend more time in your outdoor kitchen than your indoor kitchen, and those enticing smells wafting from your patio will tell the world … or the neighborhood anyway, just what a wonderful cook you really are.
Whatever creative kitchen renovation ideas you have in your mind, unless they are simple DIY projects, why not consider consulting a contractor who specializes in kitchen design in Atherton today? He or she will help you cook up a great plan to renovate your kitchen and take it from simple to spectacular!