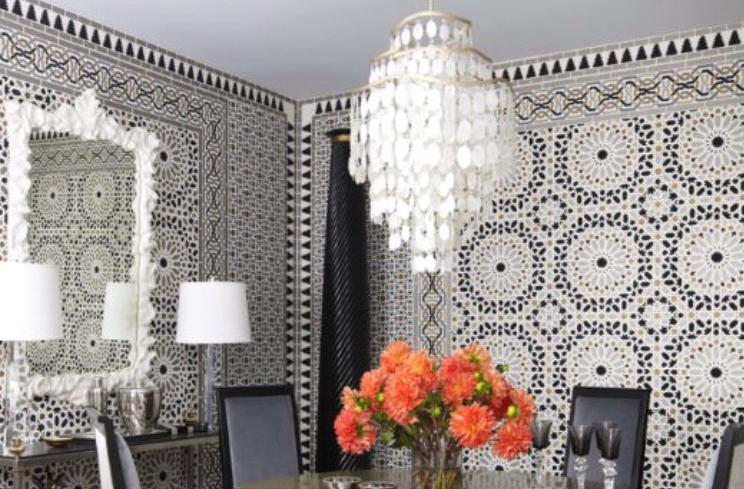 Wallpaper is to your walls what clothes are to your body.  So, why not take the care to "dress up" your walls and beautify them?  There are many wallpaper types and designs available, so you needn't be relegated to using a boring or staid wallpaper covering and just changing up the color to suit the type of room.
If you've perused the home decorating sites for wallpaper design, or, taken the time to browse through those very large wallpaper selection books in a paint supply store or big box home improvement store, you'll notice the many types of wallpaper designs that are available today and weren't available the last time you papered your home.
Today's wallpaper application is much easier than days gone by, and you don't need as much time and patience to get the wallpaper hanging job done, but, if you're not successful in matching up prints and "guestimating" how many rolls of wallpaper are needed for the project, you just might want to consider having a professional contractor here in Summit, New Jersey help you out in this regard.  Not only are they skilled in modern wallpaper design, but in doing a professional job as to wallpapering your home.

What is trending in wallpaper design?
There might be thousands of wallpaper types and textures and designs suited for your particular home décor, so how to you choose which is right for you?  Don't saddle yourself with boring one-dimensional wallpaper, when there are so many options, a few of which are listed below.
Plain is always popular
One of the perennial favorites is a subtle textured wallpaper.  The reason is because the plain design, which may consist of faux designs of woven fabric, stone, plaster or concrete, all in various color palettes, do not detract from your décor and the wallpaper does not compete with existing furnishings or accessories in the room.  It will meld into the background and never looks "busy".
"The Comeback Kid".
Just as other styles and favorite items, such as clothing and furnishings, and even food, tend to wane and gain popularity every so many years, once again there seems to be a resurgence of florals and geometrics for wallpaper.  If you've not thought of this pair of wallpaper design themes since the 70s, well… you are in for a big surprise.  For example, it is not tiny calico prints, that might be reminiscent of something in your grandmother's bedroom, but instead, flowered wallcoverings are big, bold and beautiful, some having been inspired by artists and executed by craftsmen, in fact, some floral-design wallpapers are part of an artist's repertoire.
Just as "flower power" may remind you of the mod era, circa 70s, likewise, geometric shapes are trending today in wallpaper design.  Trendy wallcovering today features a return to the simple elements of squares and triangles which incorporate the use of multi-layer and multi-color splashes and slashes to create a bold new look.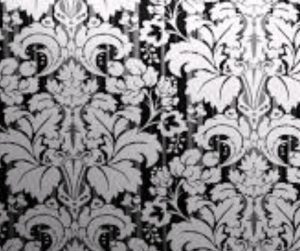 While this mod-look trend monopolizes the wallpaper scene, it may not be for everyone.  Having four walls featuring flower power or perhaps vibrant geometric shapes, might be a little much, another trend is to keep it subtle for three walls and create one vivid contrasting wall, or what is commonly referred to as a "feature" or "focal" wall.  Here you add a splash of vitality in one location and keep it simple everywhere else in the room.  You also won't "tire" of this look as quickly as you might with the four-wall pizazz look.
Other ways of utilizing the concept of a "feature" or "focal" wall.
If you liked the idea mentioned above of creating one wall which will complement the other three walls which might be done in a subtle wallpaper or merely painted, you might want to consider another trending look for that solitary wall, perhaps stationed right behind your bed headboard.  A trend that has gained popularity the past few years is the use of a mural comprised of photographs or quotations on the focal wall.  These can be thematic photographs, or a selection you choose from an extensive gallery, or, perhaps even some of your personal favorites which you may upload to a website which specializes in creating murals.  A good site to help you personalize your walls is:  www.worldwidewallmurals.com.  Many people prefer the look of a mural which consists of words.  There are many ways to create such a mural and endless fonts in which to do so.  Perhaps you have a motivational quotation or some written words which you cherish.  Check out the site www.wallwritten.com to see how your favorite words might be incorporated into an everlasting mural.
Now that you know the trending designs in wallpaper, why not abandon the plain painted walls in favor of wallpaper?  Try your hand at creativity or consult with a specialist in modern wallpaper design here in Summit, New Jersey.