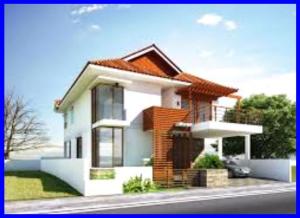 There is a proverb that first appeared in 1930 in the mystery thriller "The Green Rope" by J.S. Fletcher, and it goes like this:  "Home is where you hang your hat".  Though that proverb seems a little antiquated these days, its meaning still rings true.  No matter how large or small, or elaborate or plain that your home is, it is still the place that you return to at the end of the workday and where you break bread with the ones you love and treasure most in the world.  If you are single, then a home is probably the largest investment that you've made in your life and your most-prized asset.
That said, there is always room for improvement at the place where you hang your hat, whether they are minor tweaks just to polish up the place or major remodeling projects guaranteed to maintain its image or enhance the current property value.
If you are interested in changing the elements of style of your home, this can be accomplished in small or large steps, and needn't be an overbearing project.  Remember that small changes and/or remodeling efforts to the exterior design of your home can transform an austere or ordinary-looking home to one that looks luxurious and expensive.
The grand transformation
There are many ways to accomplish this grand transformation, and some, but not all, involve actual changes to the architecture or façade of the home.
Some current trends include adding such accoutrements to the backyard as a swimming pool, waterscape features, deck, yard landscaping, dramatic lighting or enhancements to a backyard patio to outfit it with a brick oven, outdoor kitchen, or even to highlight a terrace with a cozy fire pit.  But… that's just for starters for some modern exterior trends in the backyard.
What about front and center?
What do you do about the front of the home?  Shouldn't you aim for curb appeal as to the façade of the home, front and center, where everyone can judge the occupants of the home, based on just how well kept, luxurious and inviting that the particular property looks?  Whether your home oozes charm and character, or it is trendy and chic, it is an extension of you so why not make it look good?
If you are considering any home improvement for aesthetic purposes or whether you wish to sell the home down the road, for the near term why not peruse some of these modern exterior design trends listed below and then consult with an expert contractor regarding any home remodeling questions you might need answered? He or she may even come up with some ideas to enhance your home that you never thought about it before.
Trends in modern exterior design
Whether you're adding a few tweaks to the façade or making a complete "re-do", first and foremost you need to decide what particular architectural style you will embrace.  There are several architectural designs and this is where your consultant really comes into play because redoing a home's architectural style requires much forethought.  Among the options are tropical, Southwestern, Victorian, or Mediterranean.  These styles depend, of course, on the underlying structure of your home, as well as the property size, the neighborhood in which you live… even the region where your home is located.  These are all important options.
If you are considering remaking your home in a modern design, your project will involve decisions on overall sense of style, plus materials, color and don't forget one of the most-important factors… the cost.
Remember that even if you try to emulate a home you admire in a decorating magazine or an online site, keep in mind that the home should not merely be a cookie cutter production, but should have that personalized, creative, lived-in touch as well.
Modern design has special needs
To make your modern exterior design style work, there are specific materials or colors needed to recreate the look you wish to emulate at your abode.  The overall style of your home determines these materials.  Where traditional homes are all about brick and asphalt shingles, the modern design trend is moving toward such contemporary building material options as stone and metal roofs or metal siding.  The latter items help create the look you covet, but are pricier than brick-faced walls, asphalt roofs or vinyl siding.
Add a personal and trending touch
As mentioned at the beginning, there is always room for improvement on the outside of your home.  If a major remodeling job for aesthetic value only leaves you a little hesitant, there are always creative ways to add a little fun and flair to the exterior of your home without spending a small fortune.  A paint job in a new creative color combo, or simply switching to a brighter or darker hue, will lend some interest to your home.  Nothing draws the attention of the eye to a home more than a brightly colored composite front door – consider fire-engine red, sunny yellow or brilliant teal as options.  Additionally, you can add such decorative elements to give your home a more modern look just by strategic or creative lighting, unusual-looking fonts for your house numbers, or even a mailbox that is a whimsical or funky design that suits your personality.  Even signs that hint at a hobby, pet or family interest, that are incorporated into the address on a pole or light post can also add a touch of humour or human interest to your home.
Whatever you do to enhance your personal living space, be it a dramatic overhaul or a mere tweak or two or three, in the "Do's and Don'ts" category, DON'T go for the permanent outrageous look (after all – what if you have to sell your home one day). But DO aim for a more modern or creative touch to the exterior of the place where you hang your hat or lay your head on the pillow every night.  It is sure to add curb appeal to your home and make you the shining star of the neighborhood.