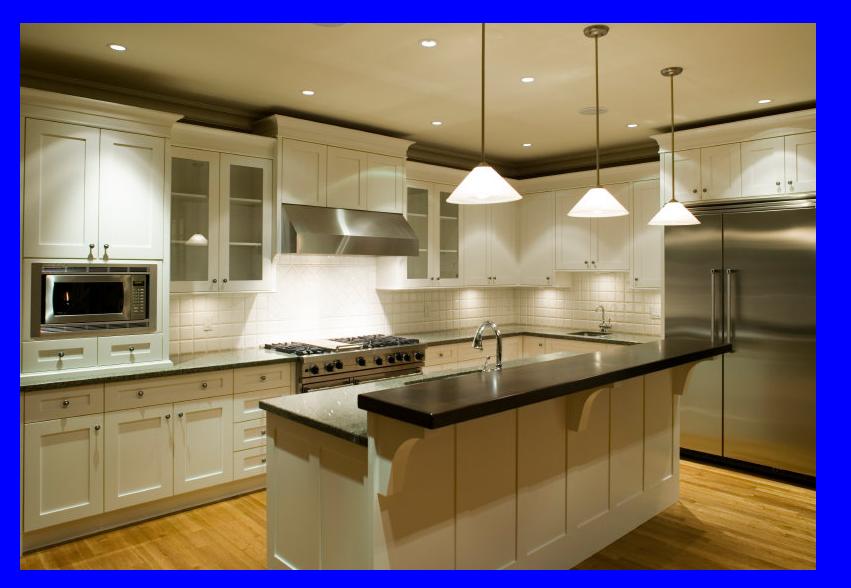 Today the trends in kitchen lighting are way beyond the single kitchen fixture in the middle of the kitchen ceiling of yesteryear.  Today's lighting gives credence to the idea of a "bright idea".  You might have been content to rely on the light emitted from a lowly bulb, and, on a sunny day, you could count on the outside light to read your cookbook or see those specks on the freshly washed glasses, but, what do you do on a dark and dreary day, besides order takeout food?
There are a wide variety of lighting options for the kitchen today.  Not only can they give that room a more contemporary look, but, the biggest plus is the way that you will guarantee big cost savings on your energy bill.  It doesn't get any better than that does it?  Below are a few of the kitchen lighting options available to choose from.
Kitchen lighting sources
In renovating the lighting sources and styles in this room, you can opt for a little or alot of light.  You can add more light in the room by replacing outdated fixtures with larger ones or adding a row of them, like pendant lights.  That will enable light to reach more areas of the kitchen.  But if you still desire more light, your next choice is add some ambient light for accent and background lighting, and then perhaps some task lighting to focus on the task at hand.
Pendant lights are trending today. They come in a variety of styles, all geared to suit a particular kitchen decor.  You can get one or two large lights over a kitchen table or food prep area, or mount them over an island or breakfast bar.  Depending on what style you choose, they may be considered as both ambient and task lighting.
Skylights are a wonderful way to stream sunlight into the kitchen. Your local electrician would be able to configure a skylight into the room that won't let too much of that hot sun into the kitchen when you are cooking in the heat of the day, but enough light that you can shut off the lights and enjoy the natural light.  This is not a great DIY project though since skylights are tricky – they must be airtight, otherwise the first torrential rain will bring an unwanted surprise into your kitchen.
The more the merrier
Layering lights has become popular… if one or two lights work well, the more lighting the better, right?  You can utilize different types of lights –a main source light, task lighting and ambient, or accent, lighting.
The most-popular types of ambient and task lighting are listed below.  Though they could become a DIY project, when it comes to wiring and electrical matters, it is always better to consult with and have the project done by a professional, so see your local electrician for more details.  Here are some ambient lighting ideas for you:
For lighting the general area
Foyer lighting is a wonderful option for kitchens directly adjacent to the foyer. Pendant-style lights disperse the light into adjoining areas as well as lighting up the general kitchen area.
Dimmer switches will create soft lighting, and are often used in the dining area, or adjacent areas to the kitchen; they are helpful when bright lights are not needed for tasks, and can also serve to cut energy costs when more high-power lights are unnecessary.
For Spotlighting in the kitchen
Counter-top lighting is edgy and popular. It became popular when homeowners started adding beautiful natural stone countertops to their kitchen.  Some homeowners use counter-top lighting to highlight their prized collectibles or even a gleaming row of matching kitchen appliances.  While mom might have had the flour and sugar canisters on her counter-top, you may want to show off your gizmos and gadgets like a bread machine, espresso maker, food dehydrator and convection oven, or even your collection of antique cookie jars.  You may opt to leave these lights on 24/7, and they are available to use high-efficiency lights.
Under-cabinet lighting is strictly used for ambient lighting. Get your glow on with soft lights which will accent your beautiful kitchen, from that antique cookbook collection from Grandma to the ornate tiles in the sink and cooking backsplash areas.  S. You'll look spectacular in your apron and chef's toque as well with the glow.
Sconce lighting will provide soft lighting to any dark corners in your kitchen. You may utilize a single sconce or a pair.  They are available in many types of finishes, so whether you like streamlined and edgy or simple and rustic, these beauties will disperse soft light upward and in the general area.
Halogen lighting is handy when you wish to spotlight or showcase a collection like your fine crystal stemware or maybe heirlooms or collectibles in a curio case.
Up lighting is popular in newer homes with high ceilings. It is used so that the lighting is adequate in a room with an especially high ceiling.  Up lighting is special lights installed onto cabinet tops which spotlight the ceiling.
Adequate light to perform tasks
Track lighting layers lights to fill in the gaps where overhead pendant light fixtures or ambient lights fail to provide adequate light, resulting in shadowy areas of the room. Track lighting is versatile and available in energy-efficient options as well.
Recessed lighting is a means of providing lights in recessed areas around the ceiling, and is a popular item in the newer homes with high ceilings. Most newer homes with high ceilings have built-in recessed lighting, but an experienced electrician can retrofit your kitchen to enable recessed lights to light up your life as well.