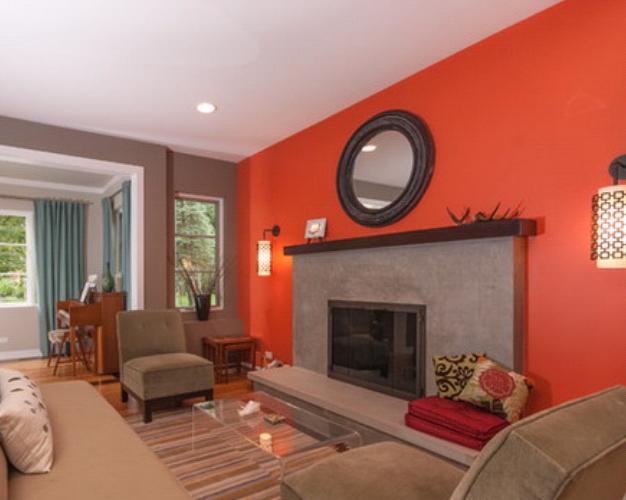 Fashion designer Lilly Pulitzer, renowned for her vibrant floral prints, once stated: "I am a believer that color affects people's moods."
Of course everyone agrees with Lilly Pulitzer and we don't need to be a psychologist, a top fashion designer, or an interior decorator to agree that the color of a room will either make us feel calm or bring us cheer.  Picking the wrong color for a particular room, might make you cringe, so for that reason, when undertaking the task of incorporating color into your home, special care should be taken to mix and match neutrals and intersperse those neutrals with vibrant colors to create momentum in each and every room, to have your home look like the pages in those glossy home decorating magazines.  You could read the tips below or put your home in the hands of an expert interior designer.  If you would like to talk to a professional about the latest interior design trends that will look amazing in your home contact an interior designer in NJ for help.  A top New Jersey interior designer will go over all of your design options and will help you make each room look amazing!
Color scheme for your house
Some homeowners opt to choose a neutral color throughout the house, simply accentuating each room with accessories and furniture, thus creating a harmonious look for the entire home, where other homeowners like the idea of each separate room with its own personality.
So how do you make the distinction of neutral-only with accent colors versus infusing creativity in each separate room?  It can be an arduous task, so don't feel badly if you have a difficult time deciding which way to go since decorators have a similar issue sometimes.  You can simplify the process by using a color wheel and going with two basic neutral-friendly color schemes, or use the old decorating standby of complementary color schemes.
Using the color wheel
If you use the complementary color scheme, you are choosing colors that are opposite from one another on the color wheel – for example:  red and green, blue and yellow, or purple and orange.  Complementary color schemes are usually found in a more formal setting, like a living room or dining room.
On the other hand, you may wish to use an analogous color scheme where you are choosing colors that are situated next to one another on the color wheel (like yellow and green, blue and violet, or red and orange) in your rooms that are situated in the less-formal areas of the house, like a TV room, bedrooms or a playroom.  If you guessed that analogous colors promote rest and recovery, you are correct!
But, there is more to just picking a color scheme to match the particular room.  With a little know how, you can learn to use accent colors to create pizzazz in your home, just as if an interior decorator shared the wisdom of all his or her trade secrets.
Want to know a secret?
If you study the rooms displayed in glossy home decorating magazines, or you peruse the best decorating sites on the internet, you will see that they follow a certain ratio of color variation for the room.
Picking the perfect accent colors.  You may "ooh and ahh" over those magnificent mansions and their stupendous designs and melding of color, wall, window and floor treatments, not to mention the use of color, but, the truth is your home is unique to you and often times will not work in the same manner.  So, how do you recreate these beautiful color combos without creating a blah and boring, or over-the-top color scheme in your home?  Here's what the top designers do to keep their color scheme in proportion, with just the right infusion of accent color to make accessories "pop".  HGTV.com has shared this ratio which designers use and it is as follows:
The 60-30-10 Rule is how decorators suggest you proportion your rooms to make the most of color variation.  To provide visual interest in a room, you should divide each room into percentages of the following proportion:  60-30-10.  This means, the overall color is theme of the room is 60 percent with 30 percent of the room providing visual interest and the remaining 10 is relegated to accent – this is where you get your "pop".  Those percentages are laid out as follows:
30% equals a secondary color; and
10% equals an accent color or colors.
You learned about using complementary or analogous colors above, and how to create a very "put-together" formal room, or a very relaxing and restful informal room, just by the use of color placement.  For example, a room which features light and dark contrasting colors is considered more highly defined and therefore referred to as a high-contrast space, wherein a room that uses low contrast colors (like the second color scheme of analogous colors mentioned above) helps restore a more informal feeling.  Popular pairings that are trending today are black and white (which are not considered traditional colors, but instead colors which add or subtract light) or white and beige (low contrast) or white and gray (low contrast), perfect for making a welcome and restorative environment.
Now that you are familiar with how important color is a factor in our lives, take the words of the late Lilly Pulitzer to heart and create a perfect aura in your home and do your family proud.