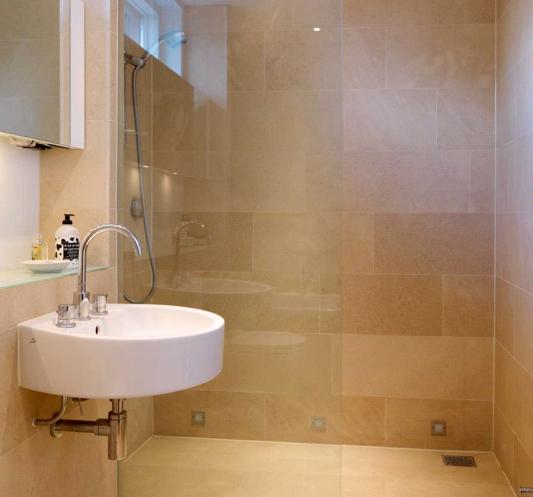 Modernizing and upgrading the master bathroom is one of the most popular home remodeling jobs today.  This is due, in part, to the stress factor in our day-to-day lives, and the need to have a safe haven within reach to relax and unwind at the end of a long workday.  A high-power steam shower, or a shower head that pulsates to create a pelting effect on the back of your neck, will leave you feeling ultra-refreshed with the stress of the day just swirling down the drain.  Thus, the bathroom has become a popular respite for some… a paradise placed within the confines of your home.

Whether your shower ritual is a quick cleansing in the morning or a pelting water spray in the evening, there are many types of shower designs available today.  The water features for the modern master bathroom might leave you somewhat in awe.   Modern bathrooms call for edgy accessories and that is not just updating your fancy little soaps and ensuring your window and shower curtains match the hand towels.
Take the shower for instance.  For many people, the only type of shower that they used back in the day, was a stationary shower head over the bathtub, and to use it, necessitated whisking that wispy drape and sometimes strong-smelling vinyl liner across the tub, or risk a rivulet of H2O pooling outside the tub on the floor.  Shower design has grown in leaps and bounds, and, though many people still use the type of shower mentioned above, there are others who prefer a stand-alone  shower, meaning that the tub is not connected at all to the shower and at a glance it might resemble the old-fashioned telephone booth.
Glass showers
Showers come in a variety of styles and sizes, and, depending on the size and shape of your bathroom, there is sure to be a shower design just right for your décor.  Though the type of showers may differ greatly in appearance, the most popular feature for shower design today is the clear glass shower doors and all-glass cubicles. Gulp.  Perhaps if you're young and buff you might not mind the fishbowl appearance, but chances are, you might be a little squeamish of baring all, even if only the mirror is present.  Anyone who saw the Alfred Hitchcock thriller "Psycho" may feel uncomfortable with the clear view.  In that movie, the viewer watches Janet Leigh through a clear vinyl shower curtain and we see her delight while she takes her shower, as river rains down over her body, washing the soap and shampoo down the drain and then the killer arrives.  The operative word here is "clear vinyl shower curtain" and if you think you'd relive that scene every time you stepped into a glass-encased shower, then you might want to see what options are available.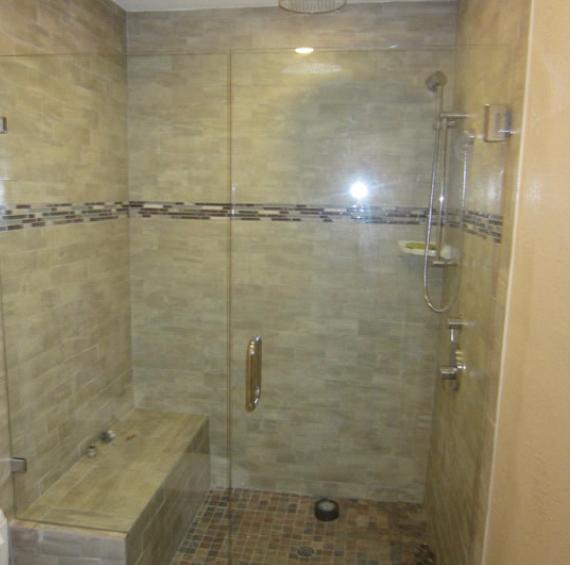 Privacy in the shower
The sleek look of glass doors and the glass cubicle shower are indeed edgy, and will complement the textured ornate tile, mosaic or even just a natural stone around the shower area.  Or perhaps you prefer the frameless shower look – a very contemporary trend right now.
But if you tend to seek a little privacy during your morning or evening ablution, and you might be sharing the bathroom with another person at the same time, do not fear because there are remedies to keep from baring it all.  The simplest solution to keep a level of decorum when using the shower is to have a contractor who specializes in interior glass installation in NJ place an opaque glass shower-area panel which will help keep your modesty intact.  If you so choose, you can have the entire shower encased with heavy glass giving a translucent look to the shower, despite the fact that the glass is opaque – thus, you have a look that is edgy, but more privacy is realized.  Your options may also include glass doors or walls which have a frosted or patterned glaze in the shower area only, leaving the top and bottom door and glass enclosure completely clear and transparent.
A less-expensive, but not permanent option, to eliminate the all-glass fishbowl look and add a wee bit of privacy is to purchase window film.  It is as easy to use as wallpaper – think of it as wallpaper for glass.  Window film will add privacy as well as a decorative element at the same time, and is available in various motifs such as tropical scenes, a geometric print or even the look of fine cut glass.  All motifs will vary in the amount of opacity and resulting privacy you will achieve once they are applied to the glass doors and/or enclosure, and you can experiment with whatever shapes you wish to use
A final less-permanent and creative option to allow for privacy in the shower area is the use of a Japanese Shoji Screen.  This is an Oriental-inspired, semi-translucent screen which usually consists of a wooden frame covered in rice paper, and used as a sliding door or partition in a Japanese house.  Smaller versions which stand upright and may be tucked away when not in use, may be expanded to place in front of the glassed-in shower area and may be made of rattan, wood, or fabric.
For any questions regarding the various bathroom glass enclosed showers, why not see an interior glass installer in New Jersey soon?