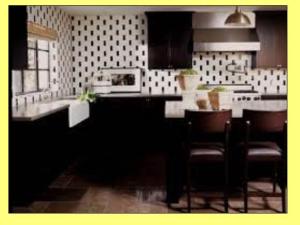 You've heard this expression many times I am sure.  But just because you live in America, doesn't mean you have to have a typical kitchen in a sunny yellow hue that coordinates with the ever-present, traditional gingham checked tablecloth and café curtains, just like Mom had.  That's right – there is always room to grow.
If you have got the space and the inclination, why not try aiming for a modern kitchen design that you'll love, others will covet and which will perhaps be the most-intriguing room in your home?

Why not stray from the ordinary next time you are bored with your kitchen, and are looking to make significant changes, like a remodeling job?  If you are looking to really make a big change in your kitchen, why not put a little zing into that room and pattern your kitchen after some of these popular international themes listed below?
An international flavor for the most-popular room in the house could be fun.  Sure, you could add a few accessories here and there, inspired by a favorite country or to create a special mood, but to create a room truly inherent to a particular region, you should consult with a contractor that specializes in kitchen remodeling in Cupertino.  Perhaps he or she can help you create an international-themed kitchen.
English-style kitchen
When people dwell on anything British, they usually think along the lines of very prim and proper and even aristocratic.  But, how does this description of a Brit theme translate to creating an overall English style in your own kitchen?
The English style is characterized by elaborating planning through the use of functional areas, i.e. convenient location zone cooking and placement of eating areas and home appliances.
What is the primary feature or features prevalent in an English-style kitchen?  First, do not even tackle this style unless you have a large enough kitchen to do it justice.  This is predominantly because of the paint colors used and the furniture used.  To recreate this style, use massive wooden furniture which is showcased in the center of the room.  The simpler, the better for the austere-looking kitchen dining set, which should be sturdy and well made, preferably with a bare or a natural finish, like varnish only.  This au natural table would be the highlight of the room.  If you prefer to have the furniture in a painted finish, use a color finish for the furniture to be determined by the color tones in the room.  For example, using alot of white and blue paint would mean that you should have lighter-colored furniture.  In general, the traditional colors for an English-style kitchen would be brown (or mahogany), white, green and blue.
Continuing with the natural wood look to incorporate into your true English-style kitchen, you should have mounted wooden racks for your dishes.  These dish racks would be both functional and decorative.  An unusual looking, antique forged chandelier will complete the look.
Italian-style kitchen
If you want an Italian-inspired theme for your kitchen remodeling efforts, here are a few ways to trade your regular hum drum kitchen into a kitchen fit for a contessa.
An Italian-style kitchen successfully combines the elegance and warmth that is so much a part of Italy and merges those factions with a look that is pure ancient luxury and rustic simplicity.  An Italian-inspired kitchen, just like the English-style kitchen, will find natural roughhewn furniture and accessories in such materials such as repurposed wood, and even revitalized types of stone.  Oak and pine in its natural form will work best to garner the right look.
Paint colors and combos that will be perfect paired together for the Italian-style kitchen would be red, blue, green, orange, lavender and ivory, with deep yellow and red hues are the most-favored color scheme for an Italian-styled room.
The Italian look also embraces a preference for not only repurposed stone, but for a masonry look using plaster.  In creating and processing plaster walls, it is possible to depict floral scenes, most especially as a tribute of sorts to the grape or the olive.  Similarly, a three-dimensional scheme for the ceiling looks good with added rustic wooden beams and a wooden or brightly-colored mosaic tile floor.
French Country Provencal-style kitchen
If the idea of a French County Provencal-inspired kitchen makes you take notice and say "ooh la la", well then maybe this particular style is just perfect for your kitchen.  This international style of kitchen is the epitome of warm memories of families gathered around a bountiful kitchen table, laden with good food.  The kitchen style is "lived in" and looks rustic and worn, as opposed to a style that is way too modern and sleek and simplistic.  The French Country Provencal kitchen is warm, inviting and conjures up memories of sunny days spent with your extended family.
It is that sunny and warm feeling and clime of Southern France that lends itself to the particular colors inherent to that region such as hues of dusty yellow, white and various shades of purple, running the gamut from lilac to lavender in that particular palette.
Like the English and Italian styles for the kitchen, the furniture theme is equally rustic and roughhewn, all the better to look and feel lived in, as if that furniture, had been passed down for generations, even if it is brand new.   The furniture is almost over-large and the chairs simple but sturdy – just like the people.
If you are looking to bring an international flair to your current kitchen environment, consider consulting with a local home remodeling expert today.