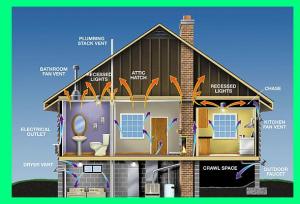 Mother Nature has served up some wacky weather this past year hasn't she?  We've seen the horrendous Winter of 2013-2014, earthquakes, tornadoes, floods and mudslides.  Now, finally the Winter of 2014-2015 has come calling, thus everyone has endured their fair share of brutal weather all across this USA.
We're lucky this year that oil prices have been so low that heating homes in the cold-weather states will not force us to dig as deep into our pockets this Winter.  That will make up for last Winter as well.
With the mercury dipping low, and the Winter winds whipping around outside, we are grateful to have a warm house to live in and pity the plight of the homeless.
But, do you feel that your home is really as warm as it should be given the fact that your chimney has been huffing and puffing all these cold-weather days?
Similarly, does your air conditioner seem to work overtime, running non-stop, yet you might be sitting on the couch breaking out in a sweat?
Clearly, something is wrong and you must rectify the problem if you ever hope to lower your energy bills.
Going green
Clearly, it would be a cinch to go around and try to correct any and all reasons why cold or warm air from the outside is infiltrating your home.  But, we are all not that lucky to win the lottery, so instead sometimes you must do a little detective work to find the culprit behind your drafty home.
First and foremost, if you have the funds, unless your windows are fairly new, you might want to consider replacing your existing windows with state-of-the-art triple pane windows, which will greatly help to thwart the drafty air.  Likewise, getting new outside doors and screen doors will help immeasurably to insulate your home against the drafts, particularly in the dead of the Winter.
There are usually incentives by your energy provider or the federal government to purchase high-efficacy furnaces and Energy Star air conditioners for maximum usage at minimum cost to operate.
Adhere to a budget
Being a homeowner involves more than just lazing around your backyard, drink in hand, and having a snooze in the sun.  There is maintenance to be done to keep your home looking good and that will in turn reflect on yourself and your energy bill in the long run.  The cold weather has arrived finally, and as the mercury drops, energy prices will be on the rise. While it would be nice to replace all of those old doors and windows, and buy new energy-saving appliances, that kind of expense is not practical for everyone, even with hefty tax credits from federal and state governments to help subsidize those energy-saving upgrades.
But you can be proactive and follow some of these suggestions below to help reign in your energy spending with just a few simple and inexpensive tweaks to your home and living habits and by being proactive with home maintenance all year 'round.
Eliminate drafty doors and windows by ensuring all cracks or openings are sealed with a good caulking compound or weather stripping.  Being proactive in the Spring and Fall ensures that no openings will permit hot and cold air, in Summer or Winter respectively, to infiltrate your home, causing unnecessary drafts and higher energy bills. 
Storm windows are useful in cold-weather states where windows are a big culprit for cold air – so put your storm windows on before the first frost to keep drafts from entering the home.
Check the integrity of weak spots in your home for gaps or crevices and this concept goes beyond the windows and doors mentioned above.  Periodically, carefully inspect all areas in your home where two different building materials meet, i.e.  windows, doors, corners or chimneys, and don't forget to check anywhere that plumbing or wiring enters or exits.  Seal off any visible gaps with caulking or weather stripping.
Insulate to cut down on high energy costs because though most homes have some insulation, most older homes don't have enough.  It would therefore behoove you to replace or reinforce the insulation in your home's walls, attic and basement to keep you as toasty as possible.
Take the insulation idea a step further and go to the hardware store and purchase inexpensive pipe sleeves to insulate your pipes.  This will reduce your bill for the amount of hot water needed.  The pipe sleeves slip onto the pipes easily and provide added insulation.
Routine furnace maintenance is recommended yearly to ensure the furnace is in tip-top shape and running smoothly.  A qualified HVAC contractor will check out the furnace every Fall, hoping to head off any potential problems.  Make it a priority to routinely change the filter to keep the furnace area as clean and dust-free as possible.  Keep your ducts as dust free as possible by having them routinely cleaned.  Likewise a good HVAC contractor should check your air condition in the Spring as well to ensure it is in good working order.
Make your ceiling fans do double duty and use your ceiling fans to circulate warm air around the room on a cold Winter's day, by turning them on clockwise. Though ceiling fans are helpful as they cool your rooms in the heat of Summer by pulling hot air up and out, they can just the opposite in the Winter, pushing hot air from the ceiling back down into the room where it does the most good.
Dial down your thermostat at night and while you're at work and you'll save some extra money that way.  For every degree you lower the thermostat, you can save between 1% and 3% on your heating bill.  Buy a programmable thermostat for about $50.00, thus recouping the cost of same within a single heating season.
There are many ways to cut energy costs in the home without resorting to a complete renovation of your home from top to bottom to ensure optimal energy efficiency, because, for most of us that is not a "doable" option.  You can try these practical measures above to lower your energy bill, but if they don't work, consider contacting a contractor who specializes in home remodeling today for more suggestions and fixes to keep your home as energy efficient as possible.