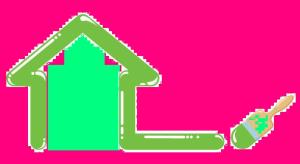 These are well-known words uttered by Sesame Street Muppet Kermit the Frog. It is a little frivolous tug at the memory perhaps, but fitting when it comes to deciding to "go green" in and around your home. Whether you are building a home from scratch or deciding to just be more environmentally conscious, going green in your habits and home is a big undertaking. Like any new undertaking – be it an exercise regimen, a diet, a New Year's resolution – be sure to do it in small increments so you get it done as painlessly as possible. If it is a whole home renovation or building a new home, there are many ways to help out the environment.
Now is never too early to start making small changes toward the greening of your home. Small changes are worthwhile, but if you decide to make major renovations, there are experts that specialize in green home remodeling.
First of all, what is your main reason for trying to make your home as green as possible? Is it to glean savings from creating a more energy-efficient home, or do you want the end result to be a home more in tune with a natural environment, and eco-friendly on the interior as well as exterior? What is your purpose and priorities?
Small ways to go green
Odorless paint is popular these days, not only for green home enthusiasts, but also for people with asthma or COPD. Many paint companies now carry a variety of low, or non-VOC paints. VOC stands for volatile organic compounds, which are air-polluting products and include toxic solvents and formaldehyde.
These paints have no odor during application and drying. If you live with an asthma sufferer, pick Valspar which has the least odor and choose the water-based paints for less odor and maintenance during your painting project.
Use only green-certified products inside your home to prevent environmentally triggered illness and allergies. Greenguard is a company which certified low-emitting interior products and materials. The Greenguard Environmental Institute performs quarterly air-quality performance tests on these items to ensure building materials aren't emitting fumes or trapping air, which creates mold. Help that asthma or COPD sufferer in your life by going to www.greenguard.org for additional information.
Go with a pro
If going green is more than just a passing fancy, you might want to spend some time to locate an expert who will share his or her expertise in renovation or building of green homes. Such a contractor may be referred to as a "green builder" because of being skilled in traditional building trades, and having an understanding of how to design projects to be energy, water, and resource efficient. A green builder with the ultimate expertise would be classified as a Master Builder by the Energy and Environmental Building Association, or has been certified by the National Association of the Remodeling Industry as a Certified Remodeler. You can also locate such an expert by searching on the internet for builders who have done historic renovations. A handy manual to help you understand the benefits of going green would be: "The Green Building: A Primer for Builders, Consumers, and Realtors, and the U.S. Green Building Council's (USGBC) Green Home Guide".
Green remodeling suggestions
Use recycled building materials which originated from milk jugs and wood chips and have been created into fiber-cement siding and composite wood trim. Not only are they eco-friendly, but they resist hail, fire, rot, and insects. Using natural limestone to face your home's exterior is inexpensive as it requires less energy to produce than "real" bricks. Use rubber and polymer roofing that resembles slate but is easier to maintain and lighter on the surface of your home. Inside your home, many materials may be used that are recycled as well. Lumber that has been repurposed may have originally been salvaged from old buildings. Also known as reclaimed wood, this is a popular way to create interesting wood trim and flooring and avoid using composite wood materials, like fiberboard, which contains the harmful chemical formaldehyde. Buy products such as countertops, back splashes, shower surrounds and floors which are all created from recycled glass mixed with concrete, clay or soil. If you choose carpeting made from 100 percent recycled content, such as wool and sisal, a grass-like fiber, you risk less allergies and no harmful VOC products.
Energy-saving items to conserve water are a great way to lower that high water bill. If you use Energy Star-rated dishwashers and front-loading washing machines on a regular basis, watch that utility bill go down quickly. The newer type of toilets are now mandated to use 1.6 or less gallons of water per flush. Tankless water heaters are compact, on-demand units, which, unlike the large and cumbersome traditional water heaters, simply attach to your plumbing system and heat water as it runs through a heat exchanger, thus you only pay for the water that you heat. You might want to consider installing a gray-water recovery system and all water-saving fixtures (dual flush toilets, low-flow showerheads, and water-efficient dishwashers and washing machines).
Light up your world by either harnessing the power of the sun for outside solar-powered lights, an easy feat to do when you live in a beautiful, sunny state like Arizona. Cut your electricity bill in half and give your eyes a treat by switching to LED lighting. The bulbs are superior to what you are currently using, less harsh on the eyes and will probably outlast the fixture.
Cut your energy provider's bill in half by using an alternative method to heat your home in the dead of Winter. Natural gas is the most-common method of heating the home, but new favorites like pellet stoves will keep you cozy on those occasional coolish Arizona nights without adjusting the thermostat upward. Solar panels in in Scottsdale, Arizona are an excellent option to lower your energy cost and your carbon footprint..
All these green ideas for your home, be they baby steps toward a eco-friendly future for the next generation, or a total tree-hugging mindset for yourself to live more naturally, and save money as well, are well worth the effort of looking into and implementing. See a home remodeling expert for details on major green home renovations today.