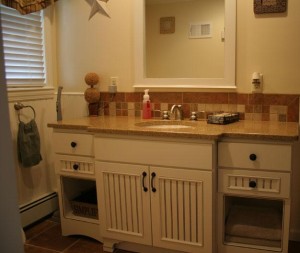 When you have multiple family members, certain dynamics come into play when everyone needs to exit the house around the same time, especially in the morning, and most especially when there is only one bathroom in the house. Despair and arguments usually ensue, and, at least one person will get up at the crack of dawn to avoid the crowd. If you've been toying with the idea of building a new bathroom because of the constant crush every morning and/or before everyone leaves for an event, then perhaps the primer below will help you make a decision on whether the installation of a new bathroom is something you wish to tackle yourself or put into the hands of a professional. Which options works best for you? Doing the job yourself will require a number of items besides tools, materials and some knowledge, and one big item would be patience. On the other hand, by leaving the task to a top bathroom remodeling contractor in South Brunswick you will ultimately save yourself the headache and hassle of all the things that could go very wrong.
Bathroom design planning
There are plenty of websites where you can peer at finished bathroom remodeling jobs and get design ideas and even blueprints. Going to home shows or bathroom outfitter showrooms may cause you to ooh and ahh, but, do those bathrooms work well with the rest of your home? Will the bathroom design that you covet, work well in your particular home – style- wise, or size-wise? Hiring the services of a bathroom designer could ease the burden of this formidable task and eliminate guesswork. A reputable designer will show you photos of prior projects so that you can get an idea, in advance, of what your bathroom will look like upon completion. You will need to decide up front what types of materials, fittings and surfaces you wish to use and should you go the professional route, keep copious notes of the pictures, color swatches, and materials used for future reference should you need parts or in the event of a defect.
The installation or "fitting" of a new bathroom is a formidable task and one where you must be skilled in plumbing as well as just being the handyman in the house. It requires you to have certain tools or materials and be adept at using them. Of course, the main reason why people choose to do most DIY projects is to save money. In this case, building a bathroom from scratch on your own will save you approximately 70% of the overall cost.
But the most-important question here is, are you building a second bathroom or demolishing an existing bathroom and then remodeling to create a new one? If the response is in the affirmative to the latter question, then hopefully you are knowledgeable enough to complete the task without leaving you and your family without a bathroom for a long period of time. You may chuckle at that insinuation, but what if you run into problems along the way? A hotel for a few days is fine, but weeks on end gets old very quickly. All the pre-planning and design beforehand is admirable, but if demolition or plumbing issues crop up, they may be out of your control, and you will end up seeking a professional contractor to finish up the job correctly. A new tiling job, or backsplash addition, or even hardware or lighting fixture enhancements are relatively simple DIY projects, but you should definitely analyze your skills, as well as all the pros and cons involved, well in advance of beginning that bathroom remodeling effort
Reasons to consult with a remodeling contractor
Building a new bathroom involves may steps and before completing the project, if you use a company, you might find yourself with a plumber, tiler and an electrician at your home during the construction phase. Depending on the demolition of the former bathroom and its accoutrements, you might have a plasterer at your home as well. In some cases, professional remodeling contractors are skilled in all facets of the project, which means less coordination of various contractors' schedules and a much quicker completion of the project by the original contractor you hired. Professionals also obtain any special residential permits, thus saving you that aggravation, and they have undoubtedly completed the same project countless times and need not consult a handbook or phone a friend for help. Furthermore, if an emergency occurs, their experience and the tools or materials they carry with them, will nip the situation in the bud.
Building a new bathroom
If you are building a new bathroom from scratch, there is, of course, less mess since you are not demolishing or removing the former bathtub/shower, basin, pedestal, vanity or any old tiles, whether they are backsplash tiles or flooring tiles. There will be old pipework to remove and any light fixtures, unless you plan on using the same one. Then all the old materials must be removed and deposited somewhere and new materials lugged into the bathroom and set up. A professional contractor might have a helper, and, if not, he probably has a special cart or gizmo that will allow him to move the bulky or heavy materials around the room. Even a box of heavy ceramic tiles might be unwieldy and if you drop them, they might shatter or at the very least chip. Once your materials and tools are ready, so are you. Hopefully, you've brushed up on your dog-eared DIY manual for bathrooms or picked a professional contractor to complete this job for you.
After the installation is complete
You'll probably have a state-of-the-art bathroom with such trending features as:
A tankless toilet which replaces the former, floor-mounted toilet.

Stone shower walls and surrounds.

Walk-in bathtub or whirlpool bathtub.

Ornate faucets and brassware.

Exquisite lighting fixtures.

Radiant heating.
Whatever options or bells and whistles you choose in building your new bathroom, they undoubtedly will add sparkle and elegance to your home. So, why not factor a new bathroom into your plans in the very near future?