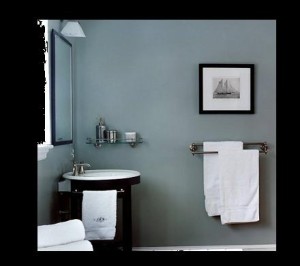 If money is a little tight and you want to revamp your bathroom just a smidge, well, that is a quick-and-easy fix which can be done over a weekend and not even a long weekend. This is usually the smallest room in your home, so the cost of revitalizing your bathroom is really inconsequential. The easiest and preferred choice for a bathroom makeover is simply to paint it. Paint is the best option in the bathroom since wall coverings and even tile can often invite mildew or mold due to the often humid conditions found in every bathroom. Before you don your painter's cap and assemble your painting gear, be sure to use a mildew-resistant primer to prepare your wall for painting. A semi-gloss or eggshell paint is better than paint that is flat or matte. Any paint with gloss will seal color in while protecting surfaces against water or steam.
If you are dealing with a small bathroom, experts suggest that the best color for the bathroom is white. But, if the idea of a white bathroom holds no appeal to you because you think it will be boring or blah, or you will be forever wiping smudges or tiny handprints away, a neutral color will just as easily work. If you choose a neutral color, that tone will work well with neutral or monochromatic accessories, or, if you prefer, use existing accessories for contrast. You can always brighten up that bathroom with a few vibrant touches here or there down the road. You are just looking for a quick pick-me-up for this small bathroom.
If your bathroom is medium-sized or larger, the sky is the limit as far as bathroom paint colors go. If your budget permits the expense of new accessories such as curtains, towels and/or floor coverings, why not stray from the "safe" bathroom paint colors of the past and try some of the trendier new colors available now? Here are some colors and combinations to try, and remember, if the new paint color just isn't you, repainting is a quick and easy option, but, hey … you should give that new color a chance first before you banish with a wide-bristle brush! Also, you may wish to consult with a local interior painting specialist in Brooklyn to give this painting project a professional touch.
Trending color combinations:

The trends in bathroom colors run the gamut from gray to rich tones and high color, and a big contemporary look is mixing and matching shades not usually seen together. There are a treasure trove of paint samples and color wheels to wade through, but this primer below can simplify it for you:

• Cheery colors straight out of the Crayola box can be fun – You may not want to paint the entire bathroom in a primary color, but it could be fun to infuse small amounts of cheerful colors like fire-engine red or sunny yellow, especially in guest bathrooms or children's bathrooms. Enamel faucets or light fixtures made of unique geometric shapes complete the whimsical look.
• Relax and refresh and imagine you're sailing away – Shades of blue are especially popular this year, and the more the merrier. The trending hues are Mediterranean shades of mid-blues, aqua, lavender blue and even bluish-green, all shades designed to resemble undersea tones and give you the ultimate relaxing bath experience. These soothing shades are also being painted onto the sides of cast-iron bathtubs to tie the entire tranquil look together.
• Mirror, mirror on the wall…. – Designers with celebrities for clients, suggest that there are certain paint colors to be avoided in the bathroom. Pale green is a cool tone which tends to be unflattering and make you look older. Yellow tones distort skin tone resulting in a jaundiced look. Since most skin tones are pink, the bathroom colors guaranteed to make you look good are warm tones such as peach and rose.
• Vintage colors may be used for enhancement purposes – If a large claw foot bathtub is the focal point of your bathroom, use classic neutral colors like cream or pale beige on your walls, thus not detracting from your beautiful bathtub. Rustic colors provide some pizzazz for bathrooms with an old-fashioned theme as does a vintage wooden vanity table and matching chair tucked into the corner.
• Always remember that neutral shades always work – Cream, beige and taupe are considered "safe" and thus have been the most popular bathroom color choices because of wear ability and the ability to fit into any design scheme. Pale gray is currently the trendiest color, and it is sometimes paired with darker gray for plain walls or combined with bright-white wood trim, like tongue-and-groove bathroom paneling. If you want to stick to a safe neutral color, you could simply refresh the accessories with the changing of the seasons, by using light-colored accessories in the Spring and Summer and changing to brown or rust tones in the Fall and morphing into red and maroon tones for Winter. It's as easy as that.

If you're more of a traditionalist (or a skeptic about trying too many trendy colors), of course, you should feel free to go with a classic neutral color scheme. After all, neutral colors will always prevail on the color palette, but it is always fun to experiment once in a while.