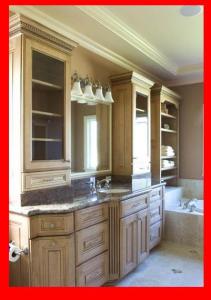 A women's bath time preferences are far different than a man's… women do not always appreciate the express shower or expedient means of getting cleaned up routine, and, prefer instead, when time permits, to pamper themselves.
After a long and demanding day at the office, or an exhausting day taking care of the children and the home, what woman would not just love to get it away from it all and slip into a personal bathroom paradise?
More and more women today are realizing they have to have a go-to place that is a respite where they can unwind and recharge for whatever activities the evening holds.
It is wonderful if there is enough room in the master bathroom to accommodate the whims of both the lady and gentleman of the house, but, it is even more special, when each one has their own private bathroom.
In the master bath
We know that men and women have different likes and dislikes of course… it is a phenomenon that has been around since Adam and Eve.  If your home has only one bathroom, or perhaps a piddling little powder room, you and your better half or significant other, need to come up with a plan for bathroom amenities that will suit both of your fancies.  A reputable contractor who specializes in bathroom design or bathroom remodeling in Atherton, California would be the person to seek out to find what is doable in your existing bathroom.  If you have two bathrooms, then each of you can pick your favorite bathroom amenities to make this room indeed like a pleasure palace.
What women like
In general women prefer a bathroom that is orderly and lacks chaos.  Perhaps that is because the woman in the family, especially if she is a mother, has to deal with chaos on a general basis with the kids, and it is intensified ifs she additionally works outside of the home.
So, many women like to view their escape to the bathroom as their private sanctuary – almost like a mini vacation to get away from all.
That is why the idea of messiness or disorderliness in their private domain cannot be tolerated.  According to bathroom designers, women prefer lots of cabinet space as well as big cupboards where everything related to the bathroom, such as linens and extra supplies, can be tucked away out of sight, but available in a heartbeat should they be needed.
Women are especially delighted if a large vanity can be included in their private bathroom, so makeup, and hair styling essentials are handy, but can be whooshed out of sight quickly.  A large mirror with Hollywood-style lights is something women covet in a bathroom – natural light for application of makeup is preferred by many women, but getting ready in the early hours of the morning before the sun is up makes natural light streaming into the bathroom less of a reality, except on weekends.
Women prefer a light and neutral color for their bathroom walls and tiled areas – even their floor.  They then try to compromise with that plain or pale color by offsetting it with colorful accessories, therefore giving the bathroom what is commonly referred to as "the woman's touch".
Women, in general, prefer deep sinks set on a tall pedestal with streamlined faucets in more narrower shapes than men do.
A huge window to offers lots of natural light, but which can still offer some privacy, is also desired by women, and is an amenity that most men could really care less about.
Men vs. women
Probably the biggest difference between men and women is their preference for showers versus baths.
Women like showers – they are functional and an efficient way to start the day or to follow a workout.  Women are interested in a simple showerhead, however, not one that will pummel their body until their skin hurts.  Instead, they prefer a long session in the bathtub to soak away the cares of the day.  Maybe that tub is a vintage claw foot bathtub, much like they saw at their grandmother or great-grandmother's house years ago.  Sometimes it is a modern-day soaking tub that takes up a corner of the bathroom.  What a wonderful feeling to know at the end of the day you can escape from the rest of the world simply by shutting the door and going to this very welcome part of the home that you call your very own.  You won't be able to wait to slip off your robe, run the water and step into the bathtub.  Equally pleasurable is pairing that bath time experience with soft music, low lights or candles and a glass of wine.
If you are a woman in the market for a bathroom remodeling job that will take your bathroom from functional to paradise in the space of just a few minutes, be sure to contact a bathroom designer to see what trending bathroom designs are available to make your own dream bathroom soon.