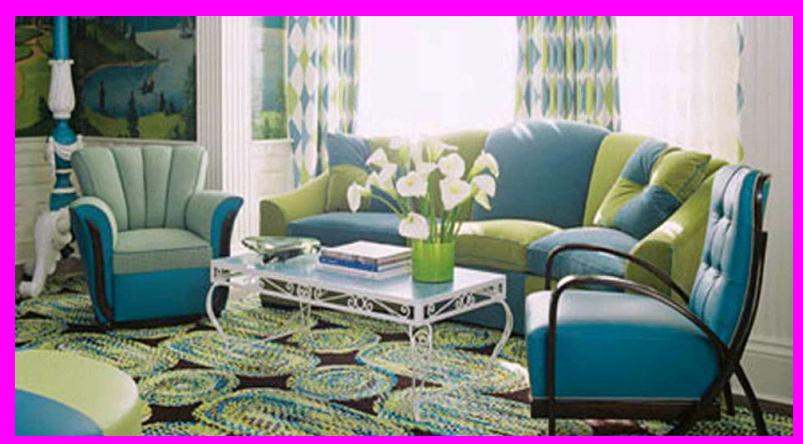 Retro décor is not only trendy, but fun – after all, who doesn't enjoy the movie "Grease" or catching a TV rerun of "Happy Days" or "The Wonder Years"?  And, it isn't just the nifty fifties that make us nostalgic for simpler times or a soda with our main squeeze at the malt shop – it was an age before electronics infiltrated our lives.
If you watch period TV shows, like the two mentioned above, you may decide that you really like the furnishings of that era, but redecorating your entire house to recreate a certain period of time might be over the top, so why not just recreate one room for kicks?  The AMC cable show "Mad Men" has homeowners scouring eBay for retro pieces similar to what Don Draper would have had in his living room.  Still others have fun decorating their basement to look like a 50s diner, and others might prefer a more formal setting for their "retro room", like the living room.
Paint matters
For example, to recreate a retro living room design, is not just to look online for retro furnishings, but you must also take into consideration the type of wall colors or accent colors that were all the rage in that particular era.  An interior painter in Malibu, California area could lend his or her insight into recreating the perfect retro living room for whatever period you desire.
A few accessories
Vintage colors in the 40s to 60s were often big, bold and glittery, and now purple or violet with gold and silver accents is making a resurgence once again.  Retro décor, with all its charm, can turn a room, such as the living room, into a great conversation piece. A few Mid-Century-style chairs, a large bold-looking rug and a selection of great retro art will take your living room from mundane to mod in record time.  Oversized signage and throw pillows with peace symbols will add a splash of fun and make your pad look hip indeed, so you'd better brush up on the lingo before inviting guests over!
If those colors appeal to you, but the furnishings maybe not so much, and you feel you must channel your inner more-traditional decorating skills, you might want to furnish the room with pieces from classic designers like Saarinen, Eames or Noguchi.  You can still go retro – you'll just be sinking down into an Eames chair in a funky color like hot pink, fire engine red or tangerine orange.
Authentic paint colors
Before the 1940s, families gathered around the big radio in the living room to hear the escapades of the Lone Ranger, but the decade of 1940 to 1949 was when television became a major entertainment venue in the U.S. with the rise of network TV after World War II ended.  Now, folks could follow the Lone Ranger and his sidekick Tonto on TV!  Plus, they could catch up on "The Jack Benny Show" or "The Ed Sullivan Show" among many others.  What colors graced the walls of homeowners' living rooms back in the 40s?  The predominant color schemes circa the '40s were light or neutral shades with metallic undertones… "Gatsby Gold", "Dust Bowl", "Lady's Glove" and "Post and Beam" to name a few.  Popular accent colors were exotic pastels with names such as "Hot Tin Roof", "Tangerine Burst", "Orange Revival", "Speakeasy" or "Urban Brick".
As the 40s morphed into the 50s and through the 60s, the color palette, referred to as "The Mid-Century Modern Palette" re-introduced bold colors and deep tones.  Although the darker, earth-colored tones were favored for the exterior of the home during this time period, the interiors were often navy blue, sunny yellow or light green.  In fact, many of the bold and bright colors took their names from language, pop art or culture from those years, like medium pink -"Baby Boom", pale beige – "Wonderful Life", dark teal – "Beatnik", medium teal – "Sock Hop" or rosy beige – "Casablanca".  Living rooms during these years were rather lively looking since floral patterns were popular throughout the whole home.  Bedrooms and baths were not only wallpapered but accessorized with flower motifs.  Living rooms were no exception with their huge floral patterns as well.  Bentwood furniture, made by soaking or steaming wood and bending it into curved shapes and patterns, was all the rage.  Living room walls were usually painted, but often wallpapered with a textured look.  Hardwood floors were popular and the newest trend was carpeting – wall to wall!   Perhaps you still have your old lava lamp that you could use to accentuate that late '60s room?
The 70s and beyond… well, the 70s weren't all that long ago, but it was a decade in a category all its own as to home décor.  Why?  The living room was considered to be the place where the family gathered together in front of the television set.  There was only one television set, usually a console and the chairs or sofa were placed in easy viewing range.  You must remember that this was before the age of huge plasma TVs and video games, but, nonetheless, the living room was a magnet to draw family members.  The 70s is considered to be an era that brought Americans some of the greatest television shows and movies of the 20th century.  And what did the surroundings in that living look like to view those winning shows?  The furnishings in the living room circa the 70s were mostly Early American or country and everyone was mad about plaid.  This heavy furniture were placed on a shaggy rug for starters.  By then, wall-to-wall carpeting was the standard in every home, and shag rugs were the bane of the existence for every housewife who had to vacuum that long-fibered pile which was found in such outrageous colors (even in the living room) as gold, orange or brown or a variegated pattern of those three colors.
As the 70s exited and the 80s arrived, modern décor took over and suddenly the furniture was either sculpted with a futuristic look or had chrome legs or accents and light-colored upholstery where applicable.
By the 80s, furniture was overstuffed and very comfortable and in darkish tones like gold, rust, brown or olive green.  It is important to note that by the end of the 70s and throughout the 80s, painted living rooms suddenly fell out of fashion, to be replaced by a number of radical options – mirrors for one since it was not unusual to have one entire wall comprised of mirrors. The idea was low maintenance (unless you had kids who left fingerprints), and, also the belief that it made the room look bigger. Wood paneling in the living room became the norm, and not just in traditional walnut or oak colors, but even white or red wood was acceptable.  Paneling was the answer to keeping the living room looking more durable, as it saved time-consuming paint touch-ups and repainting every few years, thus paneling was prized for its low maintenance.  For those homeowners who didn't favor the real or faux wood paneling look in the living room, wallpaper was used.  The wallpaper of the 70s was bright and vibrant with large geometric prints, stripes, or bold flowers.  Although foil wallpaper was more common in the bathroom or kitchen, unbelievably it sometimes even made its way onto the living room walls.