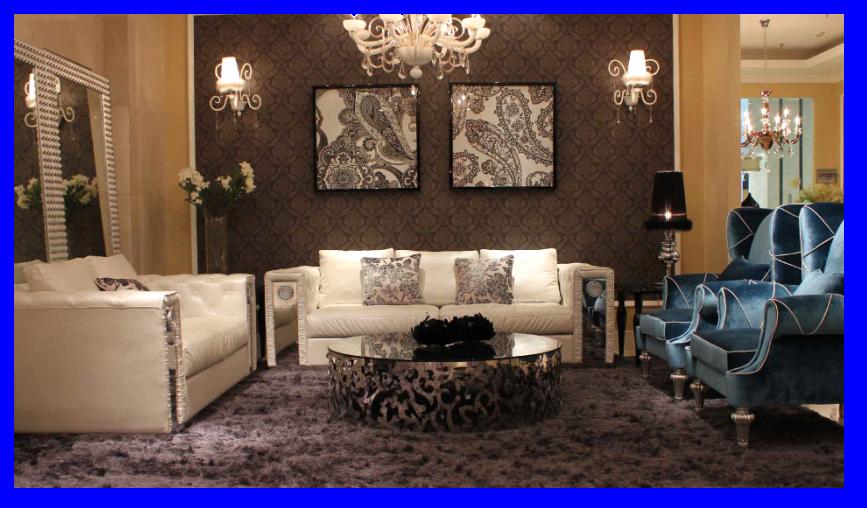 What is the first room people see when they enter your home?  Why, that would be the living room, of course.  So, if you are trying to make a good impression and show people your decorating skills and interior design savvy, then this is the go-to room to flaunt your style.
Sure, furnishings and accessories help to set the scene and make your home look like it belongs on the glossy pages of "House Beautiful".  Décor is more than collecting period pieces and adding a few popping accessories to keep the living room looking trendy… you have to know the era to get a feel for it, and that includes the paint as well.  A residential painter in Brentwood would be perfect to help recreate "the look" for you.  And what might that "look" be?
A little austere
The post-modern living room is devoid of frills and flourish and is more or less a "no frills" type of design.  It is minimalist and rather bare but with just the right accessories – a large piece of artwork or a colorful pillow and you have created a masterpiece out of your living room.  Modern design trumps any design trend as it caters to those folks whose main focus is the function of their homes.  We have clutter everywhere else in our lives:  at work we have electronic clutter… e-mails arriving at all hours of the day and night – at home we need a respite from all this electronic clutter and keep our relaxation time pure and simple, right?
Modern design is a trend these days especially for those people whose main focus is the function of their home. Aside from that, the clean look of modern interiors make homeowners love this type of concept which is clutter free and stress free. What's more is that if you use minimal furniture and accessories, your living room will surely look light and calming.  It sure would even be much easier to clean it and keep it clean if clutter is contained and in its place.
But query as to whether that home looks lived in or not?  Maybe… if two adults live in a loft, apartment or home with a post-modern look – everything is sleek and streamlined with gleaming chrome, glass and huge artwork on the walls.  But pity the pair once children come along or if other people's children happen to visit because the typical post-modern living room, or home for that matter, is not the stuff for inquisitive children, who must touch and/or play rambunctiously despite admonitions not to do so from parents.
Post-modern living rooms can be eclectic by simply adding some gorgeous pottery or artwork to the austere walls, and, by all means strive to find furniture that will certainly demonstrate that your living room is not just a show place but a place to live in, and can, if you find the right accessories, have an atmosphere that will beckon friends and family to enter that room, and perhaps even inspire others to copy your look.  If you add artwork to the starkness of the neutral-colored walls, and shed some warmth into the room by adding an interesting antique table and perhaps a burnished-look pendant light, items that have a look that is unmistakably from the past, yet add dimension to the post-modern look that you are striving to create, you will have succeeded.  Even if you remove the carpet to embrace the "discovery" of a natural wood floor, prized for its worn grain, yet carefully polished to a soft sheen, that floor will set the stage for you to plop a large intricately woven rug beneath the coffee table – presto, you have added still another element of warmth to the room.  The post-modern furniture design seeks to return to natural shapes and textures… furniture is heavy, but simply styled and placed around the room so as not to impose any clutter or closely mingle with the other pieces.  Table lamps are few and artificial lighting, while present, is eschewed in favor of natural lighting.  A library of many bookshelves may entirely encompass one wall, but rest assured that the library is recessed right into the wall, thereby granting more space to the room since it does not jut out in a traditional fashion, and the lines of books are orderly and tightly tucked into the recesses of the shelves.  Nothing is out of place.  Quietly orderly – so much so you might want to even speak in hushed tones it is so tranquil and perfect.
While you might not aspire to incorporate post-modern design into your entire home, why not try creating this look with your living room.