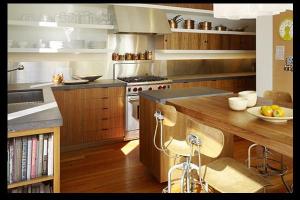 There is no better diversion to get through the long Winter days, especially in the cold-weather states, than to think of the warmer weather ahead and devise a plan for renovations to your home.  There are probably a few ideas you already have bouncing around in your head.  But, if you're thinking smaller projects with little muss and fuss – honestly, while you have the aggravation of remodeling taking place, why not take the plunge and do a little renovating in whatever other rooms would benefit by it?
Home improvements are in your future
The most-popular interior home improvement projects these days are not only practical, but geared toward enhancing your home in a stylish manner and leaning toward a greener environment.
As design consultants will tell you, their clients want nice homes, but they don't want to spend all their down time maintaining them.  You might recall your dad repainting the house every other year on his long-awaited Summer vacation.  It was just a chore that needed to be done and the job rested on his shoulders.  Poor old dad …but the house looked nice.
But, these days a person's agenda is busy from early a.m. to late p.m. so factoring in a lot of house maintenance just is not going to happen anymore.
Perk up the kitchen
The number one interior remodeling project is the kitchen, which takes that honor likely because it is a room where the whole family often convenes.  The kitchen is the hub bub of activity in the average American home.  It is also an informal room within which to gather when friends pop over.  As to the kitchen, just a few renovations can go a long way in this room.  Whether you choose small enhancements to the kitchen, or, an all-out remodeling job to this room, below are the most-trending renovations in the kitchen these days:
Backsplashes – This a popular way to add some interest to the area behind the sink or the stove with colorful or unique wall tiles.  Not only are you creating a focal point in the kitchen, but you are helping the wall to stay free of water droplets which might create mold and mildew at the sink, or you're keeping the wall behind the stove devoid of nasty grease splats.
Countertops – If the Formica countertop in your kitchen has served you well for many years, why not consider putting new countertops in to add appeal to your kitchen?  There are a wide range of mediums for countertops, ranging from natural stone, like granite, to a granite-look or a country/cottage kitchen would look super with a wooden butcher block counter.  Dare to stray from the traditional countertop and go for the sublime.
Kitchen cabinets – Open shelving is one of the hottest trends around, but the rest of your kitchen décor really needs to be updated for this modern idea to work, so it isn't an idea for everyone.  If you have enough cabinet space, simply revamping your kitchen cabinets will provide an instant uplift to the kitchen and will replace those well-worn or shabby-looking cabinets at the same time.  Though refacing the existing cabinets with a similar wood grain, or, even a totally new lighter or darker grain, will add pizzazz to those cabinets, you can also put faceted glass insets or even stained-glass insets in the cabinet doors for a total new look.  If you decide against remodeling the cabinets, but choose to renovate somewhere else in the kitchen, you can still get those cabinets lookin' good.  Another trending idea is simply spiffing up your cabinets with a good coat of paint – vintage colors can be fun and it is an inexpensive way to update the cabinets and cover over years of mars or scratches.  Putting a new set of hardware on those cabinets will provide added appeal and in the end, it will look like the cabinets were integral to the remodeling effort.  You'll never tell!
Sinks – The sinks today are not your mother's sinks.  Growing up you might recall a white ceramic sink, chipped by many years of pots and pans being washed vigorously by mom in that sink bowl.  Double sinks in stainless steel have been popular for a few years, but, if your counter area cannot accommodate a double sink, larger single-bowl sinks are popular items these days.  They are higher and wider to allow for huge or unusually shaped pots and pans.
Bathroom remodeling is popular
It is probably safe to say that the second most-popular room in the house destined for remodeling is the bathroom.  If asked, each family member might have an idea on their wish list for the perfect bathroom.  Most would probably wish the bathroom was bigger to accommodate such amenities as super showers, spas or a soaking tub.  Unfortunately, most bathrooms are small and can only accommodate the necessary items …so, your better bet when considering bathroom remodeling, is having a second bathroom built, especially if you have a large family.  A second bathroom need not be a state-of-the-art addition; a half-bath or a powder room will suffice in most cases.
Make your home greener
Most people are environmentally conscious these days, and don't want to leave their carbon footprint.  Leaving no carbon footprint, however, is quite the daunting task.  There are many ways to try to go greener in your home … start out simple, by using chemical-free cleaning agents, and then move on to reducing the chemicals in your home that are found in draperies, floor coverings, upholstery and even furniture.
There are incentives from the government to encourage homeowners to purchase energy-efficient appliances, and not only are there rebates involved, but there is much money to be gained by the costs savings in the long run.
In 2015, people want to be able to enjoy their homes just as much as the great outdoors.  New enhancements that are trending are giving your home the illusion that you are outside, i.e. glass ceilings or special skylights that allow the sun to pour in.
More natural lighting is the trend today as opposed to the staid, one-bulb fixtures of yesteryear.  They are not only more visually appealing, but cost-efficient as well, and give your home natural lighting.
Back-to-earth tones saturate homes these days giving us the feeling that, though we are tucked away, safe in our abodes, we are still close to Mother Nature.
High-tech fun
Today's homeowners are indulging in more and more ways to treat themselves, maybe allowing a refuge at the end of a long workday by incorporating whirlpools or spas right into the master bath.  The paradise is yours and controlled at the bush of a button.
Those lighting options available today may be controlled not by a switch on the wall, but by a Smartphone.  It used to be a big deal when you pulled up into the driveway and opened your garage door just like magic.  That now seems like eons ago, doesn't it?
These home remodeling trends are not just the wave of the future – oh no …we are immersed in them today.  There is no stopping the homeowner once they have set their sights on these modern concepts for the home.  Got to have them – now.  See a contractor or design consultant about the many ways you can enhance the appearance of your home or make your life easier with just a little remodeling.