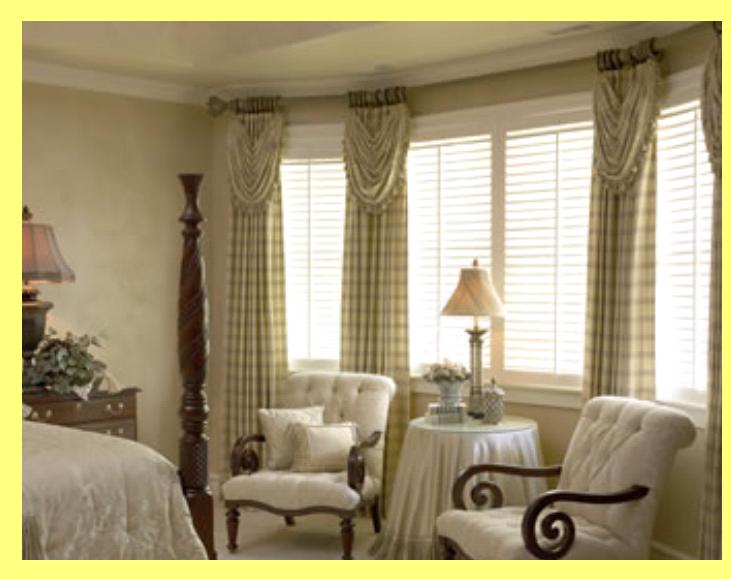 For years the standard in bedroom window treatments was the popular curtains known as Priscillas.  They were perky, pretty and a little effeminate looking with their ruffles and frills.  A close second for popular window treatments in the bedroom has always been sheers.  In a warm-weather climate, however, sheers are perfect because they let that beautiful sun shine into the house all year 'round, but in a cold-weather state there is not bright sunshine to enjoy once Winter arrives.  The simple truth is that, while a few piercing sun rays might brighten up a New Yorker's day on a brutally cold February afternoon, the sheers don't do much to protect the room from the cold outside, even if your home is protected by thermal windows.
A much more practical window treatment would be to use blinds or shades to both accentuate your windows, plus do double duty by adding a significant layer of warmth during those cold Winter months.
Shades and blinds have evolved from the type in the home you might have grown up in, because back then, they were plain-old metal Venetian blinds.  They often hung a little cockeyed and you had to wiggle the cord, which managed them up and down and this way and that, to get them just right.  And, who hasn't endured the roller shade that "acted up" and snapped and rolled back into place when you jerked it the wrong way?
The window treatments on the market today can help you eliminate those poufy Priscillas or dark and dreary-looking drapes, and, instead let you embrace a whole-new look for your bedroom.
In deciding what window treatments for bedroom windows are right for your home, the most-important factors are whether you need privacy or light, or both.  A consultation with a custom window treatment specialist in New York City, can help put you in the know about the plusses of blinds and shades versus the same-old, same-old curtains or draperies that you are accustomed to.
You can still have the airy sheers if you so desire, but take a look at the ideas mentioned below and perhaps you no longer need them.  Bedrooms on the first floor of a home generally need more privacy than bedrooms on a second level, or bedrooms which don't look out onto the street.  To that end, you needn't be a slave to curtains or drapes due to modesty, because modern blinds and shades usually have optional privacy liners or room-darkening shields which not only allow for privacy, but also are good protection from the summer sun's harmful rays.  On the flip side, those same blinds will become an extra insulating layer from the harsh cold which filters through the window pane during the winter months.  Additionally, they are a boon for shift workers who must sleep during the day because not only do they block the light, they are also excellent as a sound barrier to outside noise.
Top bedroom treatments
Roller blinds are functional, as well as decorative, and come in a variety of colors, texture and styles, all which may be harmonized with your bedroom décor.  They are sometimes referred to as "mini blinds", but there is nothing "mini" about their durability, or their ability to thwart the sun from coming into your bedroom and doing damage to your furnishings and accessories.  A simple tug on the cord will open and close or raise the blinds.  If your objective is protecting the room from sun damage, blackout roller blinds are the way to go.  Opt to purchase them in a special sun-blocking fabric which permits no sun rays to filter through the blind.  The blackout roller blinds also double as a privacy shield.
Roman blinds make an elegant statement in the bedroom.  If you are indecisive about abandoning the frilly Priscillas and going for the sleeker look of blinds, then a simple Roman frill-free shade with its pretty poufs and heavy layers will be perfect for your bedroom.  Their style is chic and by the nature of the textiles and textures of which they are composed, they will highlight your windows magnificently.  Though, they are not as functional or practical as roller blades, they are a good blind for their privacy features, and, because they are heavy, they will act as an insulating blind come winter.
Bamboo window treatments are another excellent option if someone desires extra light and air to come into the bedroom, because the blinds may easily be rolled up to achieve more light and air into the room, then simply rolled back down when the sun is strong and permeating the room.  They are versatile, and, by the nature of their coloring, are a good neutral choice for any bedroom.
Pleated blinds are an option for the bedroom and prized as a lightweight fashion for the window.  They are relatively inexpensive and come in a variety of colors, which are sure to harmonize with your décor.  If you are buying the blinds for privacy reasons, or as dark out blinds, there are optional liners for privacy or room darkening available.  In the same family of blinds as the pleated-type blind, is the cellular shade.  These shades are thicker due to their insulating properties.  They are comprised of several layers of honeycomb-type pockets which trap the air and keep it from entering the home and are helpful in cutting your energy bill.
Vertical blinds are a decorative option for large bedrooms, with large windows, especially floor-to-ceiling windows.  Vertical blinds whisk open and closed via a track and are available in a wide range of materials, including aluminum, flat or embossed PVC plastic, wood tones, fabric or even solar panels.  Besides their wonderful energy efficiency attributes, they will enhance and provide an elegant touch to any bedroom.
These are a few of the suggested bedroom window treatments… for more information; consider consulting with an expert to see what window treatment is best for you.