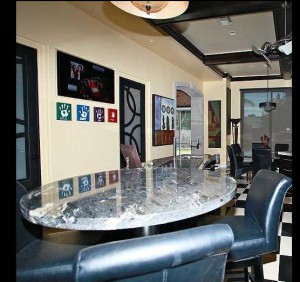 A contemporary kitchen is now mandatory for the modern family. In most homes, past and present, the kitchen has always been the hub of the wheel – a place where family members gather together, not just to break bread, but to share their day's events with one another. Back in the day, the kitchen was where a pot of homemade soup was simmering all day on the gas stove and the wonderful scent of a fresh-baked apple pie was wafting from the kitchen and down the hallway. Modern moms often have a power career and don't spend their days, like your mom did, slaving over a hot stove all day, à la the famous Norman Rockwell Thanksgiving picture entitled "Freedom from Want". The New Millennium moms need to multi-task while preparing the family meal and what better place to get 'er done than here in the kitchen? In the past, it was probably considered a little radical (or maybe even rude) to have a portable TV set mounted beneath the kitchen cabinets, but today's trendy kitchens need to allot space to accommodate a laptop so Mom can peer at the screen displaying the steps to create Shrimp Piccata on Recipe.com, or Dad can hop online to pay a few bills while grazing on crudités as dinner is being prepared. The kitchen has become the go-to place to keep the family together as your kids cruise the internet (ostensibly for schoolwork) under your watchful eye. Today's kitchens are oh-so edgy looking with their versatile islands, chic cabinets, streamlined stainless steel appliances, innovative lighting and the stylish computer nook which seeks to replace the more traditional breakfast nook.

But wait – there's more. That simple, sunny yellow, high-gloss paint job has vanished too, because the modern trend in kitchen paint colors is a matte finish with tones that run the gamut from nifty neutrals to Crayola box primary pigments which add a splash of color that matches your bold backsplash. It looks like there is no turning back now! So, if you are looking to revamp your kitchen, without the major expense of trendy gizmos and gadgets, why not consider a simple, but effective, new paint job to revitalize and energize your favorite family room right now? Your local painting contractor in New York City, who specializes in kitchen painting, will help you sort out some shades and soon your kitchen will be the envy of all your friends.
Below is a primer of popular kitchen paint options to help you decide what color best suits your needs.
Colors
Some of the trending colors for today's modern kitchens include a lot of neutrals like shades of gray. Gray has really gained ground in the neutral category in recent years and it provides a sleek, sophisticated alternative to the blah white canvas which has always been so popular. Gray walls and gray cabinetry paired with white or black countertops provide an understated background which allows accent colors to "pop".

Bright colors
The kitchen is a high-energy gathering place in the house, so why not mix up some different colors for added energy to this hubbub of activity? Experiment with such bold colors as a burst of burnt orange to complement hot pink or chartreuse backsplash tiles or a fire-engine red countertop. Or how about a brilliant teal to complement the boring monochromatic look of the refrigerator and range? Going with bright and bold colors doesn't mean you have to stick solely to the Crayola box primary colors. Variations of this concept include warm colors such as apricot, yellows and reds. Did you know that psychologists consider this trio of colors to be comforting as well as appetite stimulators? Well, these colors will beckon everyone to come to the right place then.
But, Mother Nature's colors are nice
The silver-blue, gray-greens and tobacco browns are all colors found in nature, and, if you have enough available wall space, pair up nicely with grass cloth and rattan to add depth and interest. Rustic and natural hues are popular options which feature Aztec-inspired clay colors, such as copper, henna, ginger and gold tones. Avoid color schemes like Terracotta and Tuscan, however, because designers tell us that these combos are color clichés, tried-and-true in restaurants perhaps, but not a good option in homes.
Let your paintbrush go wild!
A unique way to enhance the color scheme in a kitchen, with a mere coat of paint is to consider painting an island, buffet, hutch, or other oversize stand-alone piece in a jazzy color, such as peacock, pumpkin, lime, or violet. Using a flashy color on just one accent item is an easy and breezy way to add some zing to your kitchen both quickly and inexpensively.
Mixing and matching cabinet colors is also a fun and funky way to transform a plain kitchen to one with pizzazz in record time. This fairly new trend began with colorful islands and has gone beyond to include two-toned gray, green and gray, black or even natural wood tones. It makes a statement and quite the transformation. The sky is the limit but before you go to town with your paintbrush, why not consider consulting your local painting contractor in New York City?