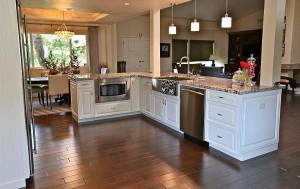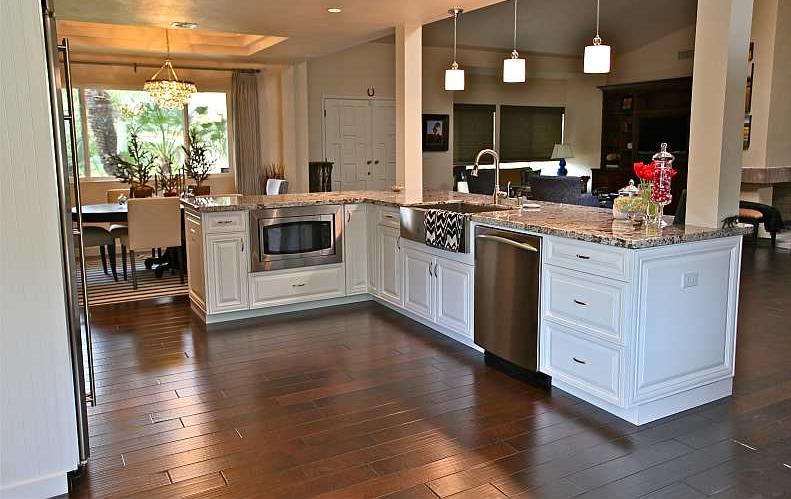 We never heard of the word "foodie" until 1981 when the expression was coined in "The Achewood Cookbook" and gradually it has infiltrated our vocabulary. Maybe you just enjoy the taste of good food or maybe you like to prepare it – so if "foodie" might be your moniker, it is all in fun. There is an old adage that "some people eat to live; others live to eat" and so whatever your relationship to food boils down to, why not take the opportunity to spice up the room where food is the main ingredient? Summer is speeding by and before you know it, the holidays will be upon us. Then you'll be logging even more kitchen time as you prepare holiday meals and treats in anticipation of friends and family gathered around the kitchen table, eagerly awaiting your next culinary delight.
You might as well face the fact, that with the hot Summer temps here in Arizona, the idea of an outdoor kitchen sounds great, but isn't practical – after all, it sure is no fun cooking when the weather gets so hot you can fry an egg on the sidewalk. So, avoid the flies and fanning yourself over a hot flame in the extreme heat and build that dream kitchen INSIDE the house.
Options galore
Home remodeling is never a wasted effort – it gives you pleasure and increases your home value for resale. If you think a few enhancements to your kitchen might be in order, first you must ask yourself how much you are willing to spend, and, if you should just add a trendy touch here and there or go all out? Will a simple paint job give some energy to this family-oriented room? How about some new wall treatments? Perhaps one of those new floors you've seen advertised in magazines? There are some exciting and innovative lighting fixtures to add ambiance and more task lighting to your current surroundings.
There is a world of options out there to enhance your existing kitchen area or build a state-of-the-art dream kitchen. If you have the time (and patience), you can traipse through the big box stores or peruse the internet to glean endless ideas to try to piece together a dream kitchen, or … you could just contact an expert in kitchen remodeling in Tempe and your dreams can quickly come to fruition. They know all the innovative products and can tailor a design within your allotted kitchen space. This will help you avoid measuring mistakes or future disappointments and you sure will be pleased with the professional installation.
Below are some tips and ideas to help get you started on your new kitchen.
Keep it simple
Kitchen design trends for both single-family and multi-family residences are contemporary, with clean, minimal lines and little ornamentation. Today's kitchens are not only trendy, but functional – simple lines with good storage and space planning. Microwave drawers, built-in glass top stoves and touch-activated or touch-less kitchen faucets conserve space and are practical as well.
Appliances meld into the background
Microwave drawers are an innovative concept which eliminates the question of where in the world do we find space on the countertop to put the microwave oven? These are slowly replacing freestanding microwaves. The traditional range is also destined to become a dinosaur, as it is gradually replaced with modern conveniences like convection ovens and industrial cook tops. The ultimate gizmos for the kitchen are here and not futuristic; induction cook tops which use magnetic pans and WiFi signals and cook tops which adjust heat sources to the size of the pan to adjust heat accordingly thus avoiding pot boil overs. Cooking and cleaning the kitchen area "smart range" may be done via an app on your Smartphone, an idea which is sure to wow the cook in the house. Built-in wine refrigerators or counter-height refrigerators for drinks and snacks for kids may be integrated into the rest of your cabinets.
Island paradise
Well, no tropical breezes and palm trees here, but if you've always coveted an island and you have the room to factor this stand-alone item into your kitchen area, an island could be a great enhancement to the room. Can't you just picture your gleaming copper-bottomed pots and pans hanging from the ceiling above you while you happily chop, slice and dice away on the island's butcher block, then slide your veggies right over to the glass top stove? And, if you'd rather not store your pots and pans above your head, no worries … there are huge storage areas found in the island to tuck away all your culinary accoutrements. A larger island with high stools around the perimeter area takes care of meal time in a snap. Clean-up is a breeze as dishes are whisked right into the sink there.
Nooks are nifty
How about a cozy, country-style breakfast nook? If you've always admired those rustic-looking tables with accompanying benches with comfy, corduroy seat cushions, a home remodeling expert could help you design a nook into your existing kitchen area. Nooks are nifty if you have a small family, but a large family – maybe not so much because you'd be eating in stages, but these days everyone is on the run, so it is rare when the entire family sits down to eat together.
Easy maintenance
It seems that more modern and less traditional is the trend in kitchen design these days. For example:
• Formica is no longer the countertop king, having been replaced by granite, and now quartz is a close second. Another option is HD Laminate. Since countertop durability is an important factor, before choosing your new countertop you should be aware that: HD Laminate is available in an array of countertop styles including options like cascade, beveled or crescent edges. These countertops are easily cleanable with common household cleaners. Granite is ideal for a unique-looking countertop and no two granite countertop are exactly the same. They are extremely heat and scratch resistant making them ultra-durable. Quartz is also heat and scratch resistant and they are non-porous which makes for easier cleaning. Unlike granite, quartz provides a consistent and symmetrical line with a multitude of coloring options. Some cooks may prefer the traditional butcher block countertops, easily maintained by treating the wood with a wipe down periodically with mineral oil or tung oil.
• Ceramic tile backsplashes will add vibrant color to your kitchen and are easy to keep clean.
• Stainless steel is still the most-popular sink material. Porcelain is now lagging behind and granite composite is catching up quickly. Sometimes the style of sink would be matched to the elements of the kitchen, but most people choose their sink based on durability. Stainless steel, however, can be prone to scratches over time and porcelain would be subject to chips, both which mar the sink surface.
• Pullout faucets are still number one with consumers, but touch-activated faucets have become more popular and slowly replacing standard faucets. Water-saving faucets are also expanding into the market.
• Flooring is important to the overall look and less is more – less maintenance that is. Laminate flooring provides a cost-effective alternative to a traditional hardwood floor and there are many styles to choose from. The trend is still about the same with mediums in wood, and ceramic/porcelain tiles as the most-popular flooring materials.
Lighting up your life
Pendant lights and chandeliers shed bright light and stray from the blah, ordinary, everyday fixtures you have saddled yourself with for years. LED lighting is popular now with incandescent bulbs fading fast. For task and accent lighting, under-cabinet LEDs are the way to go and one day the traditional light bulb will eventually be phased out.
These are just a sample of your options for the perfect kitchen. Mull them over and then contact a local kitchen remodeling expert here in the Tempe area to make your dream kitchen a reality.