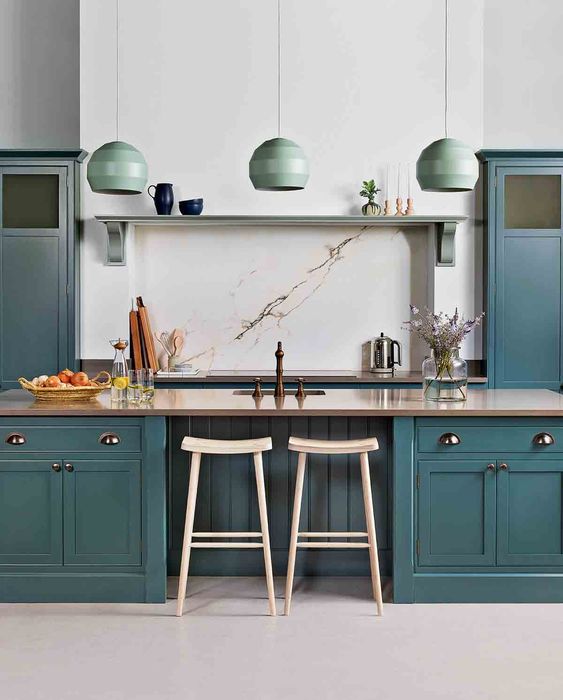 The ultimate design statement of the home starts in the kitchen. The kitchen takes center stage as the place where family's lifestyle starts. It's no wonder then that interior designers find the greatest demand for their services in remodeling kitchens. When wanting to achieve a flawlessly functional and attractive kitchen and bath design requires the help of a professional who specializes in these spaces. Not only do these rooms see the most action of the house, but they require the most planning and attention to detail. Below are a few trends that sum up the perfect kitchen and bath for 2019.
Shiny Metallic Sinks
Are statement sinks a thing? A kitchen trend that features bigger than ever sinks in bright metallics, hammered finishes, intricate details and gold.
Get Funky with It
No more boring stainless steel appliances. No more matching appliances in one color. In with the new and out with the old. Instead it's all about high style, in rich hues, and everything fancy. Finishes that instantly take your kitchen up a notch and give it that pizzazz.
Tall Column Refrigerators
The brilliance of these stand alone columns is their adaptability. Columns can make like easier for you in the kitchen, because you don't have to keep the fridge and the freezer next to one another. This gives you more flexibility in your kitchen's design.
Bright Colored Stoves
While this isn't the most affordable kitchen trend, it's a trend that won't be going anywhere anytime soon. High style cook tops, hoods, stoves and ovens in the brightest of brights are the hottest thing right now.
Less is More
More and more people want their spaces as clean as possible which is due to the minimalist movement that's taking place. The best way to achieve an openness is to eliminate those upper cabinets. So it's no surprise that people are all about the no upper cabinet kitchen trend.
No More White Kitchens
Although the white trend is a classic, it's becoming quite a boring kitchen trend. Painted cabinets in blue, green, stains in warm chestnut and fruitwood and black are all the rage.
Goodbye Grey, Hello Black
Black is bringing that sharp contrast to kitchens and baths, as well as elegance to a space that no other hue can do. Combined with warm chestnut wood and gold finishes, giving you more of an eighties classic.
Gold is Bigger than Ever
I'm sure we've all been in a house that had top to bottom brass everything from the nineties. This metallic trend is offering up gold patina's, rose golds, black golds, bright golds and mixing them with high end appliances and raw organics.
Kitchen Surfaces
Terrazzo is making a comeback. I'm sure you've seen it on floors and old buildings. The new porcelain terrazzo looks beautiful, and it's available in polished and matte finishes.
Metal Shelving
Wood is being replaced by black metal shelves to give a kitchen attitude, style and flexibility. Metal shelving has become a big trend in the kitchen. You can use on the walls or the floors.
Shower Statements
Shower doors and enclosure are starting to become a statement piece in the bathroom. Shower doors and enclosures with bold designs, window panes and color grids.
Vintage for Washroom Décor
Vintage designs are all the hype right now. Vintage mirrors or unique light fixtures can most certainly bring an interesting vibe to your relaxing space. You can bring the look together with patterned ceramic tiles, or even making gold-tone plumbing visible.
Basic Bathroom
A staple bathroom trend is a clean and refined style. Earthy colors, grey tones, and white see, to be dominating this trend. However, you can add a pop of color or patterned tiles to give your bathroom a contemporary look.