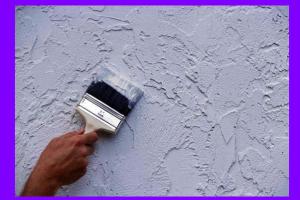 It is a well-known fact that the easiest and cheapest DIY project that you can undertake to improve the look of your home is painting.  It is a home improvement as well as a routine maintenance task that many Americans do to beautify their home.
Oftentimes the new coat of paint is to freshen or awake a tired-looking façade of the home, or perhaps change the color to give the home a totally new look.  After all, you personally strive to keep up with trends and be modern and stylish, so why not ensure that your home is similarly looking good?  How your chest will pop out, when your paint project is finished and the first car slows down to admire your home.
Paint does wonders on stucco
Keeping your house in tip-top shape is easy with a can of paint.  But, before you ever start a painting project, whether it is small or large, interior or exterior, it is best to ensure you properly prepare the surface so that the paint adheres better thus making it more durable and less work in the long run for you.  But – first things first.
Familiarize yourself with stucco
Stucco is a versatile means of enhancing various areas of your home.  Many people are familiar with the swirls and whirls that give a three-dimensional look to your living room ceiling.  But, stucco is used extensively as a medium for the exterior of the home as well.  You might see stucco used to create an ornate sculpture or in various other artistic ways, but mostly it is used as a durable means to preserve the outside of your home.  Stucco may be used to cover less visually attractive construction materials such as metal, concrete, cinder block, or even clay brick and adobe.
The components of stucco are powdered limestone or cement which is then mixed up and blended with sand and water until it reaches a mortar-like consistency.  It is a painstaking process to apply stucco, because it must be applied wet, by hand, on top of a metal wire or lathe.  After it dries or "cures" the stucco will be a hard and durable masonry surface.  It is prized by homeowners for its durability, and, if applied correctly, will last for many years on a home's exterior.
How to paint a stucco surface
Admittedly, stucco can have a rather blah gray look so you must enhance that surface with color.  Whether it is the first time that you will be painting the stucco surface, or it is a re-paint job, it is a relatively pain-free painting chore.  In fact, stucco is so durable, that you may get bored with the current color scheme and desire to periodically change and/or just refresh the color of the stucco on the exterior of your home.  This is a doable project and does not require any expensive or lengthy process or special equipment, except for the application of the exterior paint.
Prepping stucco for painting
Because of the unique type of surface that is inherent to stucco, its uneven and grainy nooks and crannies are excellent for holding the paint.  When preparing to paint the stucco, if the surface is in good shape, prepping for the paint job is a breeze.
If the current stucco surface is dirty, it is recommended that you remove dirt particles prior to painting, so that the primer and paint will adhere well.  The best method is using a push broom with stiff bristles which will loosen any dirt particles from the grainy surface.  If the stucco has a deep texture, however, a power washer may be needed to ensure all the dirt particles are removed from the crevices.
Additionally, you should check carefully for any hairline cracks and use a masonry-compatible caulking for these minute repairs.  But, if the cracks are large in nature, use a putty knife to remove loose debris, then fill the cracks with a dry stucco repair product mixed with water, which will replicate the original stucco surface.  It is important to take care that the caulking repair job has dried completely before painting the surface.  Follow the guidelines for drying time on the repair product, but it is best to wait seven to 10 days to allow the stucco repair product to completely cure before painting.
Prime the surface
When painting stucco for the first time, it is best to use a primer for optimal adherence of the paint.  Brush the primer around the edges first, then use a thick-nap roller on the flatter portions of the wall.  Use a light touch, i.e. the thinner the coat of primer the better; this will help to avoid streaks and the paint to adhere well.
Experienced house painters in NJ will tell you to use a roller grid for achieving the best results.  A roller grid is an inexpensive plastic grid that fits into a five-gallon bucket.  After pouring the primer into the bucket, dip the roller into the primer and lightly roll upward along the grid to remove excess paint, thus permitting a lighter and more even coverage.
Unless the stucco is severely stained, or had extensive repairs done, one coat of primer should suffice.  Let the primer dry sufficiently before attempting to paint.
Painting a stucco surface
Even if you think you are a careful painter, it is recommended by house painters, that painters tape be used around the window frames.  The tape should be applied carefully, then take the tip of a sharp knife to lightly score it, so the tape can be pulled off without damaging your fresh paint job.
As mentioned above, although this is a do-it-yourself project, should you lack the time or the patience to get the job done, just consider the services of a top house painter.  He or she will have your house in top form and looking good in no time.