For most companies prior to the Covid outbreak, working from home was the exception rather than the rule. Aside from special considerations like maternity leave or WFH Fridays, the majority of American people reported to a work location on a regular basis. Covid, however, pushed companies to allow remote work whenever possible. Indeed, it basically sent the work from home trend into overdrive, especially since it kept people safe without really sacrificing productivity.
Returning to the old ways may be a tough sell for those who have gotten used to the convenience of a work commute no longer than a flight of stairs. Nevertheless, most people who worked from home at the outset of the pandemic weren't doing it under ideal conditions. Many remote work situations amounted to little more than a desk in a corner of the bedroom or in a spare room. Others have forced living room or dining room tables to do double duty as workspaces.
Clearly, these weren't supposed to be long term solutions. As remote work becomes the norm instead of the outlier, it's time to think about how to put together the ultimate work-from-home space. Consequently, we've come up with some tips for creating home offices that will keep you comfortable and productive in the long term.
Dedicate a Specific Space
You want to find a space that can accommodate a desk and computer equipment and hopefully, a door that can be shut when you need to get away from it all. The general idea is to have a clear separation between your home and work lives.
Although most people don't have lots of extra space, there are options such as converting a guest room into a dual-purpose area. It's your office most of the time but converts back into a guest room whenever you have overnight visitors. A Murphy bed might be the ideal solution in this case.
You could even use an enclosed porch or a large laundry room or even a garden shed if your space is really limited. Try converting a closet by taking out the clothing rod and adding some electrical connections. If you have a landing at the top of your stairs, you could always place a working desk there. If you can't find a completely separate space to do your work, then you need to find somewhere that gets you out of the way as much as possible.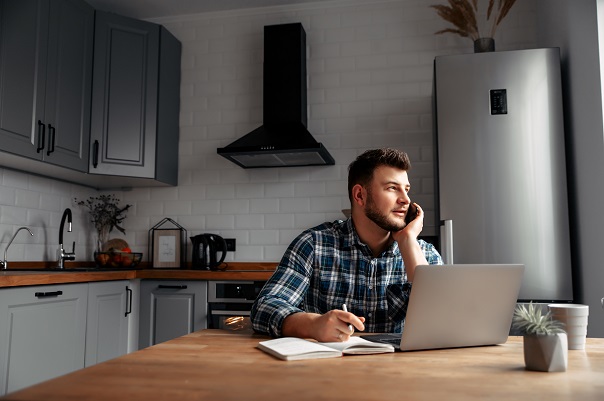 Make Sure It Has Good Lighting
Having the right lighting for your home office is the kind of thing that rarely gets much attention. Nevertheless, it makes a huge difference to alleviate things like eye strain, which often cuts down on productive working hours. It helps to create indirect lighting, which is lighting not in your field of view or reflecting off your monitor. A window by the side of your desk, for instance, can create glare when it shines directly on a computer screen. For this reason, it helps to have some shades or blinds to reduce excess natural light.
Overhead lighting, such as from a ceiling lamp, usually works best. You should also avoid putting lamps next to the monitor, where you could contribute to glare with a competing light source. And your monitor itself should not be too bright or too dim. In fact, it should be just a little brighter than your ambient light, which should be bright enough to read paper documents without extra light.
Find a Nice, Comfortable Chair
If you're sitting at a computer most of the day, the wrong chair can not only be uncomfortable, but it can injure you. It is essential to have proper back and arm support as well as the right height for the work you will do. Dining and deck chairs, for example, can cause problems because they are usually not the right height; they also don't encourage good posture.
Look for a chair that rolls and has adjustable height; it should also have good lumbar support for the lower back. An arm rest also helps, as long as you use it correctly. Instead of applying pressure with your forearm, an arm rest should coax your arm into the right position. It should not support your arm's total weight like a seat does for your buttocks. This is the kind of thing that you really shouldn't purchase online. To get the right fit, you will need to test out prospective office chairs in person.
Create a Solid Writing Surface
Finally, you should have a nice desk or work surface. Whether it's a makeshift surface or a custom-designed desk, you need something large enough and at the correct height to do your work comfortably. If you don't have much space, install some shelves behind or nearby, so books or supplies will be within easy reach.
Whether you live in Los Angeles, Houston, Chicago, Atlanta, or New York City, it might be time to rework your living space to adjust to the new normal of working from home. Having a home office is all about creating the best environment to help you get your work done. The good news is that a little bit of planning and some basic home remodeling will enable you to work in comfort while achieving the same level of productivity you had at the office.