If there's one thing the coronavirus pandemic has forced us to do over the past year and a half, it's spend more time at home. As lockdowns have given way to work from home situations, many homeowners started thinking about new and different ways to enjoy their home environs. As a result, the home renovation and remodeling business has seen quite a boom with people upgrading their homes to accommodate their more home-centered lifestyle.
Moreover, one of the most popular updates has been a new home theater system. Indeed, many people are taking this opportunity to adjust to the new reality of group Zoom meetings and virtual classrooms in addition to enhancing the traditional family movie night. Keeping this in mind, we've listed some of the latest home theater trends you can expect to see as we head into 2022.
Multi-Use Entertainment Centers
Instead of having a home entertainment system that mimics the look of an actual movie theater, why not make it a multi-functional space? In years past, people often went with dark lighting and big screens on the wall not to mention stadium seating for a simulated movie theater experience. Nowadays, however, people are building entertainment spaces to appeal to everyone in the family. In other words, it can be whatever AV entertainment space you want.
In addition to watching movies or hosting a Super Bowl watch party, you can listen to music or even follow a home workout routine. You can also play video games with the latest consoles from Sony or Microsoft. A home theater can accommodate all of these pursuits with different setups for casual seating, large screens, surround sound, and smart controls.
Creative Lighting Solutions
Although low light was the choice for home theater setups years ago, it's not very versatile for other activities besides watching movies. For this reason, you need a lighting control system that can adapt to different purposes. If you're watching a film or TV show, you can use your smart home tablet for traditional theater lighting.
If you want to play some games or have a yoga session, however, you can select the Game Night or Exercising lighting scene and the lights will adjust to your specifications. You can even add smart shades to sync up with your lighting scenes. The beauty of it is that you can change the ambiance and the brightness of the room simply by touching a screen. So no one ever has to stop the film to fix the lights.
Lounge Style Seating for Comfort
Even if you've shelled out for the most technologically advanced home theater equipment with intuitive controls and tons of streaming content, it's all for naught if the room itself isn't comfortable. Instead of individual, cinema-style seating, people are opting for more comfortable lounge-style seating these days.
Imagine a cozy cocktail lounge instead of a regular theater. People still want their home entertainment center to feel like a special destination. But now they want a place to relax regardless of the program or activity they are doing.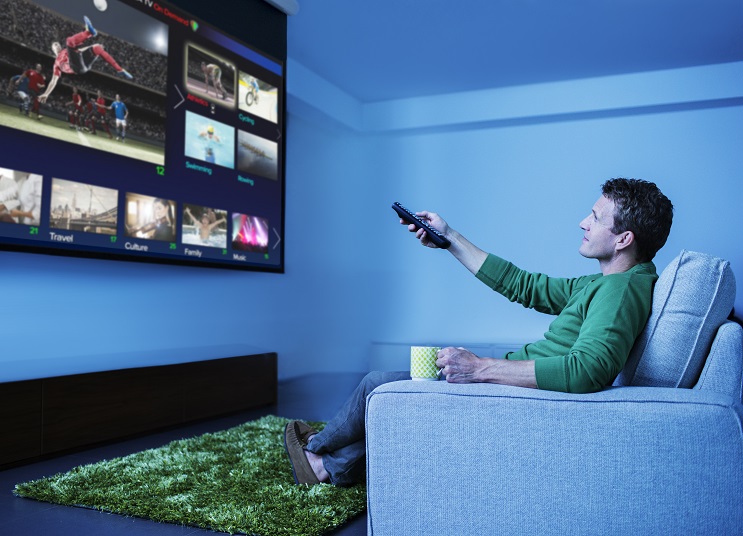 Integration Making Technology User-Friendly
With voice-operated controls becoming mainstream, this trend has naturally spilled over into home theater systems. Although we aren't advocating for only voice controls for your AV system, it's clear that customers now expect this kind of functionality. If they can ask Alexa for the weather forecast, they want to be able to control the lights and sound in their AV systems the same way.
Essentially, consumers expect integration as part of their home theater package. The last thing they want is a system that is too complicated to use. Indeed, many home theater installers try to dissuade their clients from adding certain products if they won't integrate seamlessly with their control system.
Better Sound Than Ever
There is nothing like superior sound to give you the kind of immersive experience you expect from a movie theater. And there's nothing wrong with soundbars. Nevertheless, to get truly mind-blowing sound, you need a system like the Klipsch 7.1.2 Dolby Atmos home theater system. This kind of audio surrounds you, giving you the feeling that you're part of the action. Furthermore, this new sound equipment can connect to other devices, wi-fi, and voice control to make all your technology work together seamlessly.
You also can't go wrong with a Sonos home sound system. Not only can you stream amazing sound throughout your home, but you can play different tracks in different homes in your home. And you can control everything with the help of a user-friendly app on your smartphone.
First-Run Content in Your Home
It used to be that first-run content could only be accessed by going out to the theater, paying up for premium streaming subscriptions, or springing for pricey AV components. Since most people went to movie theaters, specialized home theaters remained the province of a wealthy few. Everything changed, however, when Hollywood ditched its old rules and started releasing films to streaming services at the same time they premiered in local theaters. Now, the average consumer can see a film at home while it debuts in theaters simultaneously.
Consequently, film lovers have increased their appetite for a more theater-like experience at home, which has led to an increase in sales of home theater equipment. Consumers are willing to pay up for a better picture and more immersive sound to get the intended effect of 4K, high-res cinematic content.
Does the studios' willingness to stream new features on the same day as they hit theaters signal that there is more revenue involved in signing up streaming customers than from ticket sales? We cannot know for sure just yet. However, it does mean that home theaters can deliver the full cinematic experience without waiting for studio releases to trickle into the rental market.
Although the pandemic may have rejuvenated the home theater market, there were a number of other factors that pushed things along. More accessible content, improved technology, and better designs are giving consumers more options than ever to install the entertainment system of their dreams right in their own homes.