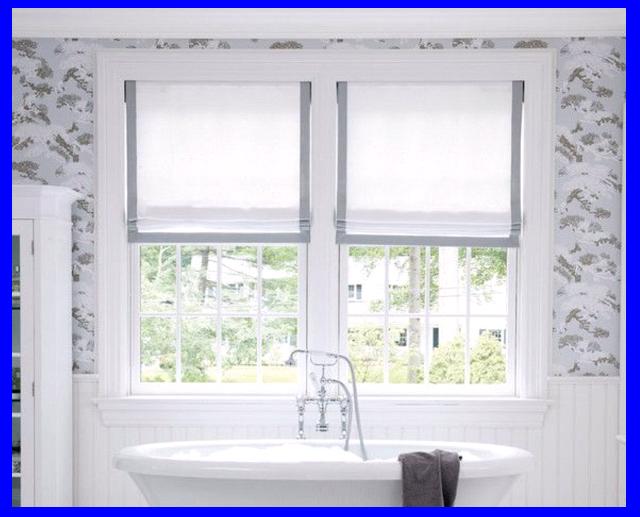 Good things come in small packages… remember those wise words when you start decorating a small home.  Perhaps your new digs is a starter home, or maybe you just don't want all the hassle or expense of keeping up a larger home, so the place you hang your hat is relatively small.  This doesn't mean that you can't have all the accoutrements of a home twice that size.  Never feel you have to scrap your grandiose ideas just because your home is smaller.
Take window treatments for instance
Granted, the rooms are smaller, so the windows are smaller.  So… for decorating purposes, you never want to overwhelm the room with accessories.  This is true for window treatments as well.
Sure, the decorating magazines might suggest using accessories which will create the optical illusion of having a much-larger room.  One designer suggested using a canopy to draw the eye upward and create the illusion of a high ceiling.  Still another designer recommended using poufy curtains to draw attention to the window, rather than the lack of space in the room.  Another suggestion was to use louvered shutters at the windows in natural wood or painted to match the wall colors.
Well, perhaps all those suggestions would work.
But… a much better idea would be to keep the lines simple and clean.
In the bedroom, for example, a small room would be simply overwhelmed by much fussiness, including frills for the bedspread and full and billowy window treatments, and, especially if those items involved a pattern.  Here is where a simpler style, which harmonizes with the room, rather than works against it visually, works so much better.  Pick window treatments that allow the natural sunlight to filter in and also gently frame the windows.  If you want to use shades or blinds, but simply cannot let go of those curtains or drapes, be sure to use sheer fabric to keep the rooms airy, light and spacious looking.
Dress up your windows
Using any of the beautiful types of blinds or shades now available will give your home an elegant look despite its diminutive size.  The secret to the perfect window treatments for your home is choosing an expert whose skill is in window blind installation.  You can find such a person or company.  He or she will review your windows and make suggestions on pairing the particular blind or shade to your need for that window or windows.  After a decision on the perfect window treatments is made, then you'll decide on what material the blind(s) will be made of.  Rest assured that, with the proper custom window treatment consultant by your side, the most-difficult portion of this project will be picking the style, color and fabric for each room.
Here are some of the types of window treatments to choose from:
Louvered or Venetian blinds are horizontally slatted blinds that may be adjusted up and down and opened and closed by using an attached cord.  With just a twist of the cord, you are guaranteed complete privacy when the slats are closed.  These window blinds come in sizes to fit nearly every window and the materials from which they are made, such as aluminum, vinyl, wood or bamboo will fit the style and décor of every room in your home.  In the winter, they will add an extra shield of warmth to the harsh temperatures which threaten to permeate the window pane and enter your cozy and warm home.  In the summer months, they will protect your furniture and accessories from the sun's rays and help to keep the room cooler as well.
Roller shades can be a simple or eloquent way to add color and texture to the window area, plus keep your home warm in the winter months, and cooler in the heat of the summer.  They are perfect for a modern or minimalist room as they offer a thin profile and sleek look.  Roller shades also offer privacy features such as blackout liners which will block the outside light from the room – perfect for privacy or keeping the room protected from sunlight.  Shades, roller or otherwise, are very versatile and come in a wide variety of styles and fabrics, sure to fit the needs of each of your rooms.  You can go as simple as the traditional paper-type of roller shade or a more elaborate look of woven bamboo or fabric style.  Custom-designed shades have the ability to give the illusion that the window is bigger than it actually is.  This is accomplished by hanging the shade at the ceiling rather than at the window frame.
Roman blinds or shades can dress up any window and make it look elegant.  There are many styles and fabrics to choose from and you could use Roman Shades in every room and get a different look each time and never worry about appearing to have no imagination.  Despite the poufy look or layered style, Roman shades are relatively sleek and will not overwhelm a smaller room.  But, one caveat – hold the Roman shades in the bathroom because by the nature of their multiple-folded style, they tend to retain moisture, so please forego their use in this room.
Pleated shades are also a pretty and functional look for any room.  If you are looking for an inexpensive way to add a little interest to your windows, then pleated shades are perfect for you.  They are high fashion, yet low maintenance and come in a wide variety of colors.  If you are looking for window treatments which provide privacy, these shades may be customized by adding a privacy or room-darkening liner, which is visible only to the outside of the blinds.
Honeycomb or cellular shades are in the same family as pleated blinds, except they are insulated with layers which trap air and provide insulation.  They are excellent in the standards of energy efficiency and are sound absorbent as well.  The added "cells" in these cellular shades will not provide bulk at the window, but instead will be trim and flat against your window.