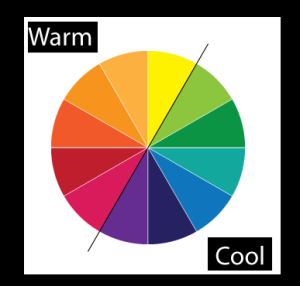 Sometimes interior decorators speak in esoteric terms in their exuberance to convey their expertise in interior design and various styles or trends. The result is that you may feel a little lost and out of your element. Before any initial consultation with an interior designer it might behoove you to take a quick tour of a few popular home decorating sites on the internet or page through a "House Beautiful" magazine to help familiarize yourself with various decorating terms. One of the easiest interior design concepts to understand would be the terminology of "warm" versus "cool" colors. Of course, the colors have nothing to do with the climate you live in, but they are instead about a description of a certain palette of colors. In a nutshell, warm colors are "lively", while cool colors are more calming and relaxing. It is important to understand the concept of warm-color palettes and cool-color palettes as well, especially if you are considering a renovation of your home that involves repainting your rooms.
The colors that you choose for your home convey different emotions, so it is important to distinguish between warm and cool colors and correlate those shades with the function of the particular room you will be painting from the get-go. Why not review the criteria and suggestions below for picking shades for the various rooms in your home? When you have decided on the hues for your rooms, your next step is to retain a professional painter in Roslyn, New York area to get 'er done.
Busy rooms need vibrant shades
Think of the rooms in your home which have the most activity. Probably the kitchen and family room come to mind right away. Warm colors are more appropriate because they convey vitality and action.
Rooms for rest need soothing shades
Several places in your home are the go-to place for rest and relaxation. The quietest rooms in the house, like a bedroom or a study, therefore require the most-subdued shades or a cool palette. You want to create a peaceful atmosphere in such a room and warm colors might be distracting.
Make exceptions
There is often an exception to the rule about what colors should be dominant in each room. The theory of warm versus cool colors sometimes just looks good on paper. An interior designer may strive to create a bedroom with a cool-color palette, in a light blue shade that is sure to guarantee you a good night's rest. However, your personality and creative streak might clash with the proposed theory about what is a cool color. Some folks might find blue blah in the bedroom, while others may like a sunny yellow or a color that packs a punch, like red or orange, thus creating a very different ambiance in that same bedroom. So, if cool colors aren't your cup of tea for the bedroom, and warm colors in vibrant tones, seem a little bit too much, why not choose warm hues that are light and subtle, such as soft yellows or pinks, which can also have a soothing effect? This way you borrow a little from each spectrum of color to get the desired final effect.
So, that totally shoots down that warm versus cool theory, or does it? If you have a home office or a study, you want a color that is neutral, not distracting, so you can focus on the task at hand. You wouldn't find too many home offices sporting any peacock feather color themes. The morale would be: "sometimes you need to pick a color based solely on the function of the room" or risk creating chaos.
Light reflection is important
There are many considerations when picking a new room color says Deborah Hattoy, the President of Scottsdale, Arizona-based Creative Color Consultants. To avoid creating under-stimulation or over-stimulation of color when walking into a room, consider dividing the room's hues into a ratio of 60/40/20, with the floors the darkest, the furniture a little lighter and the walls the lightest of all.
Perfect color mix
In your homes, strive for a balance of warm and cool colors by mixing and matching bright colors with soothing colors and pleasing neutrals. Too many warm or vibrant colors will clash and overwhelm, while too many pale and cool colors will not create a sense of ambiance in your home, making it lack personality.
Though tailoring your room colors to the architectural style of your home is a good idea, unless you live in a Victorian-inspired home, or a cottage-style home, where certain colors would be the norm, feel free to mix and match colors to create a mood that exemplifies the personality of you and your home. Keep reading to discover even more differences in this pair of color concepts.
Qualities of warm colors
If you can think bold and bright, then you are describing warm colors. Typically these are your vibrant hues like reds, oranges, yellows and even browns and tan. Warm colors look as though they come closer, or advance toward you, so they are often used to make large rooms look cozier.
Cool colors
The colors that are soothing to the soul are indeed those colors like blues, greens, grays, and light purples or violets. Cool colors have the ability to calm and soothe – now you know why hospital rooms are often painted in this popular trio of cool colors. Cool colors look as if they recede, making them a good choice for small rooms that you want to look larger. As an example, a tiny bedroom or powder room seemingly enlarges twofold after painting it light blue to make it look more spacious.
An important principle to remember when dealing with warm and cool colors in your home, is that no room should have just one color. If you want your room to be cozy, use warm colors as the dominant colors, then add a few elements that incorporate cool colors (and vice versa). Just as with all elements of decorating it is always important to have some balance and contrast. When choosing colors to use for your home décor projects it is similarly important to think about the mood you want to create and whether you want it to feel light and airy or cozy and intimate. Hopefully by showing you the difference between warm and cool colors, you'll see how to differentiate between the two for any future decorating projects, and, as always – if you are in doubt about choosing paint colors for your home, do seek the advice of an experienced professional painter to help you make the right decision for your painting project.