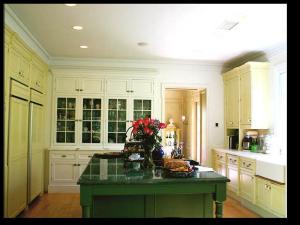 The trending color for modern and contemporary house paint is a rather unlikely hue – it is gray. Now, you might think that the color gray is blah and unimaginative, but this is not true, because there is a spectrum of gray tones which is capturing the eye and ending up on the paintbrushes of more and more homeowners these days. It is surprising that the color gray would take precedence over lighter and airier tones here in a sunny California climate which seemingly would not conjure up a gray day in your mind. But gray is quickly becoming the color of the day – just ask any residential painting contractor.
Gray is the new white
The trending look for modern homes is using the color gray in a very different approach to wall coloring. The chic and stylish trend for using gray is painting your home in many different shades of gray in a wide spectrum of colors. Designers suggest that the color gray is a fabulous neutral backdrop as it has the ability to add depth with its subtle hues as well as its ability to not clash with any accent color you use to make bold tones pop. Gray has become the new white, and replaces it, and now has become the newest go-to shade for those in the design business. As the dominant color, it can come in warm or cool shades and is good for layering shade upon shade, depending on the light or dark aspect of the color gray, and the mood that it creates with its particular shade. Lighter-colored walls are airy and bright while darker-colored calls create a sexy or sultry mood. The best choice in the gray category is considered one with brown undertones, which, like a contemporary look, serves to warm up the room. A "foggy gray" is good for relaxing, like a bedroom, or excellent in a room where natural light streams in. Use a contrasting darker charcoal shade for a dramatic dining room setting. A blue-gray in the bedroom meshes very nicely with dark brown leather furniture.
Gray color combos
Light gray and dark gray alternating walls allow a dark gray accent wall to just jump out, especially when used as a focal or accent wall and you see a series of black-and-white photographs staggered across the expanse of that particular wall.
Dark gray and white, with white as a focal point wall, make an interesting contrast, especially when paired with accent shades of fire-engine red.
Go to contemporary paint color
Contemporary paint colors include a palette of neutral tones, just like the modern paint colors, only these are darker and bolder. The contemporary style embraces the stark look. The pale grays and light cream or natural beige tones of the modern palette of paint colors are replaced by darker and bolder grays and natural browns. These are walls which will stand out, and instead of accenting furnishings, wall coverings and floor coverings in bright colors that will "pop", when using bolder grays on large walls, use accessories that are geared toward a more neutral or natural look. Contemporary styles often feature bold and brazen looks, such as painting the walls a glossy black and alternating with a wall of glossy red. To fill in those bright walls, consider bold pieces of art work hung or displayed on the wall. Outdoorsy folks with large ceilings might try hanging something reminiscent of a camping trip or canoeing trip – such as hanging a canoe from the ceiling above, suspended in mid-air
Shades of gray in bolder and darker hues have the monopoly in the contemporary palette with one of the most popular and versatile shades being "Sea Salt" by Sherwin-Williams. It is a gray-blue color that has the versatility of a blue and the cool and contemporary look of the popular gray, and will look good with any accent color. Benjamin Moore Paint has shades of warm gray like "Rockport Gray" or "Metropolis" all the way to "Revere Pewter" which is nearly black, but technically is in the gray family.
If you live in California you embrace the beautiful weather and enjoy the many sunny days – it seems very logical to bring the outdoors indoors with light and airy colors on your walls, doesn't it? But if you are looking for a trendy way to colorize your rooms, and are inspired to see how many shades of gray you can indeed incorporate into your home, why not seek the advice of a professional residential painting contractor in Bel Air and get started today?