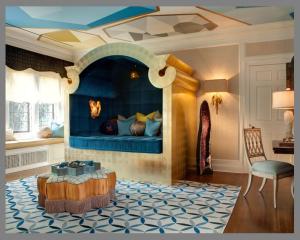 Looking to change up a room just a little without a headache? Why not consider a fresh coat of paint for that room? It's always fun to try new colors for your interior walls and the cost of a can of paint versus any other type of renovation, including buying new furnishings and accessories, is soooooooo much cheaper. You can analyze paint charts at the store, carry home pocketful of paint chips or do a virtual visual analysis online at most of the leading paint manufacturers' websites to determine the best wall color for your rooms, but sometimes that hue just isn't right. You shouldn't despair and figure you'll just grow into it or live with it for many years, because another can of paint and another paint job will correct the problem pronto and still re-energize the room.
Colors are in
One of the trendiest looks for any room in recent years has been the focal point wall. In that design style, one wall is painted a different and contrasting color, usually a bold or dark color, to contrast with the remaining three neutral-colored walls. Focal walls can just be all about color, or they can be color combined with artwork, personal touches … like pictures on rows of shelves. Now that concept of a focal wall has become a focal ceiling and the new way to describe a focal ceiling is "a fifth wall". Try adding interest to your ceiling by using a crayon-box primary color, or add depth with shadows or lines to make it look three-dimensional. Wow!!
Gray is the new black
Gray leads the group of trending colors for the current year from various paint manufacturers. Gray takes precedence as a neutral color in a year where, for the most part, neutral once again has reigned throughout the year, but neutral is not simply boring as in the past. Neutral has moved beyond the bland ecru or eggshell of years ago and is now a muted neutral which will fill your walls with depth and allow for more bold accessories instead. Many shades of gray are taking over the reins from the bland beiges of year ago. There are enough gray tones in the current neutral palette to have a different gray tone in each room of your house, and then some. For example, subtle shades of gray could be used for the family room – Wickham Gray by Benjamin Moore; in the bedroom – Anew Gray by Sherwin Williams and the bathroom – Earl Grey by Benjamin Moore. If you want to go a little bolder, but still stay in the neutral category and gray family, why not try more contemporary shades of gray such as Silver Fox, Jack Pine or Oxford Gray, all by Benjamin Moore. Later, you'll see just how often gray will show up in the list of trending neutral colors, should you desire to paint your whole home in a harmonious pale neutral palette.
One room at a time
Maybe gray is not for you? You find it blah and boring and if you paint a room with gray, do you think you'll tire of it long before it needs repainting? If so, take a look at what is trending in contemporary colors for interior paint these days. Consulting with an interior house painter in Los Angeles will afford you the benefit of his or her expertise in selecting the correct color and finish for each room's purpose. That expert will also be able to complete the task of painting that room to give you a finished and professional look that will endure for many years to come.
Trending colors today
Leading paint manufacturers Benjamin Moore and Sherwin Williams describe their trending color palettes as "muted, serene and simplicity" and this is because neutral colors are key these days. The idea of neutral simplicity for your wall color does give you the opportunity to add bold colors, patterned fabrics and great accent pieces to accentuate the muted wall colors. The neutral palette works well because you can mesh all the rooms together with the same low-key colors and it works really well. Some of the most-popular colors for the majority of the rooms are different shades of gray. As an example:
Benjamin Moore's new neutral palette includes a collection of pastel and pale gray colors which they advertise as color trends: "curated to help you find and create those moments of sanctuary and exhale in your home. We assembled this palette to be harmonious; to provide the flow and coordination you need to create a home that offers more than just shelter." Sigh … it sounds relaxing just reading about what these colors can do for you and your rooms, doesn't it?
Those soft, muted colors may be used interchangeably in any room in the house; the pastels from this palette. as well as the serene pale greens and blues might be relegated more to the bedroom. Here are some of Benjamin Moore's popular trending neutral colors with room suggestions:
Use in any room or in common areas:
Wickham Gray
Distant Gray
Mount Rainier Gray
Castleton Mist
White Dove
Peach Parfait
Clay Beige
Bedroom Colors:
Val Alen Green
Palladium Blue
Breath of Fresh Air
Iced Mauve
Lavender Mist
Whatever your choice of paint colors for your home, you cannot go wrong with neutral colors which always work for you and give you plenty of opportunity to be creative and give your home the personal touch it so richly deserves.