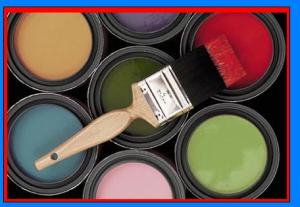 If you are looking to add a little interest to your home's interior, consider having the house repainted … it will give you a little lift and your home will quickly be rejuvenated. Don't even consider such a daunting task as a do-it-yourself project; treat yourself and hire a professional house painter in Beverly Hills.
The paint project
Though you may not spend as much time indoors as persons who live in a cold-weather state, over time the painted walls sometimes get a little dingy looking and could use some refreshing. This is especially true if you have children where the painted baseboards and walls act like a magnet to attract scuff marks. Perhaps you are a foodie and love whipping up creations in the kitchen. There are the inevitable splatters, and that grease which sometimes filters around the stove hood and heads straight up to the ceiling. Other rooms in your home don't get as much traffic and have a more sedate setting, like a formal living room or a study, and therefore the paint job stays pristine much longer. Before your initial consultation with a house painter, familiarize yourself with the various types of paint finishes to match up one for each room in the home. This is just as important as picking the wall color. After you've made a general decision on paint color and finish for each room, your residential house painter will lend his expertise to firm up the perfect paint color and finish for your project.
Types of paint finishes
There are various types of interior paint finishes to choose from, because not every room in the house meets the same criteria for wall paint durability. A child's bedroom or playroom may take a beating on baseboards and walls, and, just like the kitchen, a glossier finish of paint may easily be wiped clean so scuffs and splatters are gone quickly without rubbing the paint off entirely. For rooms with less traffic, by all means go with a flatter finish as it is more elegant and refined.
The perfect paint finish for each room
There are criteria to consider when painting a room such as whether a primer coat will be utilized to cover up imperfections on the surface to be painted, or, if you are switching from darker-colored walls to a lighter color. Sometimes a neutral base coat needs to be applied first.
Additionally, if there are any type of budget constraints, it is good to keep in mind that the ratio of paint to painted surfaces varies, depending on the type of paint used. A gallon of high-gloss paint, for example, goes much further than flat paint. Similarly, you'll cover more with a can of semi-gloss and eggshell paint finishes, than a flat-finish paint. So, bearing these ratios in mind, now you just need to decide on the perfect paint finish to go with that great color scheme you have in mind.
A little paint primer
As mentioned above, if there are any imperfections or major re-patching jobs on the wall to be painted, that fact may limit the type of paint finish you choose. Despite being proactive by using a good primer coat, a high-gloss paint will not adhere properly, and will also accentuate every imperfection or non-level surface on the wall. Use a flat paint to create a matte finish to hide imperfections. An eggshell finish is a cross between flat and semi-gloss and will do the best job for less-than-perfect walls. For other, less-demanding, painting situations use the best paint finish for the specific type of room.
Popular types of interior paint
A flat or matte finish always looks fresh and pristine, even in an area where fingerprints are aplenty. It is considered the most-popular paint finish for interior walls because of the clean matte look, unfettered by any sheen or visual distractions. It is the best choice for ceilings and most walls. It should be applied by a brush or roller for an easy, glide-on paint project. As stated above, it can be used with problematic and imperfect walls. For all its fine qualities, however, it does scuff and mar easily, though the marks may be removed by a damp cloth occasionally to keep the paint job looking good, though eventually the surface will need a light paint touch-up.
A matte enamel finish keeps that understated matte look, but is a more durable option for places like the kitchen, bathroom or kid's rooms which frequently need a damp sponge wipe down to keep the walls looking clean. Like its counterpart, the matte finish, a matte enamel finish may be applied with a brush and roller and rarely will need retouching as it can be wiped down.
A satin finish is a hybrid paint because it is a cross between a matte finish and a gloss-type finish. It dries to a soft sheen and is easy to keep clean if you will regularly have to wash down the walls. It does not cover over imperfections, however, so rely on a flatter finish if you have imperfections on the walls of the job at hand.
An eggshell finish has a similar final finish effect as satin. It is a subtle finish that will lend a touch of elegance to a room. This paint has "glide", i.e. it is easy to apply. This is a go-to paint finish for covering imperfections. Another plus is that one coat will adequately cover the wall, obviating the need for a second coat of paint.
A semi-gloss finish is utilized more for baseboards or trim, not walls. It is a durable paint, easily washed and should keep its pristine look for a long time with just a one-coat application.
A high-gloss finish is also one of the most popular interior wall paints and is perfect for rooms that have a lot of traffic. It is very glossy and shiny and to get complete coverage, two coats are usually recommended and drying time is often lengthy.
Latex versus oil based paint
Latex paint is a breeze to use … the smell is minimal, clean-up is easy – just soap and water for hands and brushes and it is the paint type preferred for most DIY projects. Professional painters, however, prefer oil-based paints as they have a much longer drying time which adds to that paint's durability and also because the long drying time flattens out any brush marks, making the wall surface look perfect. But, the smell of oil-based paint is strong and not recommended when windows cannot be opened to eliminate some of the odor. The paint brushes may only be rinsed with mineral spirits to keep the brush pliable and remove all traces of paint. So, there is much more work involved in using an oil-based paint. The biggest plus is that it may be applied to any surface, including primed walls, woodwork or previously painted surfaces. Most all paint colors are available in various finishes as well as in latex and oil-based form.
If you've perused paint colors and this paint primer above, you are ready to tackle your paint project head-on, or, at the very least, consider contacting a professional house painter to get this job done quickly and professionally.