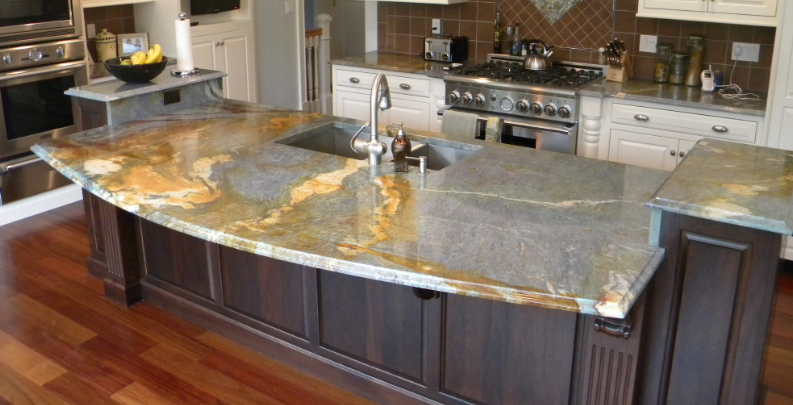 Your kitchen countertop must have but one characteristic: beauty and function. Wait-isn't that two things? No. It's just one, and if you're a Dunwoody homeowner, your kitchen is deeply (deeply!) important to you, and that means you above all others completely understand the idea that beauty and function in your countertop must be one. Americans have been having a love affair with kitchen countertops for years now, and the designs for 2017 are evidence that the romance continues. But there is a bit of fickleness going on as well. This year's trends in kitchen countertop design include a fusion of countertops with other movements. Yes, in 2017, we're seeing homeowners tossing over the idea of the lone-function countertop for its brother, the countertop fused with added function. For instance, countertops with back splashes are huge in 2017's design trends. Yet more evidence of this progression is the popularity of kitchen countertops with integral kitchen sinks. And another design trend is toward away from thick and toward thin. Following is more detailed information from kitchen remodeling contractors near you about this year's trends in countertop design.
Thinner
If you're Stephen King, 'thinness' is super scary and the perfect concept for a horror novel or movie. If you're a Hollywood actor or a kitchen countertop, being thin is where it's at. Everything's getting thinner these days–laptops, handheld devices, even Oprah is getting thinner! And now, Mr. Kitchen Countertop has lost a little around his middle as well. The new average max waistline of the kitchen countertop is about 1 and 1/4 inches, down by inches in previous years. Congrats on your new slimmed-down look, Mr. C!
Well splash my back!
Wait-we're still talking about kitchen countertops, right? But of course! The time has come that homeowners are looking to their kitchen countertops for more than just a pretty face that they can prepare foods on. Now they want more, and back splashes are fitting into this trend perfectly. For folks looking for more capability of incorporating their own personalities into their countertops, installing a back splash with it that allow them to nail down just the right look is the perfect solution.
Quartz-not just for watches anymore
For years, granite has been beating out all the others hands-down. But step aside, granite, because quartz is here. Look, is granite beautiful? Sure. But can it be a bit of pain? Unfortunately, yes. Its porousness sometimes makes for poorness when it comes to maintenance, as it needs to be resealed periodically. But not so for quartz. Its non-porous surface means it's no breeding ground for bacteria like its brother the granite countertop. Yes, quartz is being preferred, in many areas of the country two to one, over granite for the low maintenance lifestyle it touts.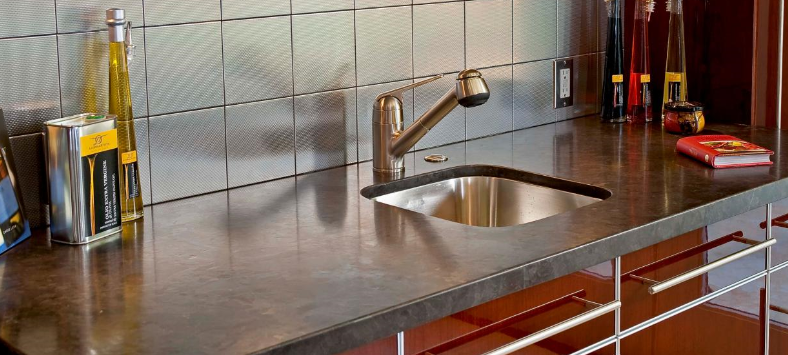 Kitchen sink, INC.
Hold the phone–isn't the idea supposed to be everything but the kitchen sink? Not for kitchen countertop design trends in 2017. In fact, this may be the hottest idea trending for countertops since granite itself. The kitchen countertop that comes with its own kitchen sink incorporated into it is about as big these days as the Dunwoody dinners being prepared on them. Kitchen countertops that come with their own built-in, integrated kitchen sinks perhaps are the ideal technological advancement for today's homeowners, especially if they're foodie devotees. Hey, what could be simpler than preparing nearly your entire meal right on your kitchen countertop? Another great thing about the kitchen sink being incorporated into your countertop is that these features come in so many varied styles today. In fact, you'll have no trouble at all finding just the right style of kitchen countertop fused with integrated sink.
Your Dunwoody kitchen is where it all happens. No proud Dunwoody homeowner has a kitchen that doesn't hop nearly nightly with gourmet preparation, brilliant conversation, and witty contemplation. And it likely all happens right at your kitchen countertop. That's the reason keeping up with kitchen countertop trends is important, especially if you're in the market for new and better. Indeed, 2017's most winning trends when it comes to kitchen countertops are about double-duty function fused with ever-evolving beauty. Back splashes with your personal touches, integral kitchen sinks, quartz over other materials, and thinness that could make a supermodel jealous–these are the best and most popular kitchen countertop concepts trending for 2017. Contact a kitchen remodeling contractor near you to get additional helpful ideas for your new kitchen countertop remodeling project.