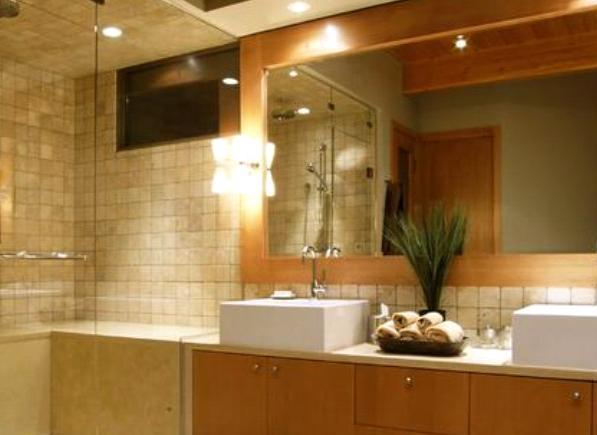 Whether you are lucky enough to have a large master bathroom, or you have a moderate-sized bathroom, with just the right lighting, both the bathroom and YOU can look like a million bucks! With a few strategically placed lights or a new fixture, not only will your bathroom look sophisticated, but you will walk out of the house letting the world see your very best side.
Today's bathroom lights have moved far beyond that homely fixture way high up in the middle of the bathroom ceiling that cast ghastly shadows on the walls and your face.  Face it – you'll never score any points for presenting your best face to the world if you don't have sufficient light in your bathroom to perform grooming tasks properly.
Lights for your bathroom
While sunlight, or natural light, is the preferred way of applying makeup, unfortunately, it is not so easy to just leave the shade up in the bathroom when it is dark outside, without serious consequences.  So, instead you must compromise with your lighting and choose the most-comparable lighting to natural sunlight.
Though it is both preferable, and trendy, to layer lighting in the bathroom, you need to rely on at least one decent bathroom fixture which will be able to direct light exactly where you need it.  This light source is often referred to as task lighting.  For up-close lighting in the bathroom for makeup application, shaving or doing one's hair, the best quality of light is a white frosted shade to be used with a soft white bulb.
Once you have a good light source in the bathroom for task lighting which suits your needs, you may feel free to expand your horizons and create an elegant room enhanced by ambient lighting. Ambient lighting and task lighting now compete with one another as sources for lighting in the bathroom, but both are crucial.  There are many lighting options which will be explored below.
Lighting options
Before you start perusing "House Beautiful" magazine or the internet in search of elegant and unique lighting, first consider three factors:  the size, layout and color scheme of your current bathroom.  This is important since the pendant lights or beautiful chandelier you covet may very well overwhelm a moderate-sized bathroom, or, the lighting may hang down too low to be practical.  So, that might put a kibosh on the hanging fixtures right away, but there are many other fixtures that will spiff up your bathroom.  As to the color scheme and its role in lightening up the bathroom, it is important to know that bright colors will reflect and enhance lighting effects, but darker colors tend to absorb and subdue them.
Upgrade light bulbs
Some of the traditional bar-type fixtures, or even sconces, have been a fixture in bathrooms for a very long time.  In a moderately-sized, or even small, bathroom, they do their duty and perhaps you could just enhance your bathroom by choosing a different type of light bulb for them.
Add a new fixture
If you are looking beyond light bulbs to create task lighting, in addition to ambient lighting in the bathroom, there are a variety of options from simple lighting sources like wall sconces or bar lighting to elaborate hanging fixtures.  Whether it is contemporary lighting, or something a little more ornate, complicated electrical jobs are not really for the do-it-yourselfer, so you would be better off to hire a licensed electrician in New Jersey to do the installation for you.  A top electrician in Summit NJ will be able to help you select the best types of fixtures for your bathroom and will install them for you.
Traditional lighting options

Traditional horizontal or vertical bar vanity lights – These fixtures have been a staple in many bathrooms over the years and remain a popular contemporary look.  Bar lights may be mounted on either side of a vanity mirror, or on the top of it, for optimal lighting.  Bar vanity lights are available in a wide variety of metal finishes like satin nickel, brass or pewter, or more rustic finishes such as oil-rubbed bronze, polished chrome and brushed steel.  Bar fixtures generally feature three bulbs, but, depending on the side of the area you are lighting, you can choose a bar fixture with up to six bulbs.  The practicality of this type of fixture is that they may be fitted with nearly all the usual bulb types (incandescent, fluorescent, LED, halogen, and xenon/krypton.)
Sconces are a favorite fixture and an old standby which can be placed on either side of the vanity mirror and light will reflect and cast a soft glow onto the mirror.  No room at the mirror?  Simply hang them on the wall.
Hanging fixtures create a focal point in your bathroom – For a touch of elegance in the bathroom, consider installing a hanging fixture.  Although a hanging fixture will enhance the room, be sure to have adequate task lighting for grooming tasks because light which comes from above tends to create shadows on your face.
Hanging fixtures
Chandelier – A small crystal chandelier will add a touch of glamour to any bathroom. A beautiful look is to have a pendant light or ornate chandelier hanging over a claw foot bathtub, but do ensure it is far enough away from a person for when they are standing up in the bathtub.  Another popular look is using a very large chandelier in the center of a large master bathroom – it will enhance the room's lighting to the max with plenty of bulbs, despite using low-voltage LED lights which now use even less energy than CFL bulbs, which were long prized for their efficiency.
Pendant lights – There are many styles of pendant lights and you are sure to find one to fit your décor. Pendant lights may be practical, trendy or glamorous depending on the size of the room and the particular style of lamp.   Usually, three identical pendant lights over the vanity area provide adequate lighting without overwhelming the other fixtures.  If you have sufficient natural light from a nearby window, you might consider one pendant light.  If you are going for a glitzy or chic look in the bathroom, you might try pendant lights in a gilded or gold look, and if you are aiming for a more natural look, try using wicker pendant lights.
Choose
With all the above ideas, who says your bathroom cannot look chic and elegant?  And with all that beautiful lighting, you will too.