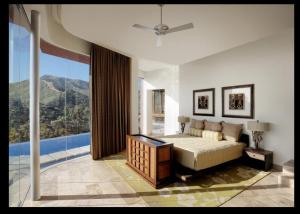 If the style of the interior and exterior of your home is traditional, rather than contemporary or modern, you are more inclined to go with neutrals to complement the warm undertones of the furnishings, window treatments, floor coverings and conservative landscaping. You never want to compete, or even clash with, the symmetry of the room, so the palette you would most favor would lean toward lighter neutral colors. Besides, the warm California climate speaks to sunny days and light and airy décor and color tones.
Shopping for paint is always a challenge – if you go to the paint store, you come home laden down with paint chips where two dozen shades of eggshell or light gray all end up looking the same. You can try the virtual route to determine which color best suits your fancy, but it is rather difficult to translate that computer image onto your wall sometimes, and may leave you scratching your head in despair. Many paint manufacturers now have trial sizes of paint that permits you to paint a small area and see how the product dries up and how the finish looks before purchasing and applying to the entire room. This is a great idea, but an even better idea, is if you are considering a major repainting job for your home, why not consult with a contractor who specializes in house painting in Brentwood. Not only can he or she best advise you on particular colors and finishes for painting the interior or exterior of your home, but that person can perform that project in a professional manner, giving your home a fresh new look with no hassles or headache for you to deal with during the process.
Traditional colors for your the interior
Neutral is your go-to color for most every room and here's why – Your very best option for a traditional paint color will be the neutral spectrum, i.e. the bright-white, ecru, pale gray or dove gray. A neutral tone like white or pale gray is light and airy just like the California climate so your wall colors also have the same breezy, warm-climate feel. If you want to go a shade darker, but stay within the neutral palette, try tones like beige or ochre. Stray from painting your whole home in the same color because designers say that this is boring. Using neutral tones throughout your home, however, melds the rooms together and allows you to accentuate each of the rooms by picking vibrant colors for accent to create interest in each room. Neutrals work especially well for living rooms or larger rooms and are a great color for kitchens because of the multitude of colors already clashing with one another in that busy room. Gone now are the sunny yellow kitchen walls painted in high gloss because the trend today is neutral, natural and a neat matte finish. Finally, in keeping with the neutral look, aiming for a light or neutral shade will make that tiny bathroom seem larger and you can accessorize with a wide array of accent shades.
Bedroom colors – When selecting hues for bedrooms, keep in mind that these should always be soothing colors. The most-traditional colors for bedrooms have usually been tones in soothing shades of blue or green. This is actually because experts suggest that painting rooms in colors that resemble watery hues will lead to restful sleep. Hospitals rooms have been painted in shades of seafoam, light turquoise or pale green for years for this very reason. Pastels for youngsters are still considered the traditional colors for babies' rooms and occasionally soft yellow will find itself the color of choice for a baby's room. Even boys and girls, like their predecessors, will grow up in blue and pink rooms, respectively, just because it is as current of a color today as ever before. Bedrooms also flourish in popular pastels like lavender as well, but, this pretty shade continues to come in second to pink as to paint choices for girls.
Popular exterior colors
Traditional paint color combos for the exterior of homes are generally a lighter color with a dark color added for accent. Especially in the sunny California clime, a light-colored exterior of the home would be preferable to a dark and brooding color. You can pick the most-popular color of all, white, which is the go-to selection for any architectural style of home. Unbelievably, there are a wide variety of shades of white, and to pick the perfect shade for your home, contrast and compare different paint swatches at different times of the day to see how the sun hits the house to decide on which brightness of white you really prefer. By choosing an all-white exterior color, you have plenty of options to brighten up and "pop" bold colors by accenting trim, window frames, shutters, doors or garage doors. This contrast color does not have to be a dark color – any contrast color will do. Even a light teal can give a little kick to accentuate and offset the stark white. While white is fine and about as classic of a look as you can get, it does need some maintenance to keep it clean and pristine looking. It requires more frequent touchups and repainting as well.
You can still have the two-tone color combo by choosing a light gray with a bold accent darker gray or perhaps the classic eggshell or cream with reddish-rust hues for contrast … a little different but something with a little pizzazz and your house hues won't shock the neighbors too much. Another option is using stained wood and flip-flopping the stark white color to use it as an accent instead.
In your zeal for picking a new house color, do remember to consider the roof color so it complements and does not clash with your home's exterior color. When you've finished your new exterior paint job, try to coordinate your landscaping to complement the exterior of your home. Strategically placed porch pots or perky perennials or annuals in the same colors as the exterior accent colors if possible, will give your home a harmonious look and add curb appeal as well, by making it look cozy and inviting.