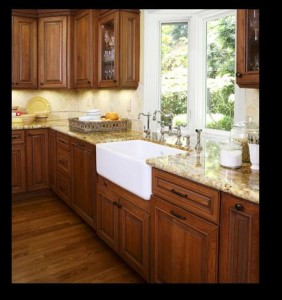 What does a traditional-style kitchen mean to you? Does it evoke images of a cozy breakfast nook or Priscilla-style curtains adorning the windows? You have probably long moved on from the Coppertone, Harvest Gold and Avocado-colored appliances of yesteryear, but you still eschew those gleaming stainless steel fridges and stoves in favor of white or cream-colored appliances.
Actually, your version of the traditional kitchen and how a kitchen designer would define a traditional kitchen differ greatly. A traditional-style kitchen, unlike the contrasting modern-style kitchen which strives for minimalism, is defined by details. Here are some of the attributes of a traditional kitchen, starting with some very simple accent ideas, a handful of easy DIY projects, then suggested major renovations, which really require a professional contractor to get it done right and have it looking good.
If the walls could talk
… they'd tell you all the juicy details about how your kitchen should look. Details, details and more details is how you get the traditional-style kitchen look. See below for some simple fixes then progressing to a more significant undertaking.
Hardware
A simple enhancement is adding new hardware to cabinet and cupboard drawers and doors and don't forget the utility closet which will benefit as well. Your best choices for a traditional kitchen look would be burnished brass hardware; some vintage-style drawer pulls will perk up those wood cabinets and cupboards in a heartbeat.
Lighting
As mentioned above, most kitchens have an abundance of natural wood tones, the bulk of which are found in the cabinets and cupboards, perhaps wainscoting, and of course, the woodwork. Any new fixtures with classic styles, like lantern-style or pendant-style lights, that you add to your current kitchen will look super if they have a burnished brass finish and even better if the fixture or fixtures match your new hardware. Sconce lighting is a current trend but any traditional-style fixture will enhance your kitchen by lending ambiance and added lighting to the area.
Splashbacks
Your next move would be adding some special effects to your various splashback areas. A splashback area would be just as it sounds – an area of the wall that is prone to splashback, whether it is water from the sink or splatters from the stovetop. Installation of splashback treatments preserves the wall color and adds interest to your kitchen as well. Some of the popular examples of splashbacks for the traditional-style kitchen would include: a one-piece glass which is easily kept clean and the clear color does not clash with any existing colors in the kitchen, and is easily installed as a one-piece enhancement. Another popular option is tiles. Tiles are easy to apply and there are a wide variety of tile sizes, shapes and colors available. If you use pewabic-style or glazed tiles, the effect will be stunning and you can have your cabinets and cupboards glazed to preserve that look to go beyond just the backsplash area. The only drawback to the use of any type of tiles is whether or not they are located in a water-prone or cooking area whereby you risk the formation of mold or mildew on the grout. Water splatters or steam from the stovetop can be problematic over time and may discolor as well, thus the one-piece glass, though not as colorful or intriguing as tile, will save you that hassle down the road.
Cupboards.
A little more progressive thinking on the cabinets and cupboards would be to simply paint over the existing ones … a bright, country blue will add color to the kitchen, as well as take care of any dings, dents or scratches you've accumulated over the years. You could also try painting the cupboards in complementary colors – similar or contrasting colors both would enhance the existing cupboards and will add some pizzazz with minimal effort. If the repaint job doesn't appeal to you, why not consider getting them refaced with glass inserts? Depending on the thickness of the glass, or how the glass is cut or beveled, these clear inserts can showcase your kitchenware or treasured collectibles, much like open shelving will. Just imagine the sun filtering in the kitchen window and hitting the glass for a beautiful prism effect.
Flooring
Any additions like old-plank flooring or repurposed wood trim of any type will add interest and intrigue to a traditional-style kitchen.
It's no secret that Atherton is located in a primo part of the beautiful state of California. It is a relatively small town, only six miles wide, with an equally small population of less than 10,000. Forbes magazine listed Atherton as the wealthiest city in the United States in October 2013. Why not bask in the glory of living in this unique and pretty city and find yourself a contractor that specializes in kitchen design in Atherton to help you make the inside of your home as magnificent as the outside? Atherton is such an exclusive zip code that special permission is required for outside contractors to work on weekends – but that won't stop them from helping you create a dreamy traditional-style kitchen. Here are some suggestions to mull over as to a major renovation of your current kitchen:
Wood finishes:
Cottage influence and light-colored woods. Why not embellish the kitchen with a light-and-airy design just right for the beautiful year-round weather in this fair city? It fits perfectly in a traditional kitchen. Go for a lighter-color island, matching cabinetry and cupboard wood tones, with the newer trend of open shelving. The look is light, airy and inviting.
Rich dark woods. If darker finish cabinets and cupboards are your preference, you should contrast the darker wood tones by using a light-colored wall to open up the kitchen and make it appear larger. The sunlight pouring in the large windows year-round will give you all the light you need during the daylight hours and any lighting is strictly just for kitchen activities once the sun disappears for the evening or during inclement weather.
Dark and light-woods
Can't make up your mind whether you want a dark or light-colored finish to your wood cabinets and cupboards? Try mixing them together in an Old-World Tuscan design which is very popular these days. The glazed finish to the mix of both wood finishes gives a rustic, time-worn appeal. Heavy light fixtures, glazed and colorful terracotta tile detailing around the room, as well as backsplash areas, and a matching wooden island will give you a sophisticated traditional-style kitchen look.
Just for fun
Farm-style sink. By adding a fun, farm-style sink with old-fashioned, wall-mounted plumbing, you will create some ambiance in your new kitchen that hearkens back to yesteryear. But, wait – when this look meshes with the rest of your traditional-style kitchen, it simply adds just a vintage touch for good measure.
Hearth-like surround. Building an open space or alcove with a hearth-like area, a/k/a a "hearth-like surround" envelops the range and cooking area and adds intrigue and a hint of coziness to the kitchen.
How about thinking outside the box when you're done revamping your current kitchen?
In the beautiful city of Atherton, why not consider building an outside kitchen to enjoy more quality time outdoors? While northerners are shivering away during the long Winter months, you could be happily preparing, serving and enjoying meals out on the patio of your home – why, even Martha Stewart would be jealous. Why not contact a kitchen design specialist today?