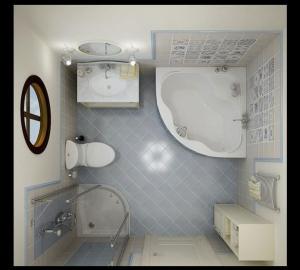 Through the years the number one color homeowners have chosen for small rooms has traditionally been white, off-white or even sometimes being so bold as to choose cream.  Well, there is nothing wrong with that thinking, of course, and these colors go with everything, but it is now time to expand your horizons.
White, off-white and cream
Though white, off-white and cream could be considered blah, and there is certainly nothing wrong with using this trio of colors, the more trending colors in the neutral palette these days are the grays and earth tones.
Whether your home is small or large these colors work well.  If your home is small, or perhaps the rooms are smaller-than-average, you probably heard or read that different shades of white were the best bet to give the illusion that the room was really larger than it is.
You are certainly safe to use any type of neutral color scheme in your home.  And, admittedly, white, off-white and cream are the perfect partners when trying to ensure the walls are not too busy or bright for your traditional furniture because you never want your paint color to compete with your furniture or accessories.  Instead, if you opt for a very neutral palette such as white, off-white or cream, you can certainly compensate for that light color by using bright-colored accessories which will "pop" in your room.
Trending today
Whether your small rooms may be a spare bedroom, a study or even the lowly bathroom, those rooms need not be swallowed up by the larger, more grandiose, rooms in the house.  Sometimes, even a kitchen or living room are considered small rooms, depending on the architecture of the home.  Decorators suggest that using neutral colors and minimal furnishings in your rooms will make that smaller room appear much larger.
Best option to make a room look bigger
If you'd like to use a neutral color to be able to add some exciting accessories, or to switch around your accessories, without the need for a new paint job, well …gray is the color for you.  Whether it is the kitchen or the living room or even the bathroom, one of the most-popular shades of gray to use is dove gray and it is considered a trending color for the neutral palette or otherwise.  Gray is a safe bet to neutralize a room and then you can go to town on the furniture, floor and window treatments and any accessories as well.
Gray is great if you've got heavy-traffic areas which are subject to mars or scuffs created by family members.  Sometimes they can't be helped, but they won't show up or need swiping and wiping as much with dove gray, plus, it is a versatile color that will coordinate well with accessories and open up a room, making it appear much larger.
Earth tones are big
It used to be that bedrooms were in pinks or blues and maybe even straying to the lavender tones from time to time.  All those pretty pastels work, to be sure, and they are delicate and very subtle colors that will help you relax at the end of a long, hard day, or to start your day off on a relaxing note.  Pastels work well to create the illusion of a larger-looking room, where, on the other hand, greenish-blues, darkish sea foam and turquoise colors are wonderful for creating the serene look you want in a bedroom, but might also be too dark or overwhelming for a room that is smaller.
So, why not choose a more trending look?  Today's popular earth tones palette is just as relaxing and subtle as pastels, but is a much trendier look.  Light-colored earth tones include any color that occurs in nature, such as the muted tones of beige, brown, orange and yellow.  Additionally, lighter-colored earth tones, in shades of sand or beige, or even sage green, will create a larger and brighter-looking bedroom when you are dealing with a tiny bedroom.
If you are reluctant to go with a trendier color for the bedroom, just go with your gut feeling and stick with a basic neutral color.  Eschew pure white, however, in favor of eggshell or off-white or cream to make the room look somewhat cozier.  Always choose a bright-white ceiling in a small room because it will create an illusion of greater height.
The smallest room in the house
Sometimes a guest bathroom or a powder room is just plain tiny.  But, you can work with it.  Decorators suggest that if you have an especially small bathroom, that white is probably your best paint color option.  In your mind's eye, however, you see white walls getting dirty in record time.  If that scenario might happen, then combat those anticipated dirty walls by using a good- quality semi-gloss paint with excellent wearability that can be washed down on a regular basis.  This will eliminate those pesky scrapes, smudges and handprints and restore the room to respectability and how it looked the day the paint project was completed.  White is never blah if you use your imagination and get the perfect accessories.  You can even change them about to keep from getting bored with your bathroom – change the colors for the seasons, for example.  Keep it simple and monochromatic with the accessories and white will certainly work well for you.
The suggestions are plentiful to create bigger-looking rooms with the right color of paint.  Hopefully you take these hints to heart, or, they provide you an incentive to seek out a contractor experienced in residential painting to let those colorful choices for your rooms come to fruition soon.