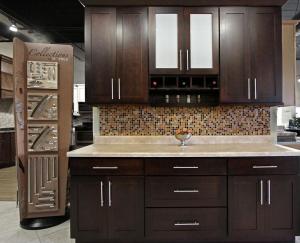 The kitchen is the hub bub of the home for most families.  Long after the kids are gone, they'll come back to visit and find nothing has changed inside the cupboards since they left home.  Sure, the pantry items are different, and maybe even not so plentiful since the family has downsized, but the glassware and dinnerware are still kept in the same place after all these years.
Likewise, the kitchen cabinets have been around all these years as well.  They might be looking a little shabby, or worn around the edges.
There are various ways to revamp your kitchen cabinets.  You could replace them with something more modern, like stainless steel and have a shiny-looking chrome kitchen that is very trendy.  Or you could have them faced with a wood grain or color, and jazz them up with inset windows – even stained-glass insets if that strikes your fancy.
If you would like to go the retro route, how about just spiffing them up with a can or two of paint?  It will make them look like new again.  Your mom or grandmother just got out the paint can and paintbrush when their cupboards got shabby looking and it worked for them, so why not let that concept work for you as well?
Now that your interest is piqued, you'd probably like to know what color cabinets would work best for your kitchen.  Well, the sky is the limit – let's look what is trending out there and what could or would work for you.
Trending colors
Go back to basics with your kitchen cabinets and stand out from the crowd who prefers a more-modern look.  To embrace this vintage look for your cabinets, the preferred colors would be beige, cream and white, all which work well in the neutral department and will lighten up your kitchen considerably, making it look fresh and bright, whether you have a cottage, traditional, and even modern-style kitchen.
Decorators are touting colorful painted kitchen cabinets as a trendy design concept and most importantly, it is a revamp to your kitchen that does not require a lot of effort and is an excellent DIY project.
Of course, if you have a large kitchen and want to have a professional painter in Summit, NJ undertake this project for you …all the better.

Best way to describe a kitchen
There is nothing more inviting than walking into a room, particularly a kitchen, on a sunny day.  The sun streams through the window, inviting you into the room and beckons to sit down awhile.  One of the most-populate hues for kitchens is yellow – sunny yellow to be exact.  That color just seems to exude happiness.  You can keep that mood throughout the kitchen by using colorful paint on your cabinets as well as your walls.
Do be sure, however, that the color or color combo that you ultimately choose for your kitchen cabinets is not too trendy, or you might soon be tired of that color and looking to do a repainting job very quickly.
No more mundane to bold and bright colors
Looking at vivid plum-colored walls with matching kitchen cabinets might not be for you, no matter how many decorators say it is "you" and it is trendy.  Remember that what looks great in an extraordinarily large kitchen in "House Beautiful" may not necessarily be such a shining star in your own personal kitchen.  Also worth mentioning is that trendy colors, such as plums and purples, may not be so easy to match if you are changing countertops or appliances or even accessories.  There are a wide range of plums and purples and while an eclectic look is nice if well put together, a hodgepodge of color all in one room …well, not so much.
Back to gray
Going a little bold when painting your kitchen cabinets can be uplifting for the room.  As stated above, too much color may not be "you" or may be over the top, but utilizing a good neutral color, such as gray, but in a darker and trendier shade, may be just perfect for your kitchen cabinets and surrounding décor.  It provides some zing yet is not overbearing and allows for some color additions in your accessories as well.
Gray is such a popular color these days that you certainly cannot go wrong by using it in the kitchen.  Warm gray cabinets will add sophistication and style to the room, and, by enhancing those gray cabinets with textured finishes or trims, the look will be neutral, yet trendy, and not a look that you will quickly tire of.
Paint the kitchen cabinets blue
Though the word "blue" has connotations which could make you think of something sad, painting your kitchen cabinets blue is anything but sad.  There are a myriad of blue-hued colors that you could choose for your kitchen cabinets.  The color blue is a favorite for many people and whether you have a country/cottage kitchen in colonial blue, or a more modern-looking kitchen in Delft blue or even navy, the blue cabinet theme will give your kitchen a coastal or nautical theme and energize that room immediately just as soon as the paint dries.
It is easy being green
Similarly, green can do wonders in your kitchen to make your cabinets come alive.  Painting those cabinets light green will add a touch of vintage charm to a country/cottage kitchen just as easily as swiping hunter green onto the cabinets makes for a more-modern and bolder look.
In painting your kitchen cabinets, there are colorful options galore, but do consider the rest of the kitchen décor before blazing new trails.